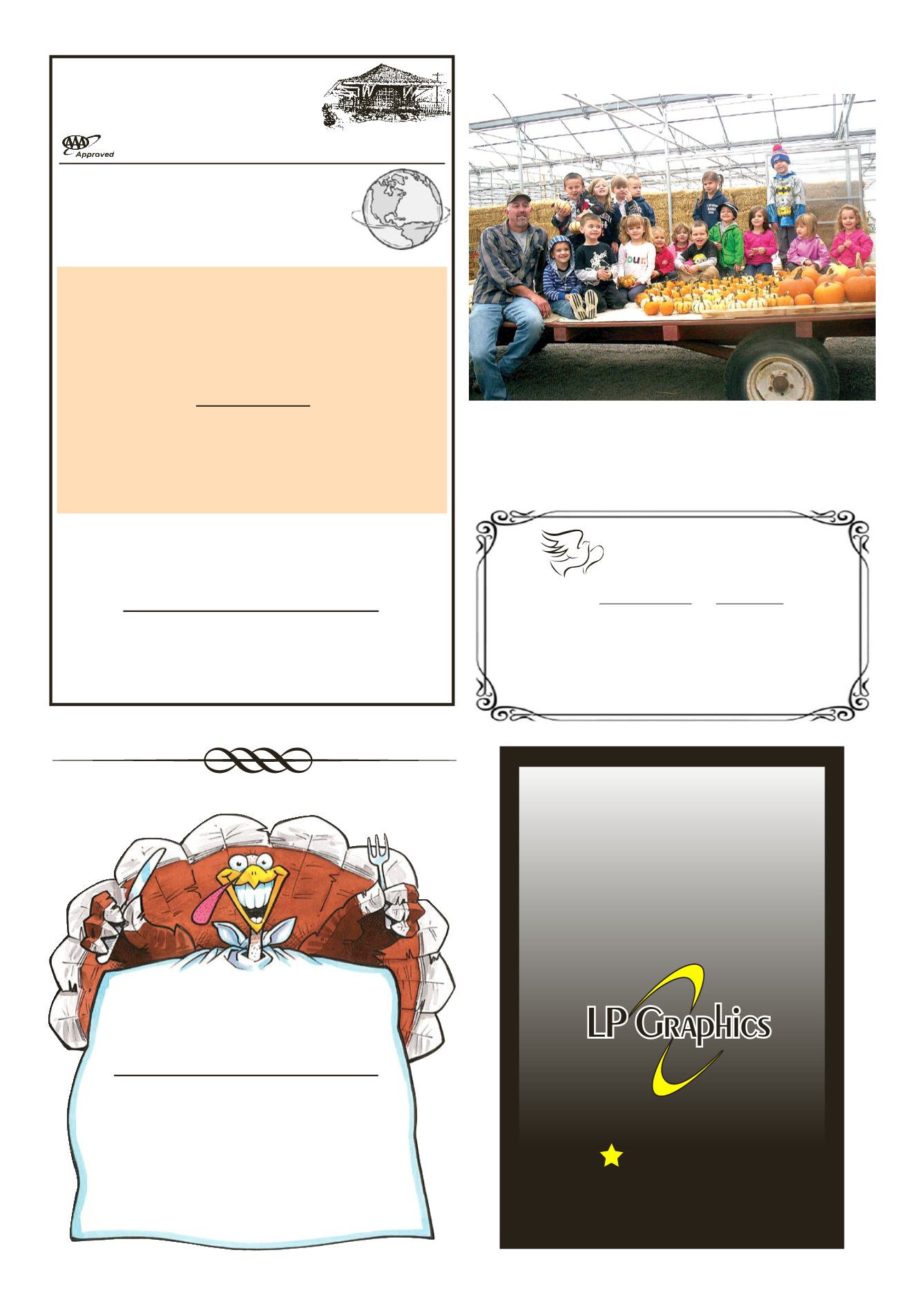 LEROYPENNYSAVER&NEWS -OCTOBER 26, 2014
D&RDepot
63LakeSt. (Rt. 19), LeRoy• 768-6270
Let'sMeetAt The ...
OpenForBreakfast, Lunch&Dinner - 7DaysAWeek 7am-9pm
Oneof thebest partsof traveling iseating the
local Fare. In case youdidn't get a chance to
globe trot thispast summer, we'regoing tohelp
you to take aculinaryvacation. Our upcoming
all inclusiveSunday specialswill featuredishes
from around theworld! –And all for 17.99or less!
SUNDAY,OCTOBER 26thAROUNDTHEWORLDDINNERSPECIAL
Sunday,October 26h – Joinus inEgypt
ancient Egyptians left evidence of their love for food. Paintings&
carvings have been discovered depicting large feasts.
We're servingFatta –ANubian dishwith tender stewedmeat,
deep-fried poached eggs& rice.
IncludesFulMedames as a salad andAtaif (fried pancakes)
for dessert -
SUNDAY, NOVEMBER 2ndAround theWorlddinner special
Sunday, November 2nd –We visit Poland
TheCatholic rituals brought toPoland aroundA.D. 900 have had a
strong influence onPolish foods. (Sean's favorite)!
HomemadePierogies&Glomkis, mushroom barley soup,
with homemade pumpkin cheesecake for dessert -
It's not too early tomake yourTHANKSGIVINGDINNER
reservations at theDepot. Serving dinner from 11 am – 7 pm
(a limiteddinnermenu), including roast turkey
and anumber of other entrees -
And – yes –wewill be offering our famous 'Leftovers to go'
TheDepot's new sister company, DoubleLRentals - offering tables, chairs,
heaters, bars, linens, dishes& catering supplies for your special occasions!
10%Discount
when youuseboth the
D&RCateringServices andDoubleLRental for your event.
Visit doublelrental.com or call us at (585) 344-0023
Director /Owner
FuneralDirector
F
ALCONE
F
AMILY
Funeral&Cremation Service, Inc.
Director/Owner
"ALOCALFAMILY
CARINGFORLOCALFAMILIES"
LeRoy Nursery School had a Fall Field Trip to Pully's Farm
Market here inLeRoy.The childrenhada lot of fun in thehuge
cornbox,watching theflyingpumpkinsandshootingapples.The
childrenpicturedherewith farmer Pully helpedwash and sort
beautiful gourds. Everyonehad such a great time!
LNSOnAFall FieldTrip
Saturday, Nov. 8th
Knights ofColumbusHall
(behind Save-A-Lot)
7:00pm
FREEAdmission
OpenToThePublic
Snacks
Refreshments
50/50
Drawing
1CHURCHST, • LEROY, NY • lpgraphics.net
WEHANDLEALLASPECTSOFPRINTING...
PROGRAMS
LETTERHEADS
BILLHEADS
FLYERS
BROCHURES
POSTERS
CARBONLESSFORMS
ENVELOPES
RAFFLETICKETS
NEWSLETTERS
RESUMES
TYPESETTING
RUBBERSTAMPS
ENGRAVEDSIGNS
NAMETAGS
COPIES
LAMINATION
COMMUNITYFAX
NEWSANDPICTURES
ADVERTISING
BUSINESSCARDS
HOURS: Monday thruFriday 8:00 to 5:00