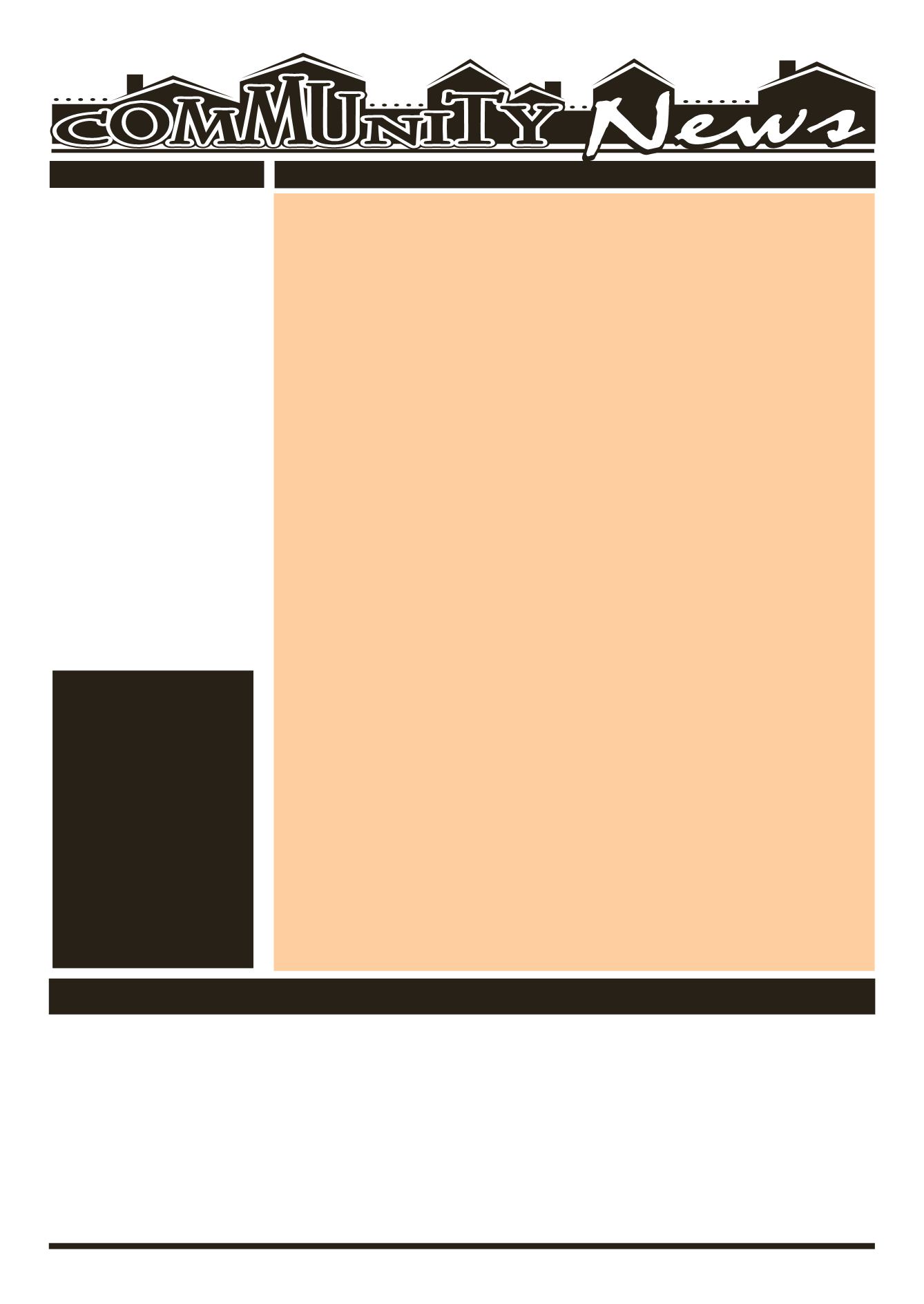 LEROYPENNYSAVER&NEWS -OCTOBER 26, 2014
Le Roy
Pennysaver
All GeneseeCounty residents, 60andolder, can takepart in thisweek'sactivitiesat theBataviaSenior Center, 2BankSt., Batavia. Formore information, call 343-1611.
WEEKLYEVENTS
OBITUARIES
ArthritisExercise
is scheduled tobeginat 9:30a.m.;
Bridge
is set tobeginat 11:30a.m.
OpenEnrollmentVendorFair
is takingplace from10:00a.m. to4:00p.m.;
Cribbage
Quilters
are scheduled tomeet at 9:00a.m.;
Euchregame
is scheduled tobeginat 1:00p.m.
Tai Chi Class
Gentle
Fitness
CribbageandBridge
MusicalKeyboardingLessons
LineDancingandArtClass
is set tobeginat 10:00am. ;
Euchre
is set tobeginat 12:00p.m.
SUNDAY,OCTOBER26
AWANAProgramatPenuelChristianFellowship.
12:15 to1:45pm.Ages5-17broken intogroups.Developing friendships.Having
fun. LearningaboutGod. Safeenvironment.
KonnectYouthGroupatLivingWatersChurch,
from6:30 to8:30pm for ages 12-18. "BringDownall theWalls! Connectwith
God and Connect with others." For more information, check us out online at:
livingwatersleroy.org/konnect-youth-ministry/
MONDAY,OCTOBER27
TOPS (TakeOffPoundsSensibly)
meetsMondayevenings from6:30-7:15pm
at the LeRoy Presbyterian Church, corner of Clay&Main Streets. Visitors always
welcome. Call 768-2933 formore info.
TUESDAY,OCTOBER28
PreschoolStorytime:
EveryTuesdayat11am featuringstories,craftandsongs
atPavilionPublicLibrary, 5WoodrowDr., Pavilion. For info: 584-8843.
LCCP'sGRACE'SKITCHEN:
A FREEdinner everyTuesdayevening, 5-6:30pmat
theLeRoyUnitedMethodist Church, 10TrigonPark. ParkingavailableonTrigon
Park& the lots to the left andbackof theChurch. HandicappedEntrance in the
backof theChurch.Takeout&deliveryareavailable.Formore info. contactSelby
Foodlink FreeMobile Food Pantry:
Morganville United Church of Christ
is partnering with Foodlink of Rochester to host a free mobile food pantry,
4:30-6:30pm atMorganvilleUnited Church of Christ, 8466Morganville Road
(offRt237, 1milenorthof Stafford). Theexact food itemsandquantityavail-
able are not known, but freshproducewill be available. Must be 18 years of
age,no income requirementor ID required. Mustprovideownbags/vehicle to
transport items toyour home. Foodprovidedonafirst come, first servebasis
LeRoy ZoningBoard of AppealsMeetin
g (as necessary), 7:30 pm at the
TownHall, 48MainSt. For further info. Call 768-6910, Ext. 223.
WEDNESDAY,OCTOBER 29
VillageofLeRoyBoardMeeting,
7pmat theVillageHall, 3WestMainSt.
WoodwardMemorialLibrary -Craftprogramforadults
your ownfloral basket. Allmaterialsprovided., from6:30–7:30p.m. Call 768-
THURSDAY,OCTOBER30
Genesee Veterans Support Network
(GVSN) supports the development
of Veterans focused AA meetings every Thursday, 6-7 pm at the First Bap-
tist Church, 306 E. Main St., Batavia. Meetings led by MikeW. & are open to
non-veterans aswell. Handicapaccessible. For additional information call 585-
GRACE'SCLOSET:
Aclothinggiveawayprogram
Methodist Church, 10TrigonPark, LeRoy 9:30 am to11:30 am everyThursday.
Wehave clothing for all ages. FALL&WINTER clothingnowbeingput inplace.
Weare inneedofWARMERclothingespeciallycoats, jacketsboots, pajamas. We
needbeddingofallkindsespeciallyblankets.Weacceptdonationsbedroppedoff
at thehousenext to thechurch.Pleaseputallbags INSIDEon thebackporch. NO
ELECTRONICS, COMPUTERS,DISHES, etc. Anyquestions call theoffice768-8980.
AmericanRedCrosspresents"WhatToDoWhenDisasterStrikes"atthe
WoodwardMemorial Library
at 6p.m. This traininggives a comprehensive
overviewonhowtoprepareforbothman-madeandnaturaldisastersandhowto
respondtoandrecoverfromthembothas individualsandasacommunityaswell.
Call 768-8300or registeronlineat
FRIDAY,OCTOBER31
PenuelChristianFellowship,
OneSteptoFreedomaddictionsministry,aChrist
CenteredAddictions program, aweeklymeetingevery Fridayat 7pm. Call the
Church formore informationat768-6901or406-3863.
SATURDAY,NOVEMBER1
UPCOMINGEVENTS
LCCP'sMommy &Me Playgroup: Every 2nd& 4th Friday,
Le Roy Physical Therapy (in the back gym). Any moms and their birth-kin-
dergarten children are welcome to come enjoy socialization, lunch, coffee,
structuredgames& freeplay.
ElectionNightPancakeSupper: LPSKiwanis
from4pm to7pmonTuesday, November 4th from4pm to7pm at the Staf-
fordFireHall. Cost is$7peradultand$4.50per child.Take-outsareavailable.
Proceeds benefit the Child Advocacy Center and other youth services in our
ElectionDayBeef/WeckatWyomingHook&Ladder
4-7:30pm, $8.50 -Takeoutsonly.
Fish Fryon Fri., Nov. 7atN. BergenPresbyterian Church,
7068N.BergenRd.,Bergen.Themenu includes friedhaddock,roastedpotatoes,
cabbage salad, rolls, beverage andhomemadedesserts. Servingwill be from
4:30pm-6:30pm.Takeoutsareavailable. Call494-1815 formore information.
HOLIDAYHAPPENINGS-
Saturday,November8thfrom9amtill3pm,The
East
Bethany Presbyterian Church
, 5735 Ellicott St. Rd., East Bethany, NY. Two
Big Floors of Craft andProduct vendors, Baked Sale, Basket (Chinese) Auction,
BreakfastandLunchAvailable.Come to thecountry toget in theHolidaySpirit!!
AnnualTurkeyTrot5KRun/Walk
tobeheldonSaturday,November8at the
Summit St. Courts in Le Roy.Walkers start at 9 am and runners at 9:30 am, if
youare registering that daypleasearriveby8:30am. Register at
com or call 768-7700.Turkeysareawarded to thewinners ineachdivisionand
refreshments and door prizes will be available after the race. All proceeds to
benefit the childrenof LeRoyNurserySchool.
HugeRummageSale -
First Congregational Church of Riga (33a@36), 7057
Chili-Riga Cntr. Rd.,Churchville - November 8, 7 am-2 pm - Contents from 2
estates, plus more arriving. Antiques, tools, furniture, craft items, curiosity
items, Christmas andmuchmore! Items checked at set-up, no junk. Sensible
CommunityCalendar Submissions shouldbe sent to:
BYRON—Rena H. Wolcott, 94, of Byron
died Friday (Oct. 17, 2014) at the Le Roy
Village Green Nursing Home. Memorials
may be made to Volunteers For Animals,
POBox 1621, Batavia, NY14021.
BERGEN/LE ROY — Frank J. Rubino,
85, of Meadows Way, passed away late
Saturdayevening (Oct. 18, 2014) atUnited
Memorial Medical Center in Batavia. The
courtesyofno flowers is requestedwithme-
morial contributionssuggested toeither the
family or to a charity of the donor's choice.
BYRON—RolandE. Marvin, 78, of Byron
passed away Sunday (Oct. 12, 2014) at
GeneseeCountyNursingHome, Batavia.
PAVILION — Cale L. McKeown, 22, of
Pavilion passed away unexpectedly on
Monday (Oct.20,2014)athome.Memorials
to: American Diabetes Association, 1701
NorthBeauregardSt.,Alexandria,VA22311
LEROY—DavidStarr Stevens, 71, of Le
Roy died unexpectedly on Saturday (Oct.
18, 2014) atUnitedMemorialMedicalCen-
ter inBatavia. In lieuof flowers,memorials
may be made to the Le Roy Volunteer
AmbulanceServiceor theFirst Baptist.