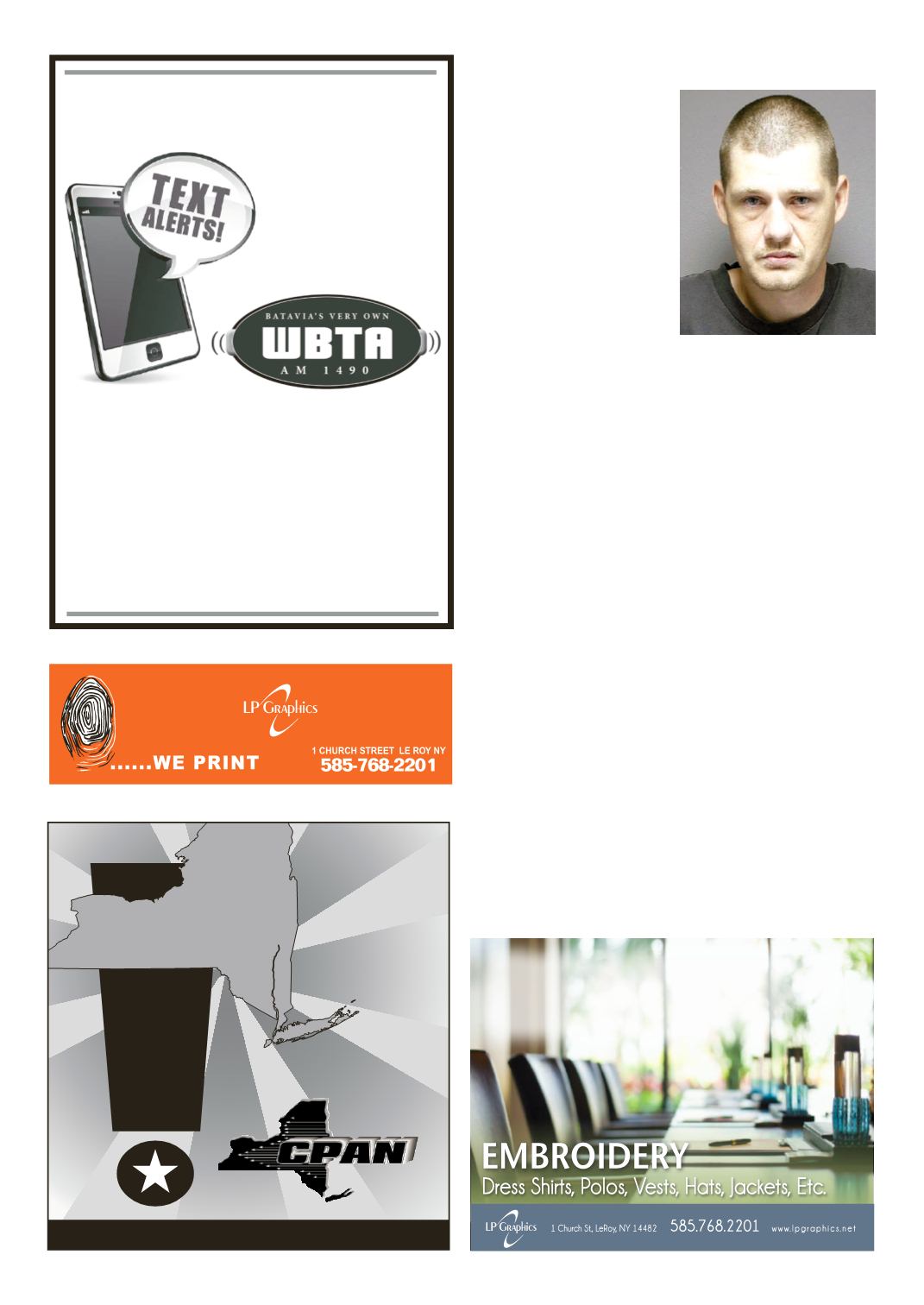 LEROYPENNYSAVER&NEWS -AUGUST24, 2014
SIGNUP TODAY!
GET ONLY THE
NEWS YOU
CHOOSE
FROM
New! Signup for TEXTALERTS.
Get only thenews you choose!
Be the first to know about SevereWeather,
BreakingLocal News, TrafficAdvisories&dSchool Closings.
Signup today forWBTATextAlerts.
Youneed to only supply your cell phone number
and select the services youwant to receive.
Wewill never sell your information toanyone.
WBTAi.com
SUBMIT
YOURAD
HERE
ONE
ONE
*$490 for15words. $15 foreachadditionalword.
AGreat Deal toReach theWholeState!
08/16/2014 - A police investi-
gation into an alleged ongoing
courseof domestic abusehas led
to the arrest of 34year oldPhilip
L.Adamsof 6580RandallRoad,
LeRoy. The complaint stems
from a former live-in girlfriend
who alleged that between De-
cemberof2013andMayof2014,
while they were living together
at an address in the Village of
LeRoy,Adamsphysicallyabused
the Victim numerous times.
Among other allegations, the
Victim alleged that one timeAdams assaulted her by pushing her
onto the hard pavement causing injury/bruising about her arm and
another timeAdams struckher in the facewith adetachable shower
headcausing injury/bruisingabouthereye.TheVictim furtheralleged
that Adams sprayed her with a flammable liquid and threatened to
light her onfire and also threatened to stick a lit cigarette inher eye.
Adamswasarrestedby theLeRoyPoliceDepartmentonThursday
8/14/2014 and chargedwith one count each of Stalking in the First
Degree, aClassD-Felony, Criminal Possession of aWeapon in the
ThirdDegree,aClassD-Felony,Assault in theSecondDegree,aClass
D-Felony,onecountofAggravatedFamilyOffense,aClassE-Felony
andonecountofAssault in theThirdDegree,aclassA-Misdemeanor.
The charge of Aggravated Family Offense alleges that Adams
committed a "SpecifiedOffense" relating to domestic violence and
had previously been convicted of a "SpecifiedOffense" within the
Adamswasarraignedbefore theHon.MichaelWelshof theLeRoy
Town Court and committed to the Genesee County Jail in lieu of
08/21/2014 - The LeRoy Police Department arrested 39 year old
Rebecca J. Cornell of 439 Sand Hill Rd., Caledonia, charging her
with one count of Petit Larceny, andA-Misdemeanor.
It is alleged that on July10, 2014, anunknownwhite female stole
clothing items from a store onWestAvenue in theVillage of LeRoy.
The follow up investigation using both the store surveillance video
and a license plate obtained during the commission of the alleged
crime, led to the identification of Cornell.
The LeRoy Policewere assisted in this investigation by theCale-
donia Police Department. Cornell was issued anAppearance ticket
andwill appear inLeRoyCourt on a later date.
MissingSomething?
lpgraphics.net