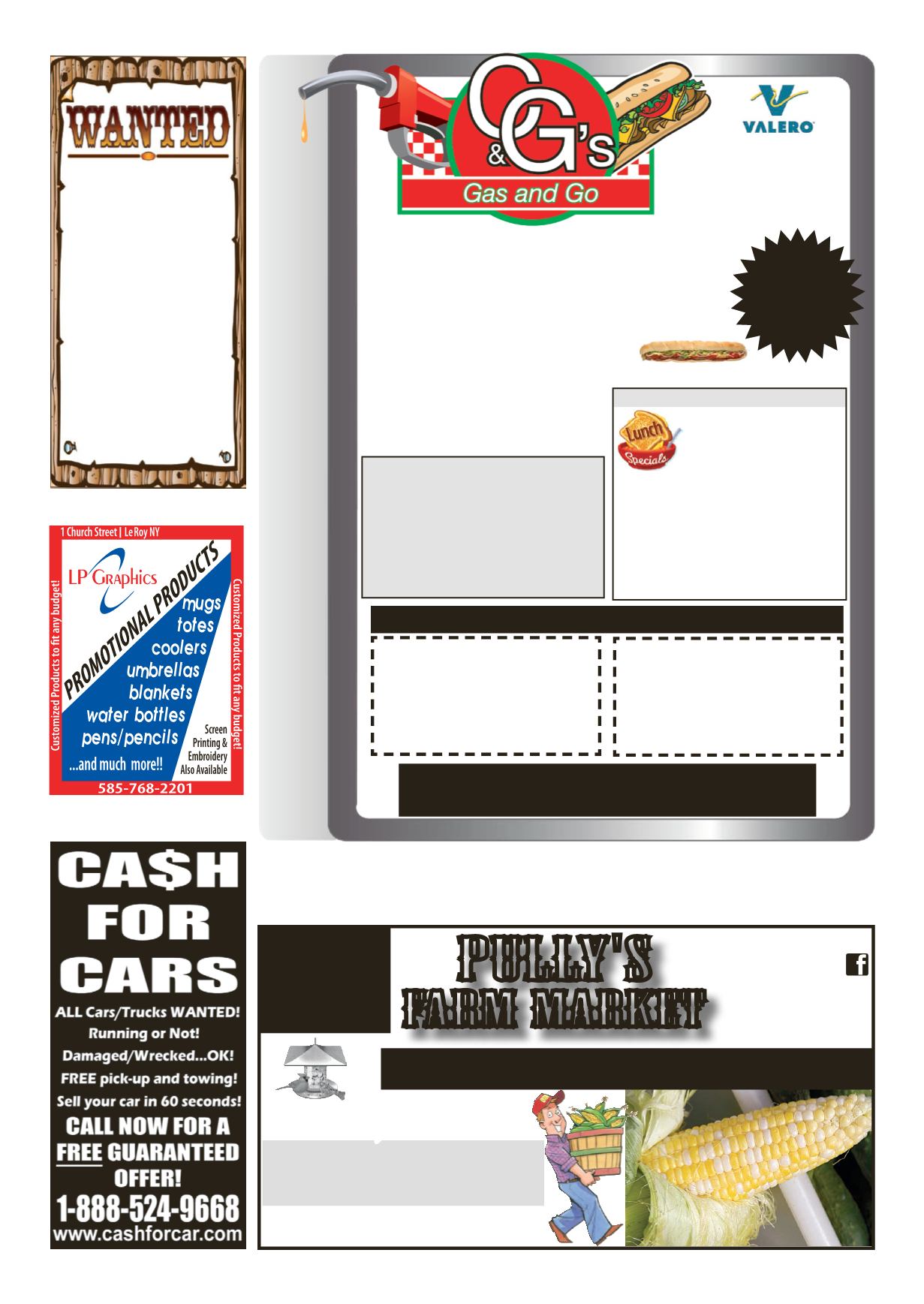 LEROYPENNYSAVER&NEWS -AUGUST24, 2014
Jams • Jelly
Gift CertificatesAvailable!
BIRDSEED
&FEEDERS
8160LakeRd. (Rt. 19)
LeRoy, NY
1/2mile southof Thruway
768-2280 • 704-1157
Hours:Mon.-Sat. 9-6, Sunday9-5
pullysfarmmarket.com
Sweet Corn
Zucchini • Summer Squash • Cucumbers
Peppers • Onions • Tomatoes
Peaches •Watermelon • Cantaloupe
Townsend Energy is currently
seekingaselfmotivated, custom-
TankwagonDriver
Reporting directly to the CSC or
DeliveryManager, theTankwagon
Driver is responsible for the safe
and timely delivery of product to
our customers. TheTankWagon
Driver will deliver, load and
unload petroleum into the bulk
truck and end use containers
while providing exceptional
CDLBwith Tanker andHazmat
are required, if interested,
please email a resume to
EarlyMums
&Asters
AVAILABLE
NOW!
Buy 1LargeCheesePizza
..................................$8.99
Get SecondLargeCheesePizza
.....................$5.00
Extra toppings $1.50.
NoCouponsPlease.
EARLY BIRDPIZZA SPECIAL!!
Sun. •Mon. •Tues. -LargeCheese - 16"
FRESHMADE TOORDER SUBS
ColdSub
......................$7.99
Hot Sub
.............................$8.99
MEAL DEAL
NoCouponsPlease
LargeCheesePizza&
12BuffaloWingsBone-in
CheckOut
Our GAS PRICE
5¢OFF
Every SUNDAY
ExpiresAugust 30th
ExpiresAugust 30th
NotGoodWithSpecials
NoCouponsPlease
Saturday& Sunday ONLY
SUPERSUBSPECIAL
(ColdSub)
LotteryHasArrived!
Monday-
Tuesday-
Wed
Thursday-
Friday-
16oz. FountainDrinkWithSpecials
*Subject to change
Monday-Friday
$5.00
IncludesFountainDrink
Homemade Chili -
$
2.99