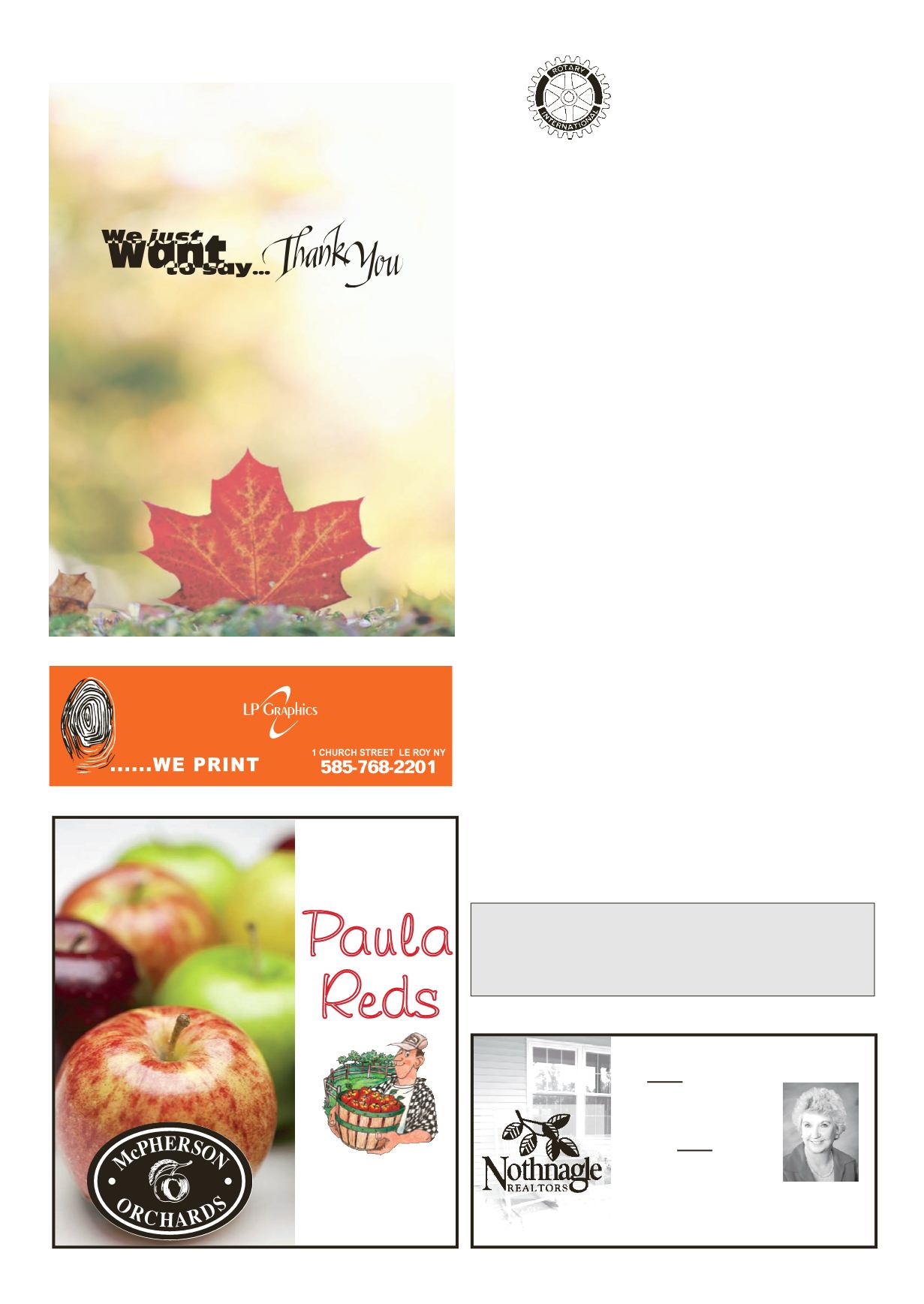 LEROYPENNYSAVER&NEWS -AUGUST24, 2014
SUPPORTYOUR LOCALADVERTISERS!
They help sponsor the local news section of the Le Roy Pennysaver.
THANKS FORYOUR SUPPORT!
LeRotary
Notes
Batavia
585-343-6750
NOW is theBEST time
toBUYwith the interest rates
at their lowest!
Don't wait
toBUY -
call
LindaBeaumont
for all your real
estate needs.
LindaBeaumont
Home (585) 768-6315
LicensedReal Estate
Salesperson
Multi-MillionDollar Producer
WoodwardMemorial Library
Fall/WinterHours
EffectiveWednesday, September 3, 2014
Monday, Tuesday,Wednesday, andThursday 9 a.m. to 8:30 p.m.
Friday 9 a.m. to 5 p.m., Saturday 10 a.m. to 4 p.m.
TheLibrary is closed onLaborDay,Monday, Sept. 1, 2014!
TheWoodwardMemorial Library
would like to thank the following for helpingmake the
summer reading programs a great success:
FiveStarBank, 58 onMain,AdventureLanding,Applebee'sGrill,
Aquarium ofNiagara,ArtAhLaCarte, BataviaMuckdogs,
BuffaloBills, BuffaloMuseum of Science,
ClarionHotel Palm IslandWaterpark, D&RDepot,
GeneseeCountryCampground, GeorgeEastmanHouse,
GevaTheater,Herschell Carrousel FactoryMuseum,
HobbyHorse,HomeDepot, Kellie'sCuts, Lakestreet Florist,
LeRoyCountryClub, LeRoyPhysical Therapy, LPGraphics,
PizzaLand, RochesterMuseum andScienceCenter, RockVentures,
S&SLimousines, SeabreezeAmusement Park, SkyZone,
SmokinEagleBBQ, Top'sMarket andWendy's.
Itwas a beautiful sunnyday for
ourWednesday lunchmeeting at
the Greens as President Randy
Vinkbrought themeeting toorder.
Guests today included: Sherye
Boylan, Ava andAddie Gephart
Pledge of Alle-
giance
Test theannouncements included:
Light the Night Fundraiser at
Hartwood Park, Sept. 6th LCCP
Raffle andDinner at theStafford
Fire Hall and President Randy
reminding us about the Area 14
Christmas Party in January.
Missed Meetings: After a few
misses we were delighted to see
JoeGiannettinobackandhepaid
handsomelywithmultiple green
cards,TracyFord,MarthaBailey,
TimMoag, and ScottMcCumis-
key each had a miss, Lauren
Humphrey was back after the
birth of their third child and she
looked fantastic! DavidGrayson
had twomissesandsenioractives
Bob Jones and Dave Frost both
Fines were heavy today. Tracy
Ford was fined for her two year
anniversary at East SideNursing
and Rehabilitation, Tracy Mor-
torana was fined for a confusing
photo of her on Facebookwhere
she was holding a baby. Turns
out the baby was little Louis
Humphrey which Lauren attest-
ed to. Scott McCumiskey was
fined for an unusual experience
with a chandelier in an outhouse
on Black Lake. He said it gave
newmeaning to sitting on "The
Throne." Bob Boyce was fined
for his grandson Ryan's MVP
award at the basketball tour-
nament he participated in this
summer. Joe Giannettino was
fined forhis twoyearanniversary
in the LeRoyRotaryClub. Then
ErikFix asked for the assistance
ofPastPresidentBobBoyce.Erik
pointedout toBob that President
Randy had neglected tofine him
for a missed meeting at which
point Bob also said Randy had
neglected tofineHIMaswell for
hismissedmeeting. SoPresident
Randyaftermanyexcuseshad to
Our program todaywas awon-
derfulpresentationofphotos tak-
enonSheryeandLarryBoylan's
trip to the Galapagos Islands in
the PacificOcean. Sherye talked
abouthow theygot to the islands,
how many islands there were
and where they were located
and showed us a Power Point
presentation of the indigenous
animalsof the islands.Everything
from turtles, birds, sea lions, sea
and land iguanas andmanyother
beautiful creatures native to the
islands. Thank youSherye!
Then the bell was rung and
our meeting was over until next
week. Don't forget to "Like" us
on Facebook at "RotaryClub of
Early Apples
OatkaTrail
OPENDAILY
9 am to 6pm
lpgraphics.net