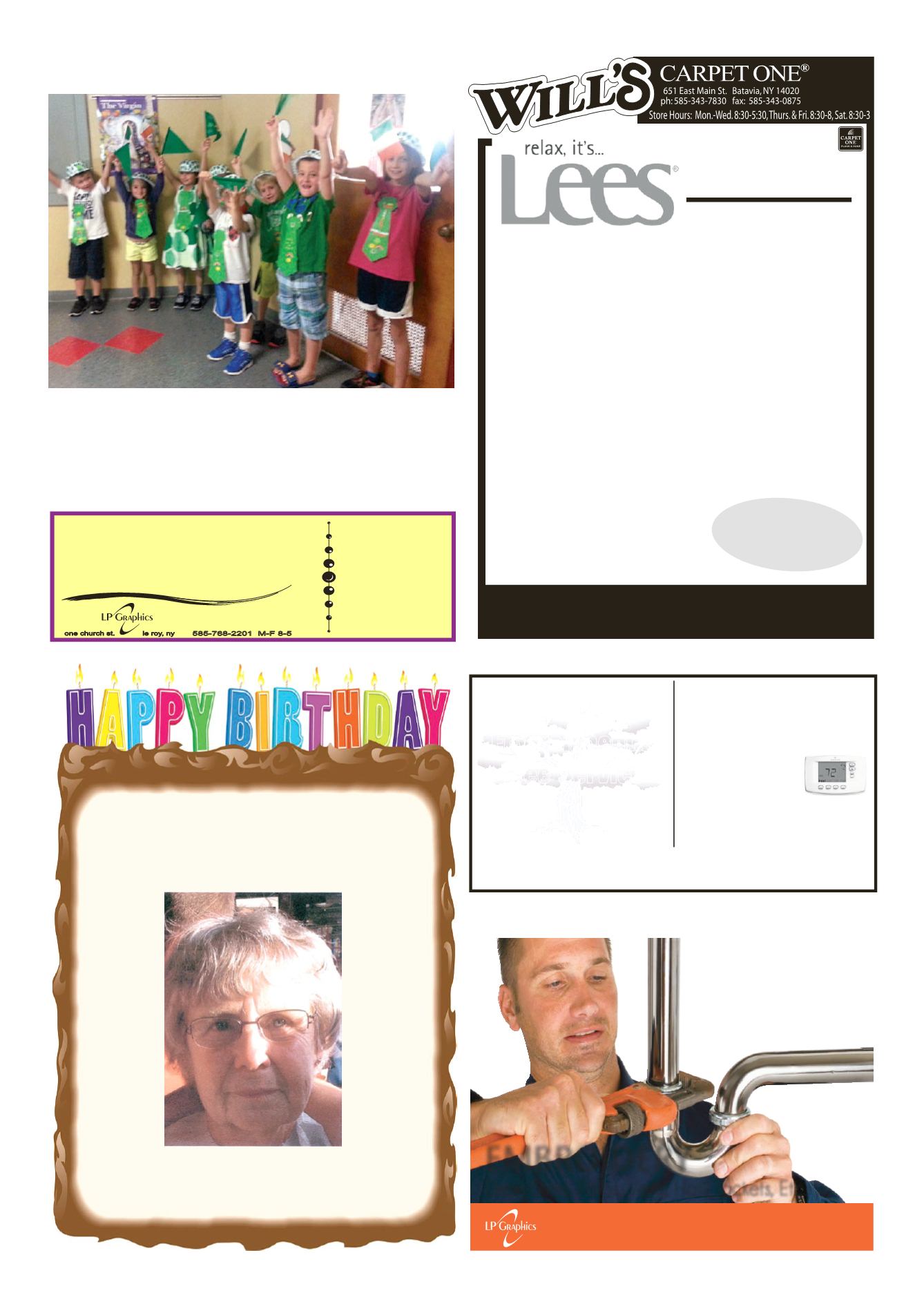 LEROYPENNYSAVER&NEWS -AUGUST 24, 2014
FLOOR
&HOME
TheONE store for your perfect floor.
•NOExclusions - Stain& SoilWarranty
• 25YearPet StainWarranty
• FreeEstimates
• FinancingAvailableTo
QualifiedBuyers
Malovich
Environmental
Tree Service
•TreeTrimming
•TreeRemoval
•StumpGrinding
FreeEstimates • Fully Insured
24Hour Service
• Residential
•MobileHomes
• ServiceRepairs
•New Installations
•ChimneyCleaning/Repairs
•ChimneyLiners
• Plumbing&Electrical
585-409-6509
Hurry
LimitedTime!
CARPET
ENTIRELINEOFLEE'SONSALE
InstalledWith a 6#Pad
50%
OFF
This summer, Love Bugs Preschool was very fortunate to have
VerginiaZoccoandJodiShawstartasummercamp forchildren
ages 4-7. The children learned about a different country each
day. Theyhad somuch fun creating and tastingmanydifferent
items from each country! One of the days they learned about
the customs, culture, traditions and foods of Ireland. Diaduit!
SummerBugs
If YouSee
BARBEDWARDS
onAugust 27th
WishHerAHappy
80th
Birthday!
1ChurchSt., LeRoy, NY14482
585.768.2201
Dress Shirts, Polos, Vests, Hats, Jackets, Etc.
one church st. le roy, ny
one church st. le roy, ny