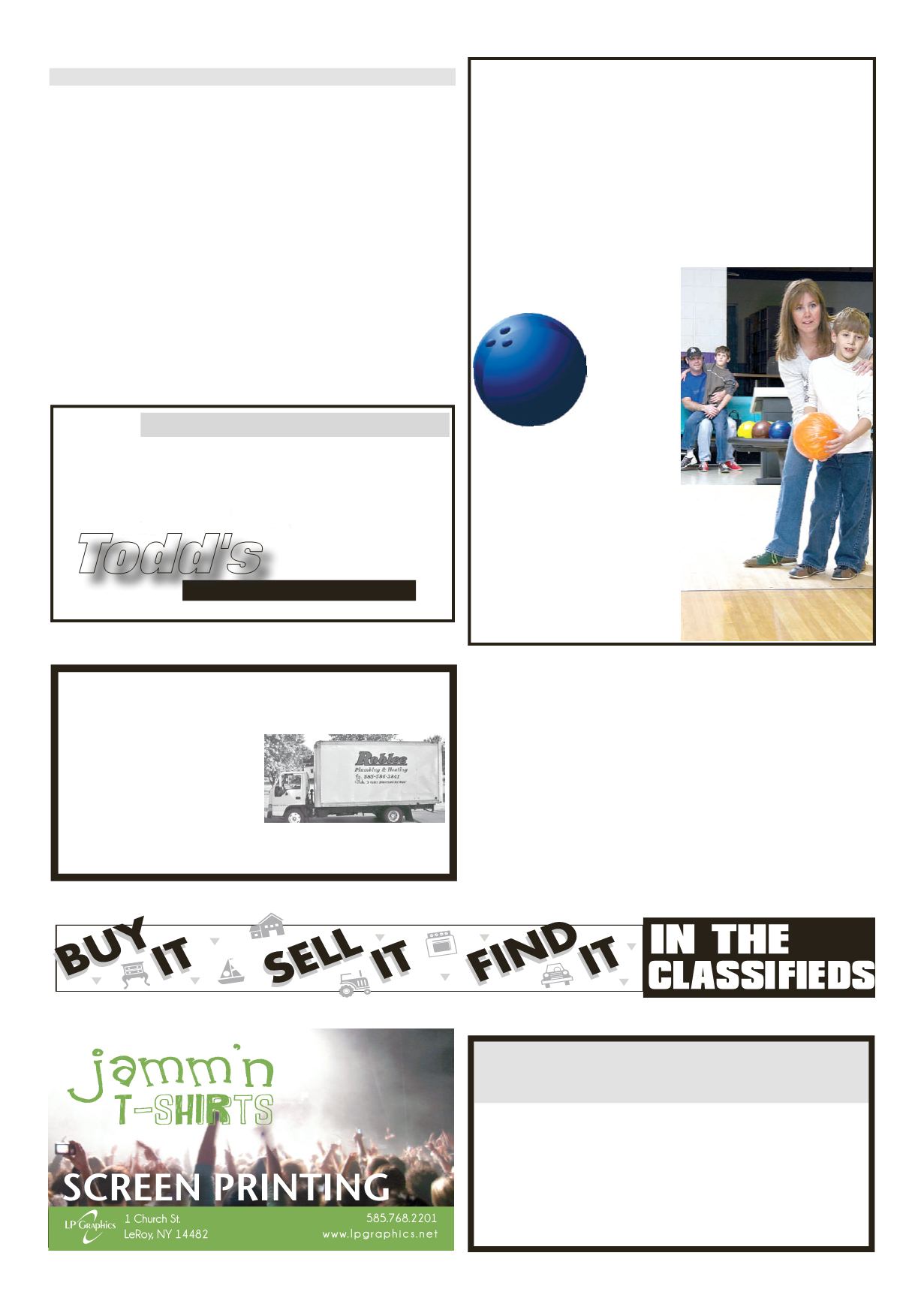 LEROYPENNYSAVER&NEWS -AUGUST 24, 2014
ALLWORKMANSHIP GUARANTEED • INSURED
297-9097 • 768-7737
• InteriorPainting
• Plaster/LathRestoration
•Drywall&Drywall Repair
•TextureRemoval
• Floors Stripped
&Refinished
•OldCeilings&Walls
MadeLikeNew!
MikeDarby'sPatch&Paint
Joinus
fora
good time on
Saturday.
Fun forages
4-21.
SIGN-UPS
LeRoyLegionLanes
Sign-Ups StartingSeptember6th
AnyNightDuringWeekAfter 6:00 pm
LeagueStarts
September13th
Prizes awarded at the
end of the season.
chances towin scholarships.
AdultLeagues
NowForming!
TuesdayNight 4-Person - 6:30Start
FridayNight 5-Person - 8:00Start
Call Scott at
768-8597 For Details
NewHomes •Additions •Garages •PoleBarns
ToddCarli • Phone 703-0964
Todd's
Decks •Windows •Doors
Kitchens •Baths
CeramicTile
Basement Finishing
CustomShelves/Built-Ins
Siding •Remodeling
Roofing • SnowPlowing
FULLY INSURED
SeniorGolfLeague
I was one of themany people
privileged tovisit your townand
JelloMuseumwhileparticipating
in the MINI Takes the States
All of uswere thrilledwith the
warmthandkindnessyour towns-
folk bestowed on us! Watching
the excitement in the peoples'
faces as we drove by and, OH,
thewaveswerepriceless tous!!!
WhenwegotoutofourMINIs to
visityourJelloMuseum,wewere
Visiting your Jello Museum
was a special treat for those of
us who remember a lot of the
advertisements either in print or
on TV. What a wonderful walk
The warmth and kindness of
your community will forever
remain a highlight of my MINI
Itdoesn'tseem likemuch,how-
ever it is from the bottom onmy
ROBLEE
Plumbing&Heating, LLC
10991LakeRd., Pavilion • (585) 584-3841
Full Insured
LUXAIRE
GOULD
NYSCertifiedBackflowTester
Water&Sewer Lines •Water Treatment&ConditioningSystems
1st - team 9 - 293.5 pts.
GaryHeimlich, Neil Bedford
7th - team 8 - 263.5 pts.
10th - team 4 - 246.5 pts.
Closes to thePin#17DonMiller,