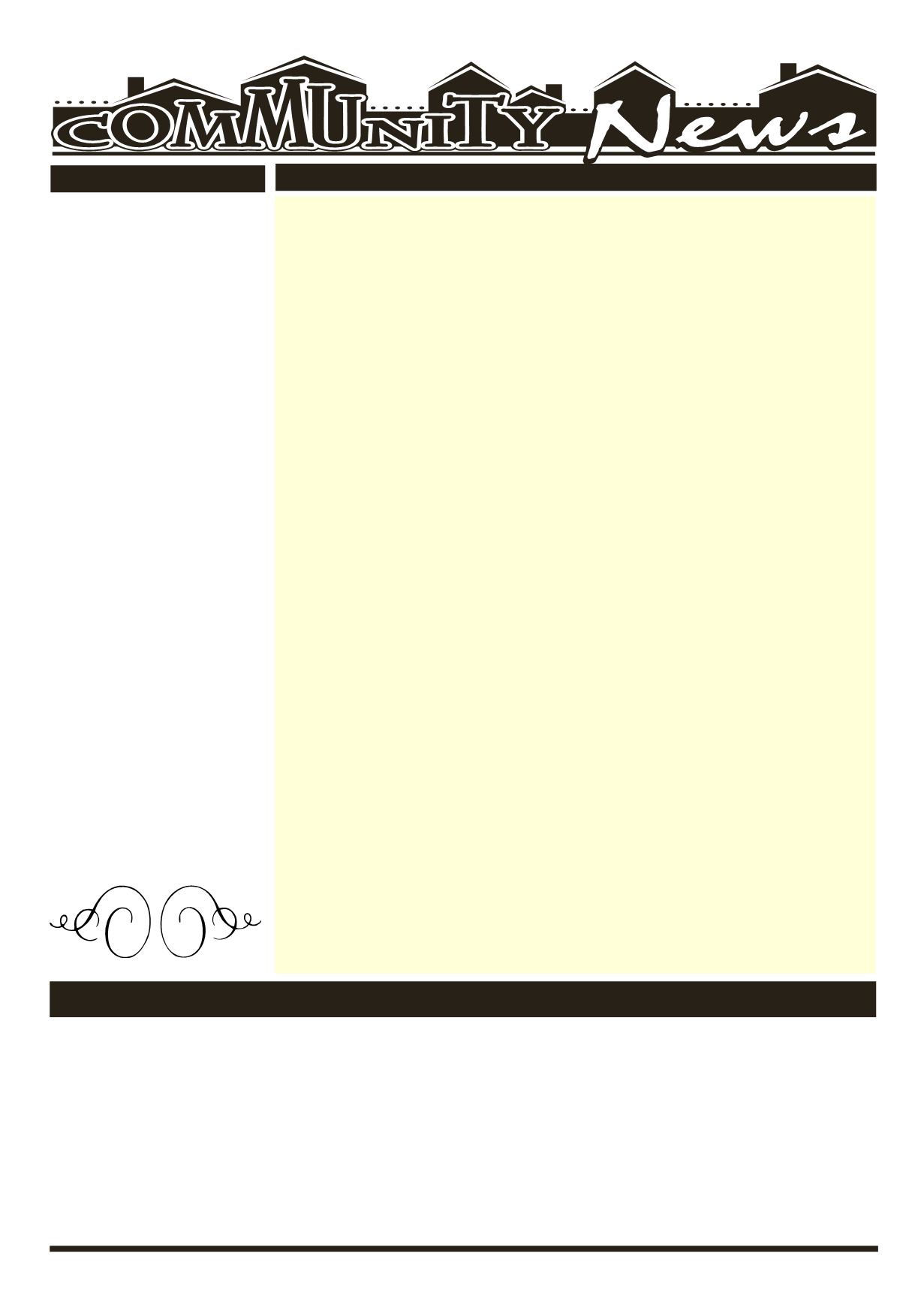 LEROYPENNYSAVER&NEWS -AUGUST24, 2014
All GeneseeCounty residents, 60andolder, can takepart in thisweek'sactivitiesat theBataviaSenior Center, 2BankSt., Batavia. Formore information, call 343-1611.
WEEKLYEVENTS
OBITUARIES
ArthritisExercise
is scheduled for 9:30a.m.;
Bridge
ARepresentative from IndependentHealth
isavailable from9:30a.m. to11:30a.m.;
MedicareSignUps
takingplace from12:00p.m. to2:00p.m.;
Cribbage
Quilters
are scheduled tomeet at 9:00a.m.;
Euchregame
is scheduled tobeginat 1:00p.m.
CribbageandBridge
MusicalKeyboardingLessons
LineDancing&ArtClass
are set tobeginat 10:00am.
SUNDAY,AUGUST24
AWANA Program at Penuel Christian Fellowship.
Street. Sundays 12:15 to1:45pm. Ages 5-17broken intogroups.
Developing friendships. Having fun. LearningaboutGod. Safeen-
Konnect YouthGroup at LivingWaters Church,
LeRoy. Sundays from6:30 to8:30pm forages12-18. "BringDown
all theWalls! Connect with God and Connect with others." For
more information, check us out online at: livingwatersleroy.org/
MONDAY,AUGUST25
TOPS (TakeOffPoundsSensibly)
6:30-7:15 pm at the LeRoy Presbyterian Church, corner of Clay &
MainStreets.Visitorsalwayswelcome.Call768-2933 formore info.
TUESDAY,AUGUST26
LCCP'sGRACE'SKITCHEN:
AFREEdinner everyTuesdayevening,
5-6:30pm at the LeRoyUnitedMethodist Church, 10TrigonPark.
ParkingavailableonTrigonPark&the lotstothe leftandbackofthe
Church. Handicapped Entrance in theback of the Church. Takeout
&deliveryareavailable. Formore info. contactSelbyDavisat585-
LeRoyZoningBoardofAppealsMeeting
pm at the TownHall, 48Main St. For further info. call 768-6910,
WEDNESDAY,AUGUST27
TheStaffordHistoricalSociety
willholdtheirmonthlymeeting
at7:00P.M.at the townhall locatedat8903Rt237. After thebusi-
nessmeeting,whenwewillgiveanupdateof lastmonth'sTasteof
Staffordevent,wewill behonoredwith themusicof"SouthMain
Attraction"byDaveArmitageandDonaLaVallewhowillplayase-
lectionofBluegrassandold time countrymusic. Comeandenjoy.
Village of LeRoy BoardMeeting,
7 pm at the Village Hall, 3
THURSDAY,AUGUST28
GeneseeVeterans SupportNetwork
velopment of Veterans focused AAmeetings every Thursday, 6-7
pm at the First Baptist Church, 306 E.Main St., Batavia.Meetings
led byMikeW. & are open to non-veterans aswell. Handicap ac-
cessible. For additional information call 585-302-0825.
GRACE'S CLOSET: A Clothing Giveaway Program
by LeRoyUnitedMethodist Church, 10TrigonPark, LeRoy. 9:30
am to 11:30 am every Thursday. We have clothing for all ages.
Spring&Summerclothingnowbeingput inplace. Weare inneed
of lighter coats, clothing, shoes, pajamas, bedding, sheets in all
bed sizes. Weaccept donations bedroppedoffat thehousenext
to the church. Please put all bags INSIDE on the back porch. No
electronics, TV's, computers, dishes, etc. Any questions call the
Townof LeRoyBoardMeeting,
7 pm at the TownHall Board
FRIDAY,AUGUST29
Penuel ChristianFellowship,
One Step to Freedom addictions
ministry,aChristCenteredAddictionsprogram,aweeklymeeting
everyFridayat7pm.Call theChurch formore informationat768-
UPCOMINGEVENTS
LCCP's Mommy &Me Playgroup: Every 2nd & 4th Friday,
12:00-1:30, LeRoyPhysicalTherapy (in thebackgym).Anymoms
and theirbirth-kindergarten childrenarewelcome to comeenjoy
socialization, lunch, coffee, structuredgames& freeplay.
LeRoyNurserySchoolParentNightandOpenRegistration
will be on Thursday, September 4, 7pm at the First Presbyterian
Church in LeRoy. Please joinus for informationonour 2, 3and5
dayclassesaswellastomeettheteachersandtheboardmembers.
Please call 768-7700 for informationor to register at any time.
ThemonthlymeetingoftheLeRoyStaffordSeniorCitizens
will be resumedonSeptember 10, 2014at 6:00pm. At theKof C
MeetingHall onWestMain St. Behind Save-A-Lot. Thiswill be a
pot lucksupperandyoushouldbringyourownplacesettinganda
generousdish topass. Dessertwill be furnished.TheLeRoyTown
Bandwill supply themusical program.
PavilionBaptistChurch
youthprograms
thewinteronWednesdayevening,September10th.Allcommunity
childrenarewelcome toattend. AWANA isaprogram for younger
childrenpre-school (4yearold) through6thgrade. It isa fun time
ofBibleStories,gamesBiblememoryandevenrefreshments.Word
of Lifeprogram is for teens7th through12thgrade.Weareeasily
located at 10956 S LakeRoad inPavilion. Call 585-584-3179 ext.
CommunityCalendar Submissions shouldbe sent to:
CALEDONIA/LAKELAND, FLA. —
Kevin Francis Clancy, passed away
suddenly Saturday (Aug. 9, 2014) at
age 65. Contributions can be made,
in Kevin's name, to Notre Dame High
School, 73UnionSt., Batavia.
BERGEN—JosephM.Bovenzi,86,of
Bergen diedMonday (Aug. 18, 2014)
at theVAMedical Center inBatavia.
LEROY—BettyOrlando, 87, formerly
of Lake Street, passed away Sunday
afternoon (Aug.17,2014)at theLeRoy
Village Green Nursing Home. Memo-
rial contributions are suggested to the
''ActivitiesFund'' at theLeRoyVillage
GreenNursingHome, 10MunsonSt.,
PAVILION— Lauris E. Kingdon, 89,
diedSunday (Aug.17,2014).Arrange-
mentsbyCameron,BradyandSteuber
LEROY -AntoniaZ.Wertheimer,95,of
Wynnewood, PA. (formerly of LeRoy)
died Saturday (Aug, 16, 2014). In lieu
of flowers,memorialsmaybemade toa
SaundersHouse, 100LancasterAve.,
PAVILION — Lauris Kingdon, 89,
passed away peacefully Sunday eve-
ning (Aug. 17, 2014) at the Batavia
Health Care Center. Private services
wereheldonAug.20.Burial atPavilion
LeRoy—MaureenC. Miggins, 88, of
MunsonStreet,passedawayWednes-
day afternoon (Aug. 20, 2014) at the
LeRoyVillageGreenNursingHome.