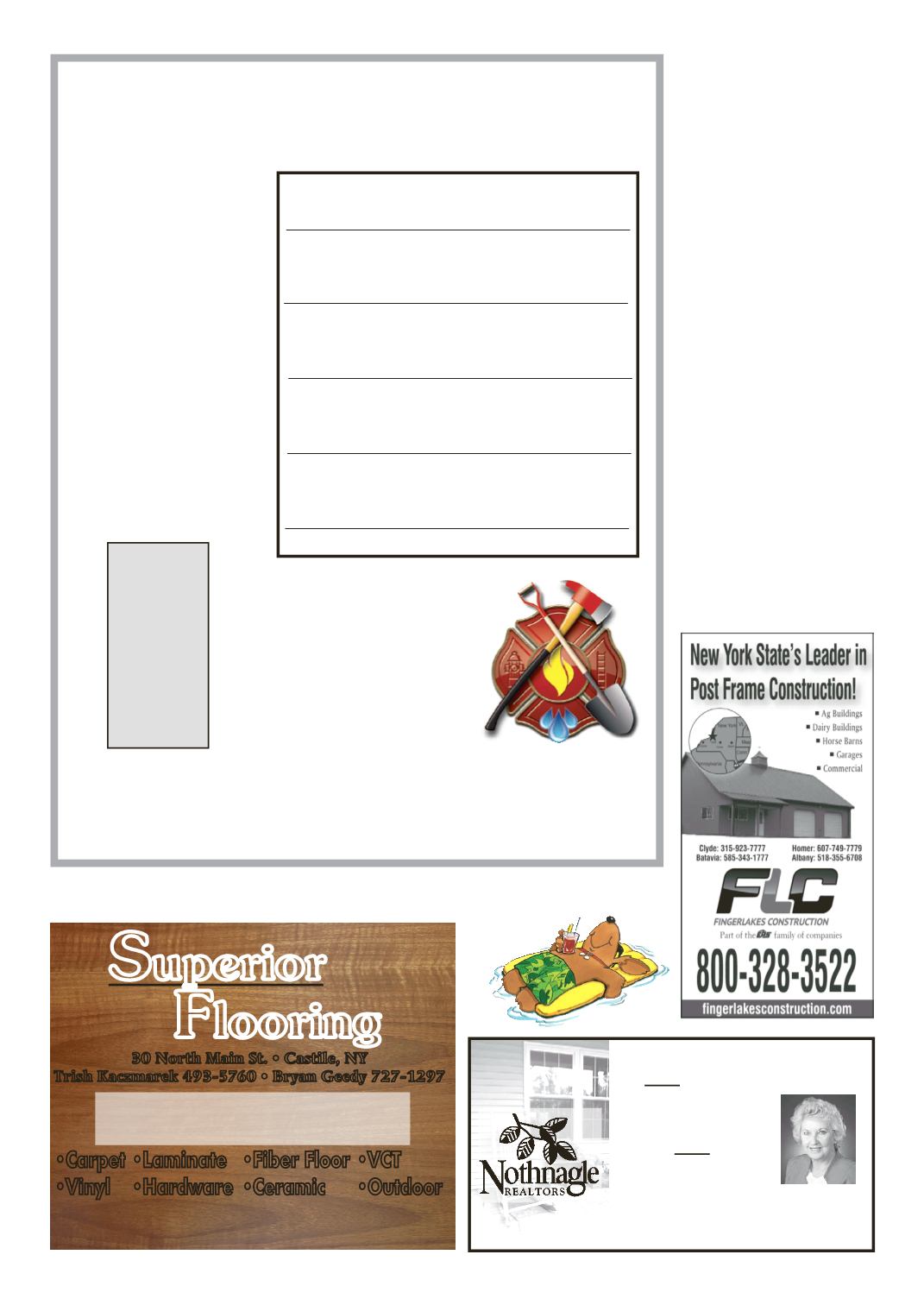 LEROYPENNYSAVER&NEWS - JUNE 22, 2014
30NorthMain St. •Castile,NY
TrishKaczmarek493-5760 •BryanGeedy727-1297
We have it all!
WBECertified FREEESTIMATES
•Carpet •Laminate •Fiber Floor •VCT
•Vinyl •Hardware •Ceramic •Outdoor
Serving you the best
Price •Quality& Flooring around!
Batavia
585-343-6750
NOW is theBEST time
toBUYwith the interest rates
at their lowest!
Don't wait
toBUY -
call
LindaBeaumont
for all your real
estateneeds.
LindaBeaumont
Home (585) 768-6315
LicensedReal Estate
Salesperson
Multi-MillionDollar Producer
LeRoy Fire Department
ReflectiveHouseMarkers/Signs
Cost - $16.00
Wewill deliver.
Anyquestions about the signs, feel free to e-mail at:
If interested,
pleasefill out
order form -with
checkmade out to
LeRoyFire
Department, Inc.
1
4
5
Michael Kovatch
wasnamed to thePresident'sList
at The State University of New
York at Geneseo for the spring
semester 2014. To be on the list,
astudentmusthaveachievedanA
inallcoursework (4.0gradepoint
average)while taking at least 12
Kelly Langer
been placed on The State Uni-
versity of NewYork at Geneseo
Dean's List for the spring se-
mester 2014. To be on the list,
a student must have achieved at
least a 3.5 grade point average
while taking a minimum of 12
ChelsieHixenbaugh
have been named to the spring
2014 dean's list at St. Bonaven-
EthanRichardson
was among students to graduate
fromMorrisville State College