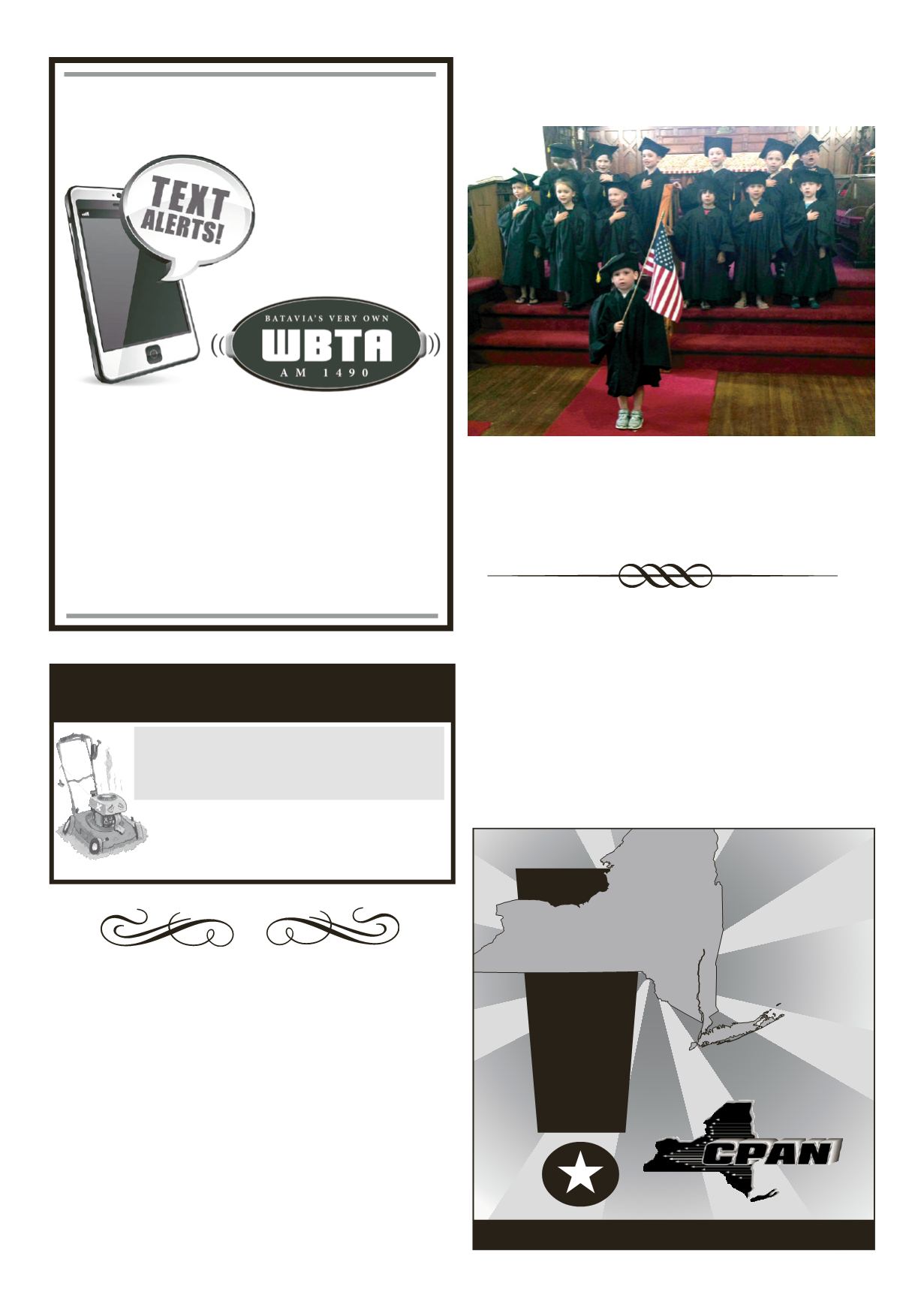 LEROYPENNYSAVER&NEWS - JUNE 22, 2014
06/12/2014 - The LeRoy Police Department is asking for assis-
tance indeterminingwho stoleawallet fromanelderly femalewhile
in a supermarket onWest Main Street in LeRoy. TheVictim states
that shewas in themarket between3:00 and3:45p.m. onThursday
6/12/2014when anunknownperson stoleherwallet from insideher
pursewhile shewas not looking.
TheLeRoyPolice is advising all citizens to be alert for this type
of criminal behavior as it is not unusual for criminals to follow
individuals around a store, then distract the attention of the victim
intentionally or wait until the victim is distracted for other reasons,
then reach into the purse and steal thewallet.
TheLeRoyPolice isasking that thecitizensbealert to this typeof
behavior and call 9-1-1 immediately if you see this typeof behavior
happening to yourself or others.
ONE
ONE
*$490 for15words. $15 foreachadditionalword.
AGreat Deal toReach theWholeState!
SIGNUP TODAY!
GET ONLY THE
NEWS YOU
CHOOSE
FROM
New! Signup for TEXTALERTS.
Get only the news you choose!
Be the first to knowabout SevereWeather,
Breaking Local News, TrafficAdvisories&dSchool Closings.
Signup today forWBTATextAlerts.
You need to only supply your cell phone number
and select the services youwant to receive.
Wewill never sell your information toanyone.
WBTAi.com
•Engine andTransmissionRebuilds
•Lawn andGardenEquipment •ATV's, Dirt Bikes
•PickUp andDeliveryAvailable
Hours: Tues.,Wed. 6 pm to 8 pm
Thurs., Fri., Sat. 9 am to 6 pm, Closed Sun.,Mon.
8525Rt. 237, Stafford,NY14143
1st team -9 -136pts,TedSkalny,
t-2nd team - 3 - 133 pts.
Pete Weaver, Rod McDonald,
t-2nd team - 7 - 133 pts.
t-3rd team - 2 - 128.5 pts.
LorenWetzel SeniorGolfLeague
LowNet:
SunshineNurserySchoolheld their2014Graduationceremony.
Friends and familieswatchedwithpride as the Pre-K children
walked to"PompandCircumstance"and sang someof their fa-
voritesongs.All inattendanceenjoyedaslideshowpresentation
of photos taken throughout the year, aswell as a surprise video
starring thePre-KdancingGhostbusters!
SunshineGraduates
Of 2014!