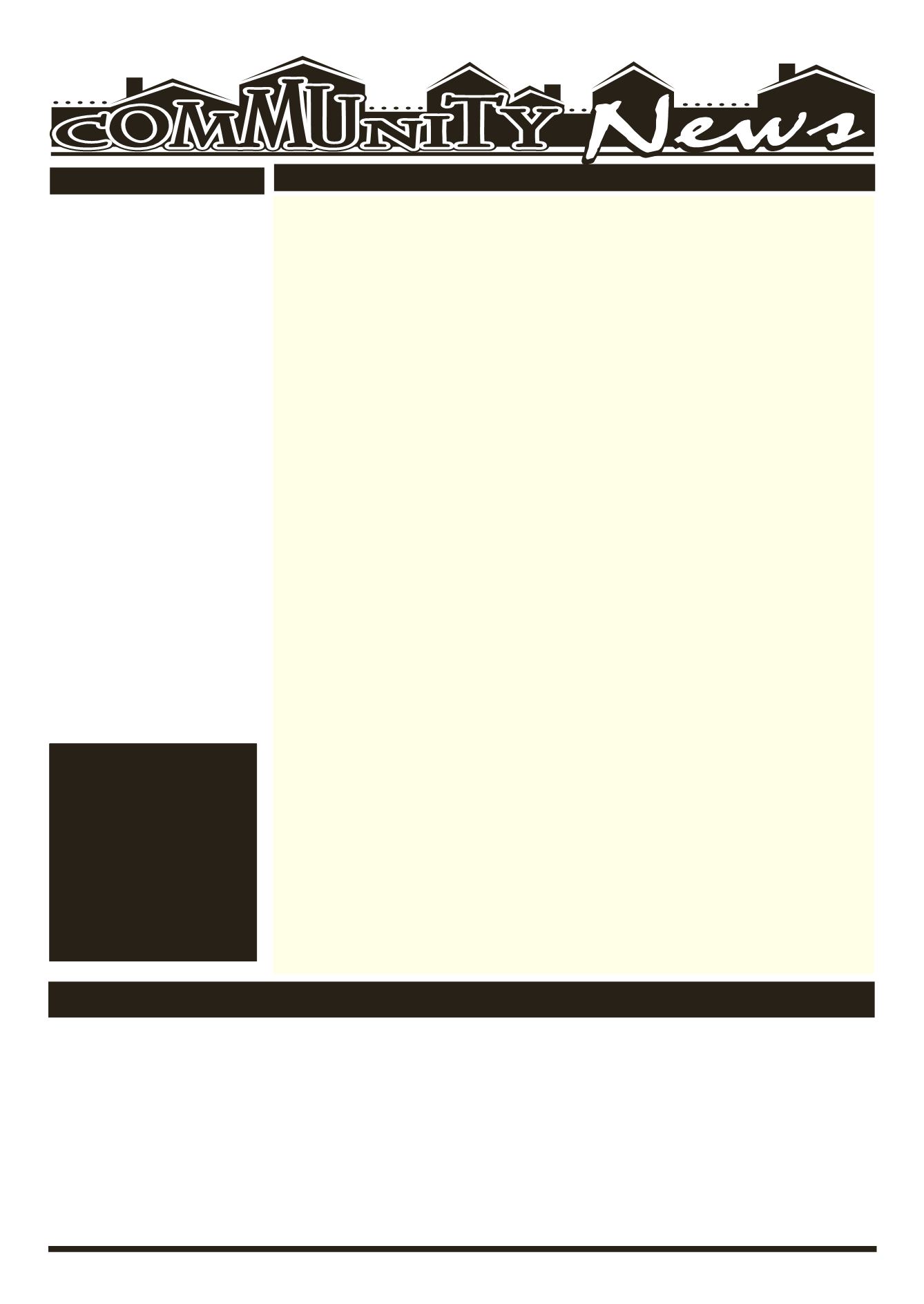 LEROYPENNYSAVER&NEWS - JUNE 22, 2014
All GeneseeCounty residents, 60andolder, can takepart in thisweek'sactivitiesat theBataviaSenior Center, 2BankSt., Batavia. Formore information, call 343-1611.
WEEKLYEVENTS
OBITUARIES
ArthritisExercise
Arepresentative fromUnivera
willbeavailable from10:00a.m. to12:00p.m.;
Bridge
TheLifespanMeeting
is set tobeginat 1:00p.m.
MedicareSignUp
isavailable from12:00p.m. to2:00p.m.;
Cribbage
Ombudsmen
are scheduled tomeet at 8:30 a.m.;
Quilters
are scheduled tomeet at 9:00 a.m.;
Euchre
CribbageandBridge
MusicalKeyboardLessons
arescheduled tobeginat2:30p.m.
ArtClassandLineDancing
TaiChi
SUNDAY, JUNE22
AWANAProgramatPenuel ChristianFellowship.
MainStreet. Sundays12:15 to1:45pm.Ages5-17broken into
groups.Developing friendships.Having fun. Learningabout
Konnect YouthGroupat LivingWaters Church,
St. LeRoy. Sundays from 6:30 to 8:30 pm for ages 12-18.
"Bring Down all theWalls! Connect with God and Connect
with others." For more information, check us out online at:
livingwatersleroy.org/konnect-youth-ministry/
MONDAY, JUNE23
TOPS (TakeOffPounds Sensibly)
from6:30-7:15pmat theLeRoyPresbyterianChurch, cornerof
Clay &Main Streets. Visitors always welcome. Call 768-2933
TUESDAY, JUNE24
LCCP's GRACE'S KITCHEN:
A FREE dinner every Tuesday
evening, 5-7 pm at the LeRoy UnitedMethodist Church, 10
TrigonPark. ParkingavailableonTrigonPark& the lots to the
leftandbackof theChurch.HandicappedEntrance in theback
of theChurch. Takeout&deliveryareavailable. Formore info.
LeRoy ZoningBoard of AppealsMeeting
7:30 pm at the Town Hall, 48 Main St. For further info. call
WEDNESDAY, JUNE25
The StaffordHistorical Society'smonthlymeeting
be presenting a programbyTerry C. Abrams, theAdministra-
tiveCoordinator ofWesternNewYorkAssociationof Historical
Agencies (WNYAHA) and vice-president of the Tonawanda
Reservation Historical Society. His program will be on the
history of theTonawanda Reservation, including the pre-res-
ervation era, the treaty era, Ely Parker's role in saving the
reservation and information about the reservation of today.
Themeeting startsat7:00P.M. at theStaffordTownHall Court
Room locatedat8903Route237. Thepublic is invited.
Villageof LeRoyBoardMeeting,
THURSDAY, JUNE26
Genesee Veterans Support Network
the development of Veterans focused AA meetings every
Thursday, 6-7pmat the First Baptist Church, 306 E.Main St.,
Batavia.Meetings ledbyMikeW.&areopen tonon-veterans
as well. Handicap accessible. For additional information call
GRACE'S CLOSET: A Clothing Giveaway Program
sored by Le Roy UnitedMethodist Church, 10Trigon Park, Le
Roy. 9:30 am to11:30 am everyThursday. Wehave clothing
for all ages. Spring & Summer clothing now being put in
place. We are inneed of lighter coats, clothing, shoes, paja-
mas, bedding, sheets in all bed sizes. We accept donations
bedroppedoffat thehousenext to the church. Pleaseput all
bags INSIDE on thebackporch. Noelectronics,TV's, comput-
ers, dishes, etc. Anyquestions call theoffice768-8980.
Town of LeRoy Board Meeting
FRIDAY, JUNE27
Penuel ChristianFellowship,
One Step to Freedom addic-
tionsministry, aChristCenteredAddictionsprogram, aweek-
ly meeting every Friday at 7 pm. Call the Church for more
informationat768-6901or406-3863.
UPCOMINGEVENTS
LCCP'sMommy&MePlaygroup:Every2nd&4thFriday,
12:00-1:30, Le Roy Physical Therapy (in the back gym). Any
moms and their birth-kindergarten children arewelcome to
come enjoy socialization, lunch, coffee, structured games &
CommunityCalendar Submissions shouldbe sent to:
Le Roy
Pennysaver
LEROY—ReginaK.Alexyn, 88, of EastMain
Road passed away Thursday afternoon (June
12, 2014) at Crossroads House in Batavia.
Memorialsaresuggested toCrossroadsHouse,
POBox 403, Batavia, NY14021.
PAVILION — June F. Phelps passed away
Saturday (June 14, 2014) at her home at age
91. Memorialsmaybemade to thePavilionFire
Department,11302SouthLakeRd.,POBox156,
BYRON -Margaret "Maggie"MaryRobbins,83,
ofRochesterand formerlyofByron, diedFriday
(June 13, 2014) after a brief illness. In lieu of
flowers, memorialsmay bemade to the family
for future charitable considerations.
LEROY - Gordon F. Couch, 93, passed away
on May 27, 2014, in Keller, Texas, formerly of
Chili andLeRoy. Flowers gratefully declined.
LEROY—LewisJ. Lander, 77, ofNorthStreet
passedawayunexpectedlyathomeonMonday
evening (June16, 2014). In lieuof any flowers,
memorials are suggested to theLeRoyAmbu-
LE ROY— James M. "Pat" McGrath, 88, of
the Greens of Le Roy, passed away Tuesday
morning (June 17, 2014) at Hospeace House
in Naples. In lieu of flowers, memorials are
suggested toOntario-Yates Hospice, 756 Pre-
EmptionRd., Geneva, NY14456.
STAFFORD— Howard LeonardDoty passed
away Friday (June 13, 2014. Memorials may
bemade toVolunteers forAnimals, 3841West
MainSt., Batavia, NY14020.