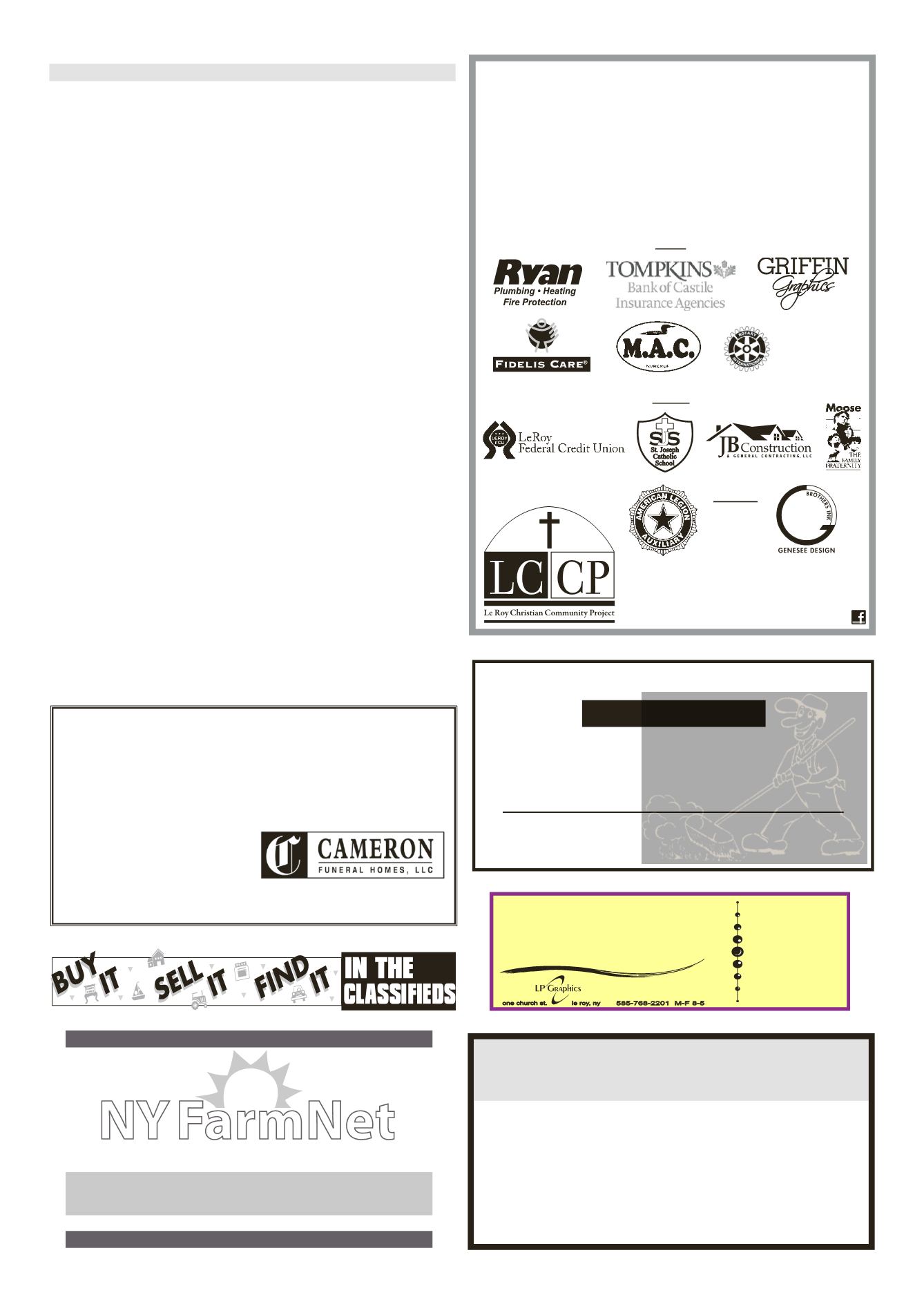 LEROYPENNYSAVER&NEWS - JUNE 22, 2014
HelpingFamiliesCelebrateaLifeLived
"Our FamilyServingYours Since 1907"
Trusted•Honest •Proven
(585) 768-6800•LeRoyFuneralHome.com
Cameron, Brady&Steuber
FuneralHome
111Wolcott Street
LeRoy,NY14482
ALLWORKMANSHIP GUARANTEED • INSURED
297-9097 • 768-7737
• InteriorPainting
• Plaster/LathRestoration
•Drywall&Drywall Repair
•TextureRemoval
• Floors Stripped
&Refinished
•OldCeilings&Walls
MadeLikeNew!
MikeDarby'sPatch&Paint
NYFarm
Net
Brightening the futureofNYagriculture since1986
BusinessPlanning •Retirement&EstatePlanning
FinancialAnalysis •StressManagement
PersonalWellbeing •BusinessTransfers
1.800.547.FARM • NYFarmNet.org
100% FREE&CONFIDENTIAL
byKimM. Cox
Superintendent of Schools
The 2013-14 school year is
rapidly coming to a close. Our
highschool studentshavealready
completed their classes and are
taking final exams. The elemen-
tary students will be done on
Tuesday the24th. Iwould like to
take amoment to thank the staff
and students for their dedication
and hard work that went into
makingapositiveandproductive
The entire Le Roy Central
School District community en-
sures that our students are pro-
videdwithsafepassage toschool,
a positive and secure learning
environment, healthymeals and
aviableand rigorouscurriculum.
We are fortunate to have sup-
portiveandcaringadults serving
in all aspects of the school. This
year we have a few of our cher-
ished team members leaving
us to begin new adventures in
retirement. Congratulations to
Mrs.PatHill,elementary teacher,
Mrs. Gail Freeman, Jr./Sr. High
SchoolSecretaryandMr.Donald
Pickell, Bus Driver. Thank you
for all you have done to support
thechildrenof theLeRoyCentral
SchoolDistrict.Wewishyouwell
The summer is a busy time at
the District. September 3rd will
be here before you know it.
New
to theDistrict?
soon as possible to register your
children for school so we can
plan for a smooth transition toour
school district. Also, don't forget
transportation
forms forpick-upanddelivery
your children. Routes are already
being created for the fall. Look
for our school bus in the Oatka
Festival Paradeon July19th! You
andyourchildrencan takea tourof
the bus and complete a form right
at the festival.Bringacannedgood
ornon-perishable itemand let'ssee
ifwecanfill thebus tohelpout the
Finally,Graduationwill beheld
onSunday, June29that1:00p.m.
at the High School Auditorium.
Weareveryproudof theseyoung
men andwomen as they leave us
and take thenext steps tocollege,
career or military service. Con-
gratulationsClass of 2014!
Gold:
The LeRoyChristian
CommunityProject
would like to thank all our generous sponsors,
participants, and dedicated volunteers thatmade
our 2
nd
Annual SpringCelebration a success!
7EastMainStreet • LeRoy
585-768-7540
leroychristiancommunityproject.org
Bronze:
Silver:
Rotary
CleaningService
•Carpet &UpholsteryCleaning
•Spot Cleaning&Odor Removal
•Tile&WoodFloor Cleaning&Waxing
•Complete Janitorial Services
one church st. le roy, ny
one church st. le roy, ny