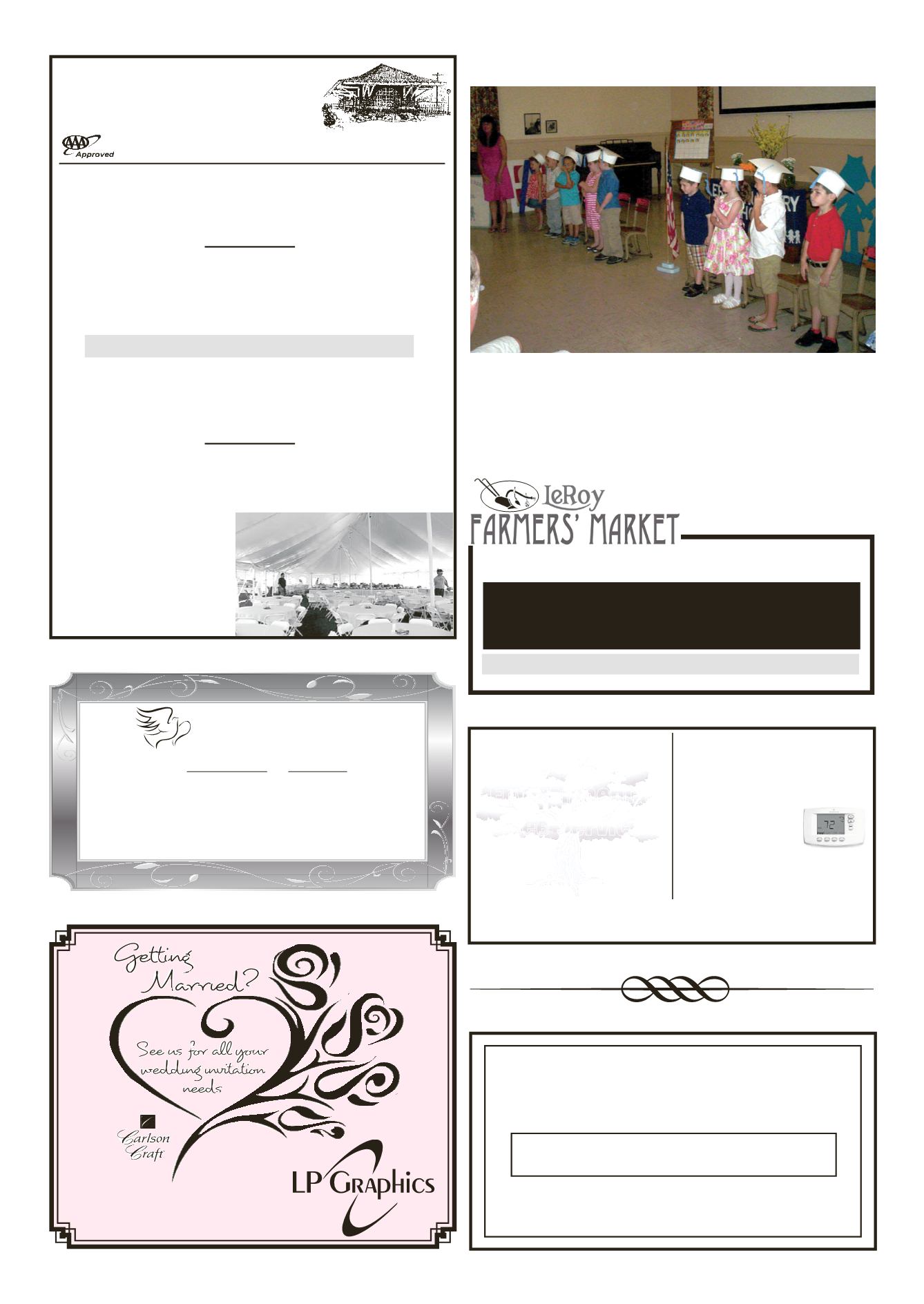 LEROYPENNYSAVER&NEWS - JUNE 22, 2014
D&RDepot
63LakeSt. (Rt. 19), LeRoy• 768-6270
Let'sMeetAt The ...
OpenForBreakfast, Lunch&Dinner - 7DaysAWeek 7am-9pm
F
ALCONE
F
AMILY
Funeral&Cremation Service, Inc.
Director/Owner
Director /Owner
FuneralDirector
SUNDAY, JUNE 22ndDINNERSPECIAL
ROASTTURKEYDinnerwithhomemadedressing - $15.99
(includes soup or salad, realmashed potatoes, beverage,
pumpkin ice cream pie)
SUNDAY, JUNE 29thDINNERSPECIAL
VIRGINIABAKEDHAMDinner - $15.99
(includes soup or salad, scalloped potatoes, beverage
and pineapple upside down cake)
TheDepotWillNotBeOpenOnFriday, July 4th
SUNDAY, JULY6thDINNERSPECIAL
BARBECUEDCHICKENn'RIBSDinnerSpecial - $16.99
(includes soup or salad, potato salad, beverage
andChessCake dessert)
TheDepot's new sister company, DoubleLRentals - offering tables, chairs,
heaters, bars, linens, dishes& catering supplies for your special occasions!
10%Discount
when youuseboth the
D&RCateringServices
andDoubleLRental
foryour event.Visit
doublelrental.com
or call us at
(585) 344-0023
Jams, jellies, eggs, gluten free bakedgoods,Yancey'sFancyCheeses, Tracy'sTeas,
Natural DogTreats byEva, NundaMustards, OnceAgainNut Butters,
First Light CreameryCheeses andYogurts, baked goods, organic produce, honey,
h, locally grown produce.
• LeRoyFarmer'sMarket onFacebook
TRIGON PARK
Saturday, June 28th
9:00 am-12:30 pm
LOCAL • FRESH•DELICIOUS •NUTRITIOUS
Seasonal Fruits andVegetablesWill BeArrivingWeekly!
LeRoyNursery School had their 2014 Pre-KGraduationCer-
emony. A very special and exciting night! Many families and
friends came to see their special little onewalk out and receive
their Bachelor of Rhymes diplomas. The children sang songs,
readapoemandsharedmanyhappymemoriesfromLNS.Watch
outKindergarten "Here theyCome"!
LNSPre-KGraduation
Plumbing • Heating
Installation&Repair Service
For All Residential &Commercial Work
Malovich
Environmental
Tree Service
•TreeTrimming
•TreeRemoval
•StumpGrinding
FreeEstimates • Fully Insured
24Hour Service
•Residential
•MobileHomes
•ServiceRepairs
•New Installations
•ChimneyCleaning/Repairs
•ChimneyLiners
585-409-6509
Wehave theFriends of theLibrary, 30thSummerReadingProgram.