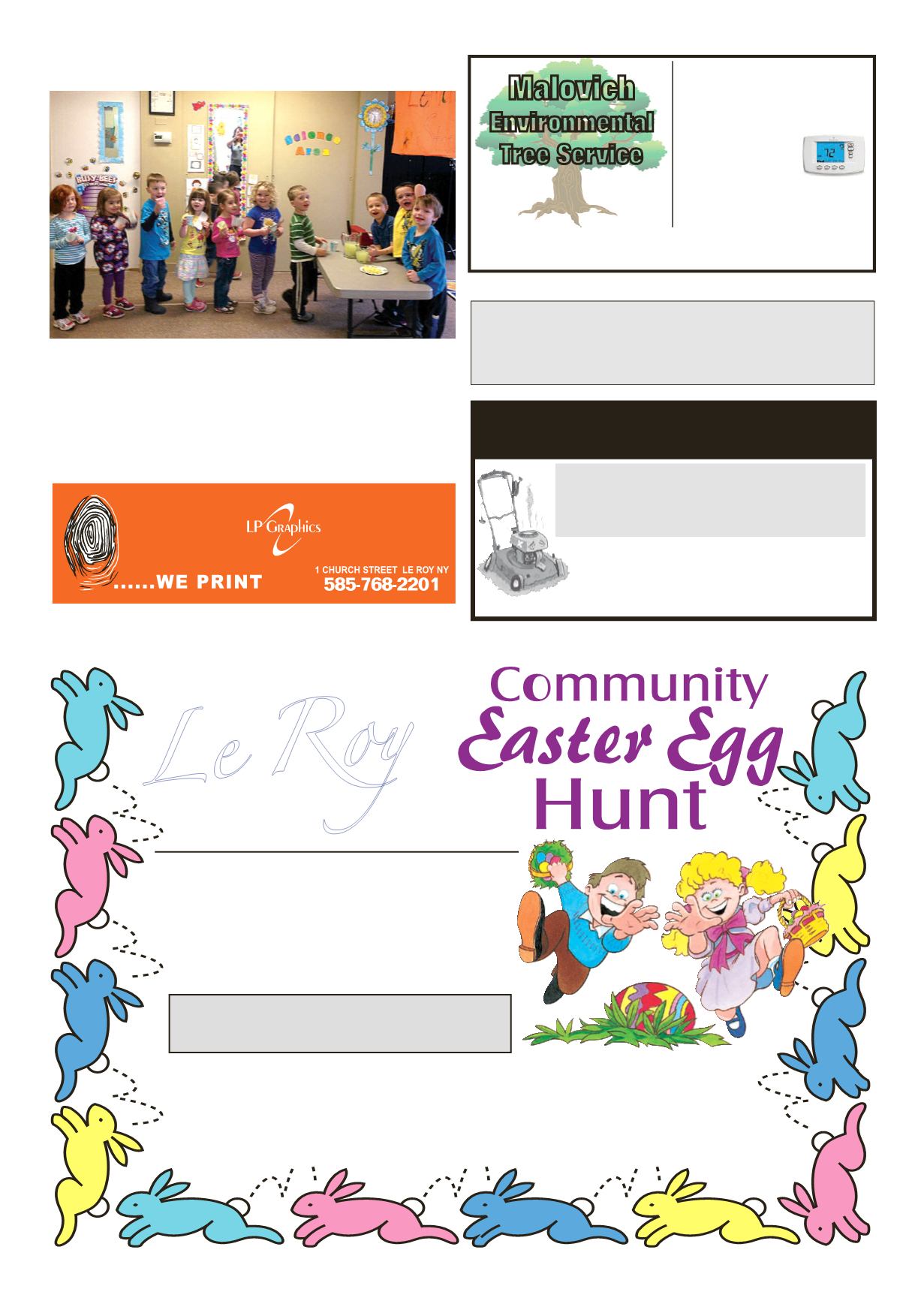 LEROYPENNYSAVER&NEWS -APRIL 13, 2014
SUPPORTYOUR LOCALADVERTISERS!
They help sponsor the local news section of the Le Roy Pennysaver.
THANKS FORYOUR SUPPORT!
•Engine andTransmissionRebuilds
•Lawn andGardenEquipment •ATV's, Dirt Bikes
•PickUp andDeliveryAvailable
Hours: Tues.,Wed. 6 pm to 8 pm
Thurs., Fri., Sat. 9 am to 6 pm, Closed Sun.,Mon.
8525Rt. 237, Stafford,NY14143
Malovich
Environmental
Tree Service
•TreeTrimming
•TreeRemoval
•StumpGrinding
FreeEstimates • Fully Insured
24Hour Service
•Residential
•MobileHomes
•ServiceRepairs
•New Installations
•ChimneyCleaning/Repairs
•ChimneyLiners
585-409-6509
Free Coffee, Juice &Hot Dogs
Sponsored by: The American Legion • TomMcGinnis • Le Roy Business Council
Knights of Columbus • Le RoyMoose Family Center • Le Roy Federal Credit Union
Oatka Fish andGameManagement Society •McDonald's of LeRoy •UpstateMilk
Rotary Club of LeRoy •VietnamVeterans of AmericaChapter 193 •Northwoods Sportsmen's ClubAssoc.
Orcon Industries •Kiwanis of Le Roy/Pavilion/Stafford • Tompkins Bank of Castile
Sunshine Nursery School's Pre-K andNursery children joined
together for some lemon filled fun! The Pre-K class set up a
lemonade stand and the Nursery children excitedly lined up to
makea refreshingpurchase.The childrenalso enjoyedpainting
yellowmasterpieces, squeezing and tasting lemons and playing
with lemonadePlay-doh!
LemonadeAnyone?
lpgraphics.net