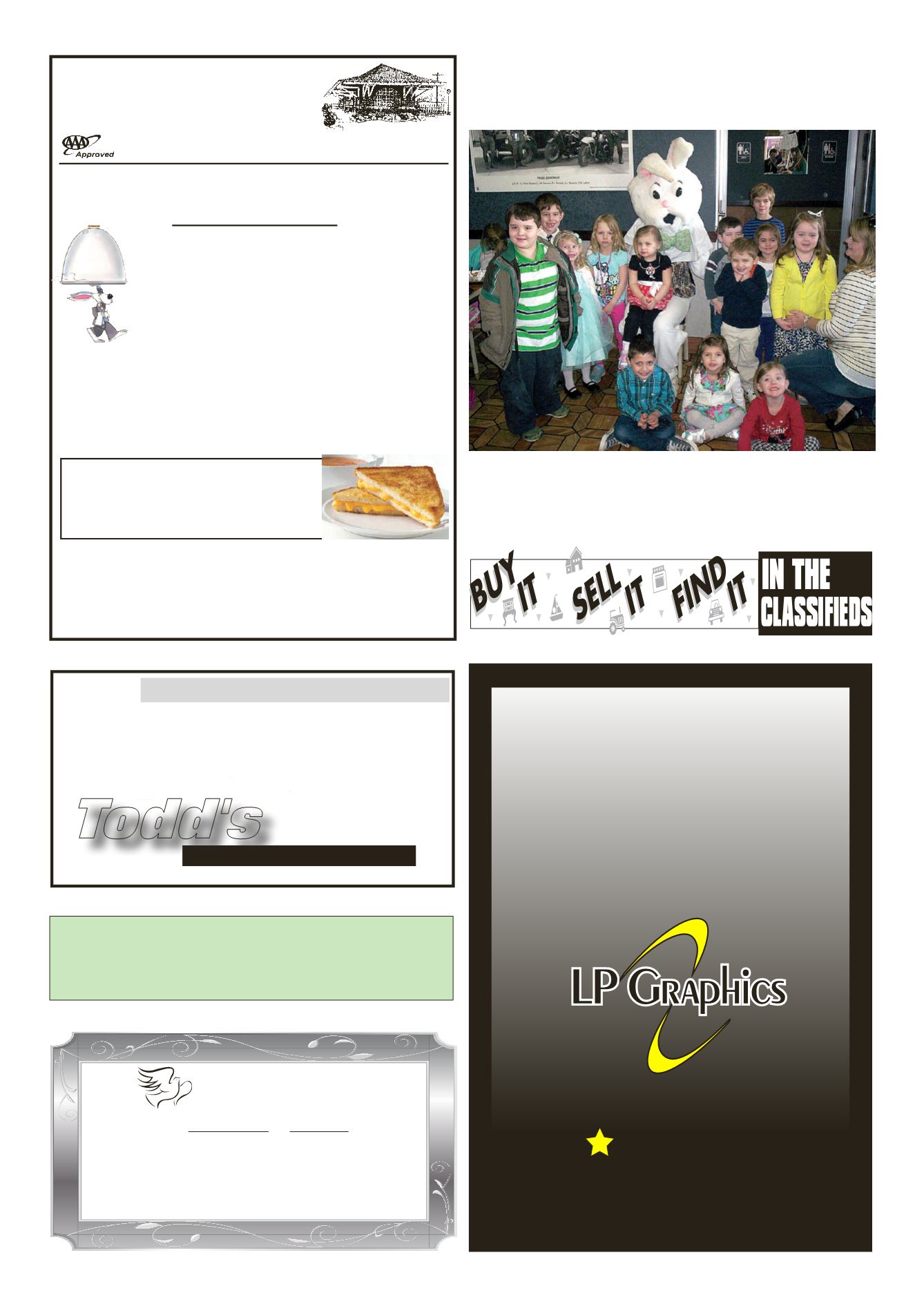 LEROYPENNYSAVER&NEWS -APRIL 13, 2014
D&RDepot
63LakeSt. (Rt. 19), LeRoy• 768-6270
Let'sMeetAt The ...
OpenForBreakfast, Lunch&Dinner - 7DaysAWeek 7am-9pm
TheDepot's new sister company,
DoubleLRental
heaters, bars, linens, dishes& catering supplies for your special occasions!
10%DISCOUNTwhen youuseboth the
D&RCateringServices andDoubleLRental for your event.
Visit doublelrental.com, or call us at (585) 344-0023
F
ALCONE
F
AMILY
Funeral&Cremation Service, Inc.
Director/Owner
Director /Owner
FuneralDirector
NewHomes •Additions •Garages •PoleBarns
ToddCarli • Phone 703-0964
Todd's
Decks •Windows •Doors
Kitchens •Baths
CeramicTile
Basement Finishing
CustomShelves/Built-Ins
Siding •Remodeling
Roofing • SnowPlowing
FULLY INSURED
SUNDAY,APRIL13thDINNERSPECIAL
STUFFEDGREENPEPPERDinner - $14.99
(includes soup or salad, rice, choice of beverage and dessert)
EASTERSUNDAY
APRIL20
Servingdinner from 11 am – 7pm
Reservations are strongly suggested.
Offering a slightly limiteddinnermenu – including:
Roast Leg of Lamb, ChickenPot Pie, PrimeRibs of
Beef, Steaks,VeggieLasagna, BroiledScallops, HamSteak,
PoachedSalmon and other entrees.
Children'smenu andSenior portions available
Remember – here at theDepotwe do not raise our prices on
holidays andwe strive to seat reservations on time.
APRIL ISGRILLEDCHEESE
SANDWICHMONTH at theDepot!
Check ourwebsite – dandrdepot.com
for the sandwich of the day.
LeRoyNurserySchool had its annualBreakfastwith theEaster
Bunny. Familiesof thenurseryschoolandcommunitycameand
enjoyedbreakfastandgotpictures takenwith theEasterBunny.
A fun community experience!
BreakfastWithThe
EasterBunny
SUPPORTYOUR LOCALADVERTISERS!
They help sponsor the local news section of the Le Roy Pennysaver.
THANKS FORYOUR SUPPORT!
1CHURCHST, • LEROY, NY • lpgraphics.net
WEHANDLEALLASPECTSOFPRINTING...
PROGRAMS
LETTERHEADS
BILLHEADS
FLYERS
BROCHURES
POSTERS
CARBONLESSFORMS
ENVELOPES
RAFFLETICKETS
NEWSLETTERS
RESUMES
TYPESETTING
RUBBERSTAMPS
ENGRAVEDSIGNS
NAMETAGS
COPIES
LAMINATION
COMMUNITYFAX
NEWSANDPICTURES
ADVERTISING
BUSINESSCARDS
HOURS: Monday thruFriday8:00 to 5:00