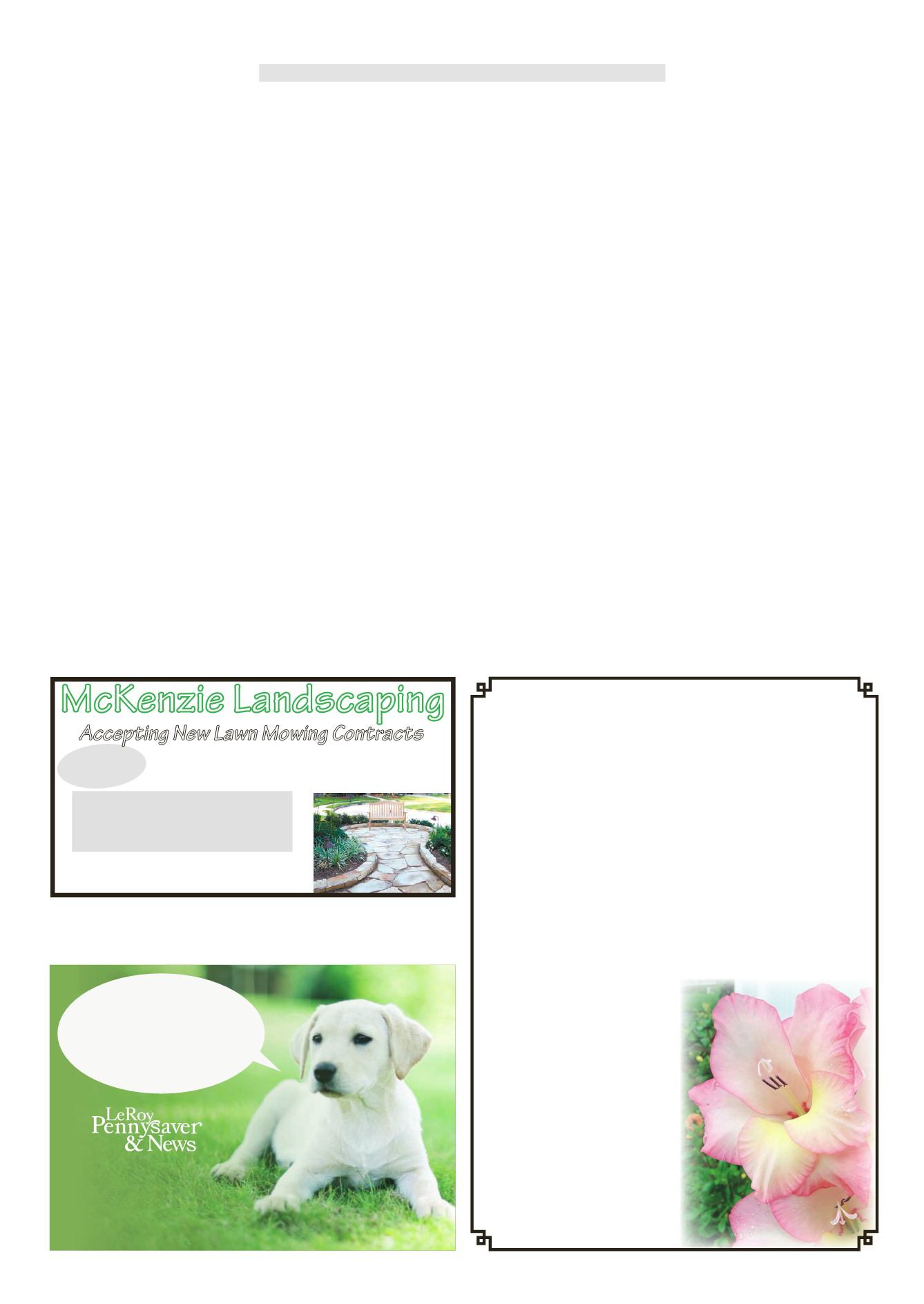 LEROYPENNYSAVER&NEWS -APRIL 13, 2014
byKimCox
Superintendent of Schools
At the Regular Meeting on
April 8th, the Le Roy Central
School District Board of Educa-
tion adopted the 2014-15School
Budget.Thebudgetdevelopment
hasbeenacomplexandcarefully
designed process. The board has
worked hard to maintain and
enhance educational programs
whileensuringfiscal responsibil-
ity to the community. While we
were fortunate to receive some
additional funding from theState
in the form of a reduction of the
gap elimination adjustment, the
District is still expecting over
$1,000,000 less inStateAid than
received in2008.This reduction,
known as the Gap Elimination
Adjustment (GEA), was initially
approved as a one-time adjust-
ment to school aid intended to
close the State Budget gap in
2008. Thisfiscalpolicycontinues
WITHHOLD
aid. In doing so the GEA cre-
ates fiscal distress and increases
pressures on the local taxbase to
compensate for theState's short-
comings.As consumers, you are
also aware that the cost of doing
not
same since2008. Like everyone
else, the School District is sub-
ject to operating increases that
are beyond our control.We have
had toworkhard toclose thisgap
between expenses and revenues,
so thatwecancontinue toprovide
thehighqualityprogramour stu-
Next year our total budget
$22,608,985
$667,148
3.04%
The bulk of this increase is due
to operating and contractual
costs.We expanded our athletic
training services, increased a
BOCESsocialworkservice from
a .5 position to a .8 position and
increased the assistant principal
positions from 11 month to 12
monthemployees.Tooffset these
increaseswehaveone retirement
that will be replaced, while re-
alizing some cost savings. Due
to enrollment shifts, we will
reduce an art teacher position to
half time. At minimal cost, we
are able to add a total of
17
courses, including3APcourses,
5English electives and electives
in both art and music! We will
utilize over $600,000 from re-
serves and we will be applying
the increased state aid that we
did receive.Whilewewill see a
2.6%
levy increase, this is well
below the tax levy limit that we
are able to impose under the tax
4.1%
for next year. Most importantly,
we will strive to keep our
tax
rate
, themost important number
to you the taxpayer, to within
.43 cents of the current year. I
always like to remindpeople that
this rate is not set until August.
Our best estimate at this time is
$24.25
$23.82
In making yearly decisions
about the budget we consider
many important perspectives in-
cluding the input thatwe receive
from the community, teachers
and administrators, as well as
the mission, vision and goals
of the district for our students.
Our main goal is to continue to
dowhat is best for our students.
While this can be a challenging
balancing act, we feel confident
that the 2014-15 Le Roy School
Budgetwillmeet these needs.
More information about the
Budget will be coming in the
District Newsletter and will be
available on the District web-
site in late April. We will also
be presenting the budget at the
BudgetHearingonTuesday,May
13th at 7:00 p.m. in Memorial
Auditorium. Thank you for your
HaveaWonderfulSpringBreak
McKenzieLandscaping
Takingcallsnow
forpre-orders
ofMulch!
AcceptingNewLawnMowingContracts
Residential/Commercial •SpringCleanups
BULKMULCH
On (Techo-Bloc)Hardscapes
FreeQuotes •Fully Insured
CallScott (585)455-5275
The family of
Oleta (Calnan) Feltes
wishes toacknowledge thekindandcaringstaffmembersat the
Genesee CountyNursingHome Rehab Center in Batavia;
theVillageGreen of LeRoy; and theER, ICU, andComfort
Care units atUMMC inBatavia.
Wearedeeply touchedby theoutpouringof loveandsupport
from the community, and appreciate all of the cards, calls,
food, and kindness you've shown us. We appreciate the
professional andattentive serviceprovidedby theCameron,
Brady&SteuberFuneralHome;LakeStreetFlorist; and the
D&RDepot forcatering thememorial luncheon, courtesyof
JohnCameron.Weshallnever forget thebeautifulmemorial
service conducted by Rev.
David Pepper and accom-
panied by Henry Emmans,
and the luncheon service
graciouslyprovidedby the la-
dies of theFirstPresbyterian
Church of LeRoy.
Oleta was the center of her
family and she will be deeply
missed and fondly remem-
bered by both her family and
her friends.We thank you for
sharing her passingwithus.
Advertise•Classifieds•News
HelpWanted•CommunityCalendar
1ChurchSt., LeRoy, NY14482
585.768.2201