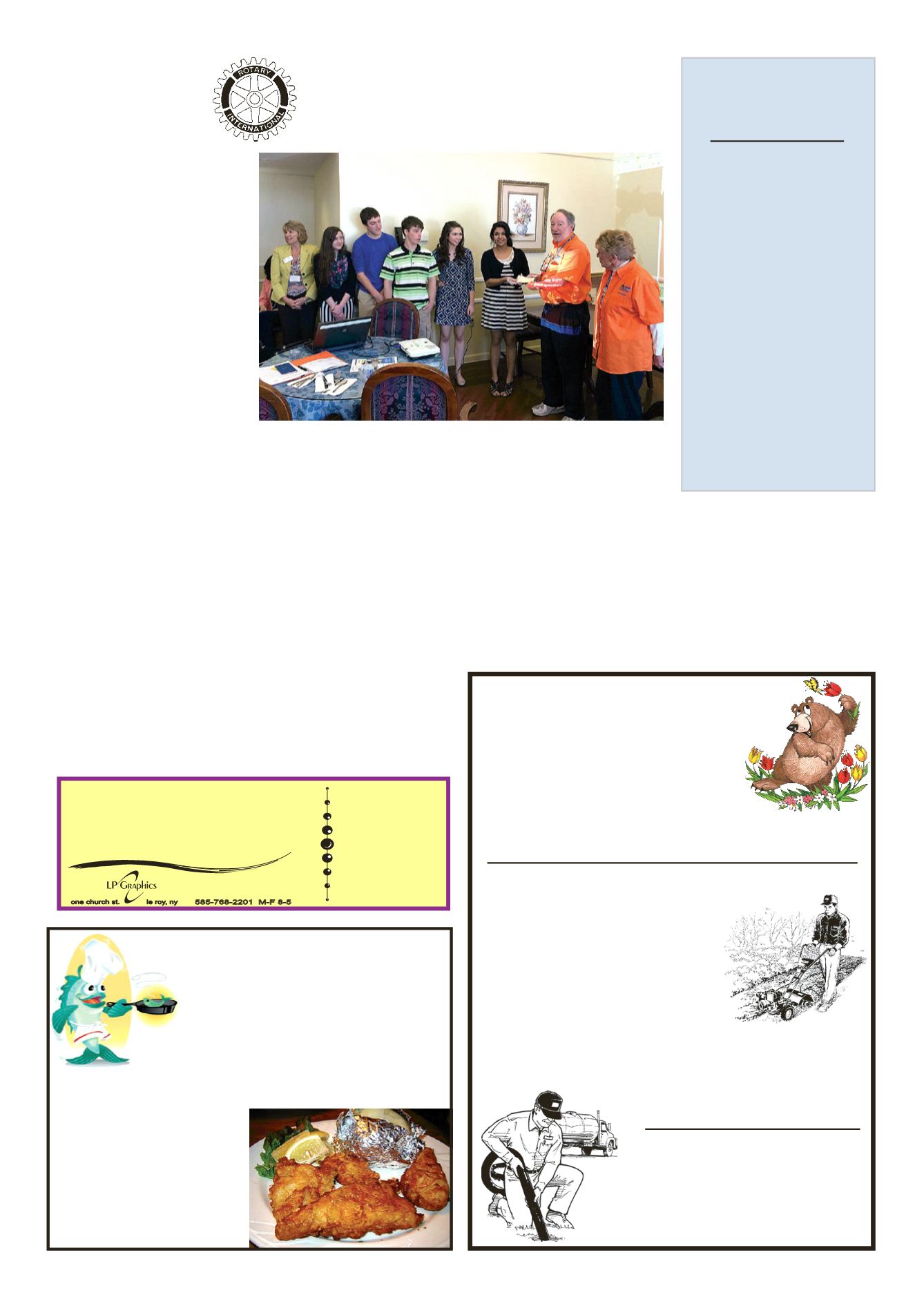 LEROYPENNYSAVER&NEWS -APRIL 13, 2014
FISH FRY
(585-502-5155)
Notes forApril 2, 2014
Spring is in the air, really!Our
meetingwas jammedpackedwith
Guests:
niors that attend our meetings
eachweek, also,members of the
Rotary InterAct Club from the
high school. Honor Flight vol-
unteers and from thePerryClub,
KimWebster,DonnaFrancisand
Jane Monaghan. Assistant Dis-
trict GovernorMarleeDiehl and
VirginiaZocco,wifeofRotarian
Announcements:
Stuffing at the Moose, April
12thDistrictAssembly,May3rd,
LCSCareer Fair, May 9th, Rent
ARotarian, May 10th, Graze to
Raise, May 16th, REAL, June
21st,YWCA$10,000cash raffle,
TheCharterApplications have
beensigned for theRotaryEarly-
Act Clubs for LeRoy and St Jo-
sephs. Let'swelcome our young
Misses:
tarians had misses and covered
themwith make-ups: Scott Mc-
Cumiskey, Mary Margaret Rip-
ley, Randy Vink (and one gift),
SteveZocco.Those thatpaidwith
GreenCards$$$ ...LynneBellus-
chio,TracyMortorana (make-ups
too), Jerry McCollough (make-
1stProgram:
terActClubpresented a check to
HonorFlight for $1,700. During
the Pride meetings they heard
stories from a WWII Veteran
and raised money at basketball
games. This money will send 4
Veterans from either Korea or
a great fund raiser! Throughout
the year the InterAct Club has
had a Fall Fest, Winter Roller
Skating and continues to work
LeRotary
Notes
2nd Program:
RotarianTracyMartorana.What
isMeditation?What isHolostic
Wellness? She spoke of living a
balanced life with mind, heart,
bodyandsoul.She ledRotarians
inagroupmeditationexercise…
explaining how to breathe and
relax the body and calm the
mind.This isa tool for the re-dis-
covery of the body's own inner
Machpelah
Cemetery
PLOTOWNERS
Please remove
winter decorations
fromPlots by
April 21st, 2014
remaining after that date
PLEASE
REMEMBER ...
shrubs, etc. in the ground.
ThankYou.
a call for anyof your needs at 768-6769.
Starting our 48th year servingLeRoy and surrounding areas!
Lawn Rolling • GardenTilling • Lawn Restoration
Hydro-Seeding • Landscape • Shrubs
Septic Pumping, Installation
Repairs,Port-A-Jon Rentals
Excavating -Trac Excavator
Backhoe &Bulldozer Service
Topsoil • Gravel • Stone Products
No JobToo Small
Or Large For
McGinnis Excavating
Remember to live theFourWay
Test. Service Above Self. Like
us on facebook. Contact us at
you for supportingRotary.
one church st. le roy, ny
one church st. le roy, ny