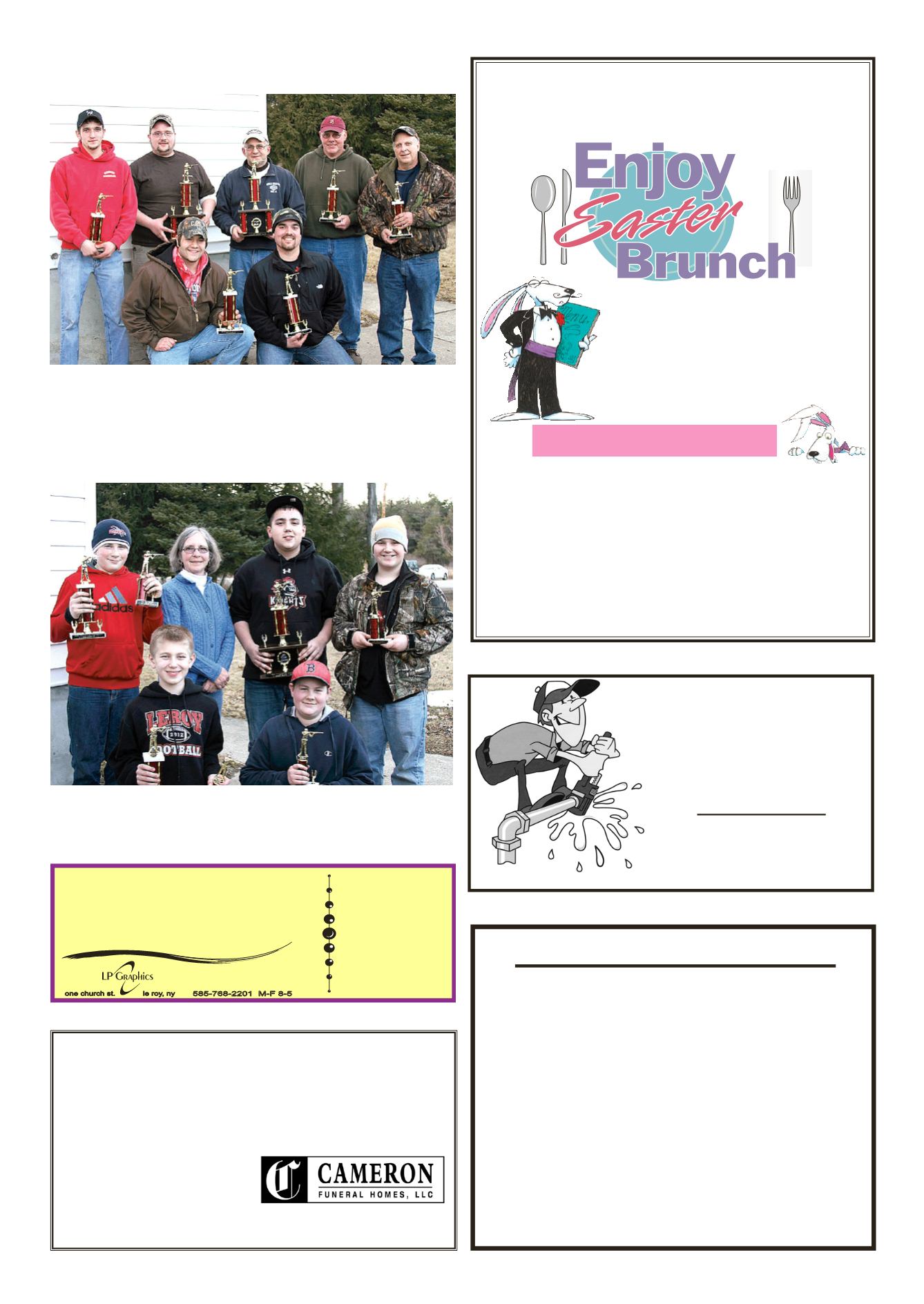 LEROYPENNYSAVER&NEWS -APRIL 13, 2014
HelpingFamiliesCelebrateaLifeLived
"Our FamilyServingYours Since 1907"
Trusted•Honest •Proven
(585) 768-6800•LeRoyFuneralHome.com
Cameron, Brady&Steuber
FuneralHome
111Wolcott Street
LeRoy,NY14482
Dave Salway
PlumbingLLC
7100QuinlanRoad
LeRoy,NY 14482
Cell Phone: 585-721-8446
HomePhone: 585-768-8446
When you callDave, yougetDave!
LEROYCOUNTRYCLUB
7759 EastMainRoad (Rt. 5) • Le Roy
RESTAURANT 768-6000 • PRO SHOP 768-7330
Sunday, April 20th
9 am to3pm
Make Your ReservationsNow
dults $13.95 •Children 4-10 yrs. old
SlicedRoast Beef •HoneyGlazedHam
Chicken&Biscuits • Penne Seafood
BakedZitiMarinara •GarlicMashed Potatoes
Bacon • Sausage •Waffles • French Toast
O'Brien Potatoes • Scrambled Eggs
Fresh Fruit& Jell-O • TossedGarden Salad
HomemadeMuffins • Pastries •Cookies
•Layoff PeriodDecember-April
Seasonal TruckDriver
OnApril 5th the Northwoods Sportsmen'sAssociation, hosted
the 31st,Annual BuddyMillerTrapLeague Trophy Shoot and
Banquet. Trophies were awarded for thewinners of the Buddy
MillerDivisionand theMichaelFernaaysJr.Division. Pictured
are theBuddyMillerDivisionwinnerwith theTopGungoing to
Co-ChampsNathanFernaays andCharlieMiller.
TrophyShootWinners
Alsopicturedare theMichaelFernaaysJuniorDivisionwinners
with the TopGun going to Jesse Lytle. The league also gave a
$250.00donation to theUnitedWay ofGeneseeCounty.
one church st. le roy, ny
one church st. le roy, ny