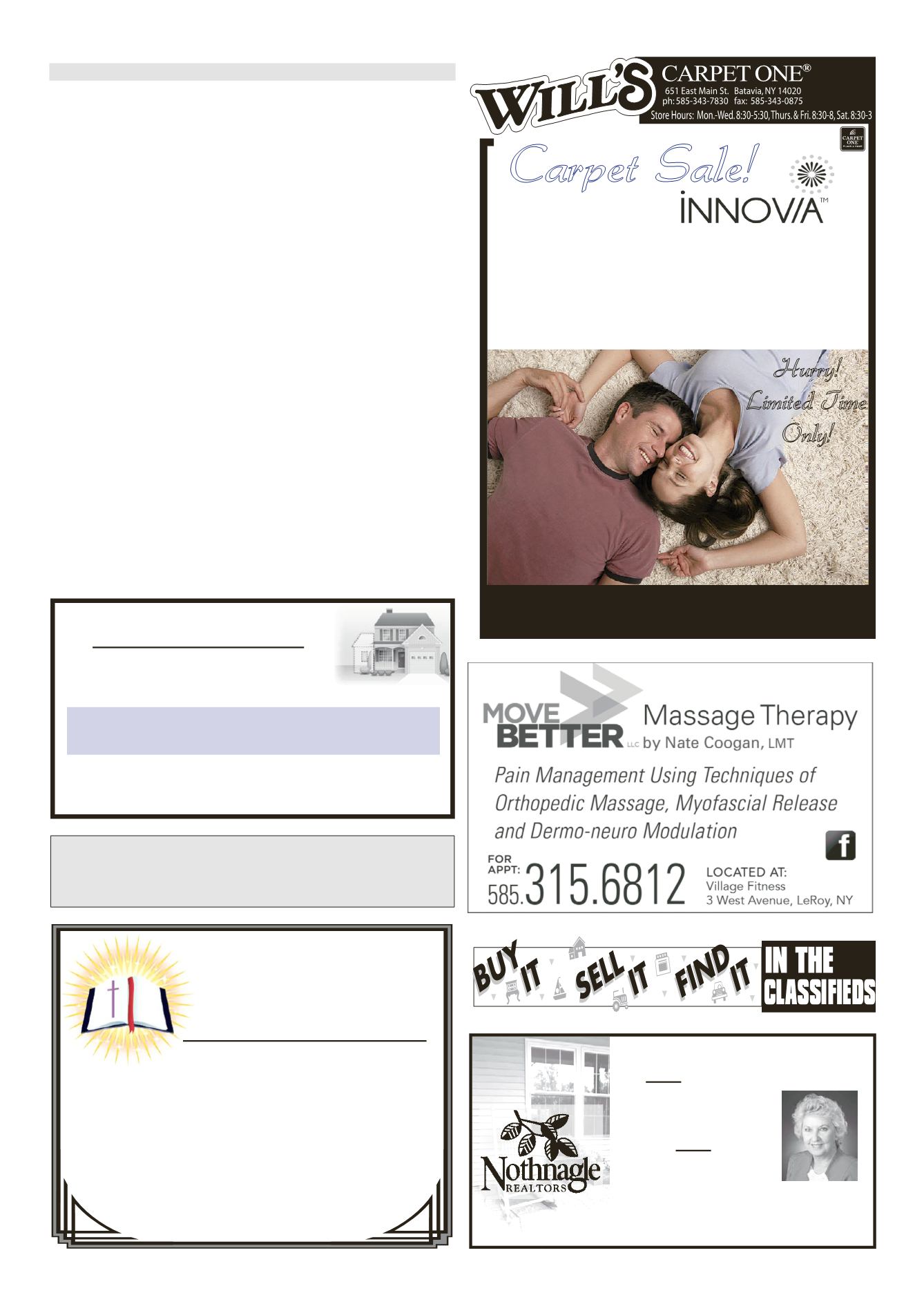 LEROYPENNYSAVER&NEWS -APRIL 13, 2014
FLOOR
&HOME
TheONE store for your perfect floor.
"CompleteCarpentry Service"
M
ILLER
B
ROTHERS
B
UILDERS
CustomHomes •Remodeling•Additions
Roofing• Siding
DANIEL
MICHAEL
Batavia
585-343-6750
NOW is theBEST time
toBUYwith the interest rates
at their lowest!
Don't wait
toBUY -
call
LindaBeaumont
for all your real
estateneeds.
LindaBeaumont
Home (585) 768-6315
LicensedReal Estate
Salesperson
Multi-MillionDollar Producer
18Months FinancingAvailableFor Innovia ProductsOnly
•FreeEstimates • Professional InstallationAvailable
OFF
50
%
Invites YouToTheir
PALMSUNDAY
-Worship at 11 am at First Baptist
MAUNDYTHURSDAYECUMENICALSERVICE
7:30 pm at St.Mark'sEpiscopal
GOODFRIDAYSERVICE
SUNRISESERVICEEASTERMORNING
7 am on theOatkaCreekBank
EASTERBREAKFAST
EASTERWORSHIPSERVICE
byGreg "Porp"Rogers,
Mayor
IncorporateAmericaeveryone
has a Mission statement and a
Vision statement; I believe it is
important for theVillage tohave
bothof theseaswell. It isourmis-
sion to provide the community
with the services that they have
grownaccustom toatastableand
fair tax rate. While positioning
theVillage to remainasaprogres-
siveruralcommunity,keeping the
charmof thepastmixedwith the
vision for the future. Inmy next
column theBoardwill give their
At this week's meeting we
unveiled our projected Budget
for the upcoming year. It looks
like we will have to raise the
rate 20 cents per thousand. The
major contributors to this were:
reduced revenue from the water
deal of 10 years ago and some
royalties for the cell towers.
On the cost side is the raise in
employee health care and retire-
ment. Last year we lowered the
rate25cents, itwasourposition,
that ifmoney is sitting around it
will get spent, in the future we
will look to keep the rate as flat
As spring finally arrives we
would like to remind people to
keep the yard waste out of the
street and up on the curb. Our
code enforcement officer will
be out and about, trying tomake
sure that all properties are up to
One of the best parts of my
job is againuponus. Iwill again
buy anyLittle Leaguer who hits
a home run on opening day a
Pleasemake the effort to shop
locally; it helps build the whole
"There isonlyoneway to suc-
ceed in anything, that's to give
it everything" VinceLombardi
Notes From TheMayor's Office
SUPPORTYOUR LOCALADVERTISERS!
They help sponsor the local news section of the Le Roy Pennysaver.
THANKS FORYOUR SUPPORT!