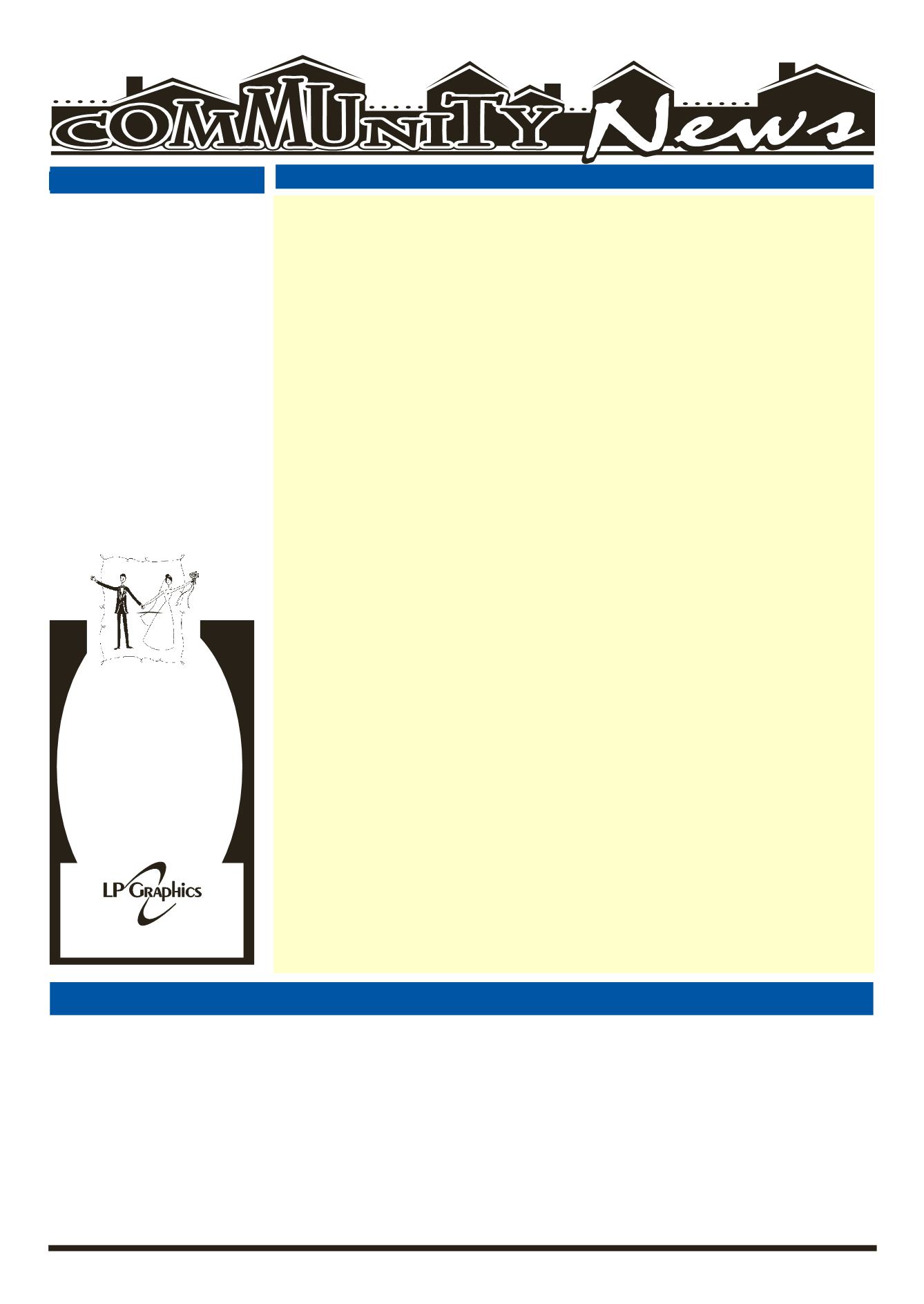 LEROYPENNYSAVER&NEWS -APRIL 13, 2014
AdvertisingTemplates
Entire contents copyrightedbyCarlsonCraft ® .
All rights reserved. 12-07
Invitations, Save theDateCards,
Wedding Accessories, Ceremony,
ReceptionEssentials, Bridal Party
Visit us today!
withwedding invitations and accessories
Stop in today to view our extensive collection
for every style and budget!
lpgraphics.net,Hours:Mon.-Fri.8-5 p.m.
1Church St., Le Roy • 768-2201
All GeneseeCounty residents, 60andolder, can takepart in thisweek'sactivitiesat theBataviaSenior Center, 2BankSt., Batavia. Formore information, call 343-1611.
WEEKLYEVENTS
OBITUARIES
TaxPreparation
isavailablebyappointmentbeginningat9:00a.m.;
ArthritisExercise
isscheduled tobeginat9:30a.m.;
Bridge
is scheduled tobeginat 11:30a.m.
NewsletterAssembly
takesplacebeginningat8:45a.m. A
representativefromUnivera
willbeherebetween10:00a.m.
Cribbage
is scheduled for 1:00p.m.
Quilters
are scheduled tomeet at 9:00a.m.;
Euchre
is scheduled tobeginat 1:00p.m.
Lifespan
isscheduled tomeetat1:00p.m.;
CribbageandBridge
MusicalKeyboardLessons
scheduled tobeginat2:30p.m.
ArtClassandLineDancing
TaiChi
SUNDAY,APRIL13
AWANAProgramatPenuelChristianFellowship.
days 12:15 to 1:45 pm. Ages 5-17 broken into groups. Developing friend-
ships.Having fun. LearningaboutGod. Safeenvironment.
Konnect Youth Group at LivingWaters Church,
Sundays from 6:30 to 8:30 pm for ages 12-18. "BringDown all theWalls!
ConnectwithGod and Connectwith others." Formore information, check
usoutonlineat: livingwatersleroy.org/konnect-youth-ministry/
MONDAY,APRIL14
TOPS (Take Off Pounds Sensibly)
meets Monday evenings from 6:30-
7:15 pm at the LeRoy Presbyterian Church, corner of Clay &Main Streets.
Visitorsalwayswelcome. Call 768-2933 formore info.
Make a springwreath at theWoodwardMemorial Library
dren in kindergarten and 1st grade, from 3:15 – 4:15 p.m. Registration is
TUESDAY,APRIL15
LCCP'sGRACE'SKITCHEN:
AFREEdinnereveryTuesdayevening,5-7pmat
theLeRoyUnitedMethodistChurch,10TrigonPark.ParkingavailableonTrigon
Park&the lotstothe leftandbackoftheChurch.HandicappedEntrance inthe
backof the Church. Takeout&delivery are available. Formore info. contact
SelbyDavisat585-738-8882or
TownofLeRoyPlanningBoardofAppealsMeeting
pmat theTownHall, 48MainSt. For further info. call 768-6910, Ext. 223.
WEDNESDAY,APRIL16
TheGeneseeValleyCivilWarRoundtable
willbeholding theirmonthly
meeting at the LeRoy UnitedMethodist Church on Trigon Park at 7:30PM.
Pleaseuse right frontdooratendof longsidewalk.Thismonth'sspeakerwill
be Tom Taber and the topic is Orleans Battery 17 NewYork Light Artillery.
Hewill have copies of his book available followinghis program andwill be
happy to sign them.Newmemberswelcome.
TheAprilMeetingof theLeRoy-StaffordCitizens
P.M. at the K of CMeeting Hall onWest Main St. behind Save-a-Lot. This
will be a pot luck supper and you shouldbring your ownplace setting and
agenerousdish topass. Dessertwill beprovided. Program for thisevening
will be theBataviaSwingBand.
THURSDAY,APRIL17
GeneseeVeteransSupportNetwork
(GVSN) supports thedevelopment
of Veterans focused AAmeetings every Thursday, 6-7 pm at the First Bap-
tist Church, 306E.MainSt., Batavia.Meetings ledbyMikeW.&areopen to
non-veterans as well. Handicap accessible. For additional information call
GRACE'S CLOSET: A Clothing Giveaway Program
UnitedMethodistChurch,10TrigonPark, LeRoy. 9:30am to11:30am every
Thursday. Wehavewarm clothing for all ages. Bedding, curtains, comfort-
ers, pajamas, shoes, boots. We are in need of winter coats for all ages.We
accept donations tobedroppedoff at thehousenext to the church. Please
put all bags INSIDEon thebackporch. Noelectronics,TV's, computers, dish-
es, etc. Anyquestions, call theoffice768-8980.
FRIDAY,APRIL18
Penuel ChristianFellowship,
One Step to Freedom addictionsministry,
a Christ CenteredAddictions program, aweeklymeeting every Friday at 7
pm. Call theChurch formore informationat768-6901or406-3863.
UPCOMINGEVENTS
LCCP'sMommy&MePlaygroup: Every2nd&4thFriday,
LeRoyPhysical Therapy (in thebackgym). Anymoms and their birth-kin-
dergarten childrenarewelcome to comeenjoy socialization, lunch, coffee,
structuredgames& freeplay. $5permom
UsedBookSale
-WoodwardMemorial Libraryduring regular hours from
Saturday, April 12 through Saturday noon, April 19. Hardcover books are
$1.00 and paperbacks are 50 cents. A bag salewill be held on Saturday,
April 19 from10 to12noon–abagof books for$1.00.
Wednesday, April 23, PavilionPublic Library:
Wednesday,April30 -OpenAccessSession
tions, devices, etc. Registrationnecessary - (585)584-8843. Call Library for
info&questions.WoodrowRd., Pavilion.
Byron FireDepartment OpenHouse: Saturday, April 26& Sunday,
April 27
from 9am– 4pm. Take pictures of your kids in a fire truck,meet
fire department personnel, and see the equipment up close. Equipment
demonstrations & free blood pressure checks both days. On Sunday, see
an extrication equipment demonstration& enjoy a FREE spaghetti lunch.
Byron Fire Department is located on Rt. 262 east of Rt. 237. Currently ac-
ceptingapplications for activeand socialmembers.
SundayApril 27, TheWNYDraftHorseClub
will be having it's annual
OldFashionedDay
at theHoney Locust Farm in Caledonia. Therewill no
charge toget inor for parking, come spend thedaywithus. A chickenBBQ
at noon, other foodwill beavailable too, crafts, demonstrations , plowing
andfitting of the fieldwithDraft horses, Ponies andOxen. Therewill also
be freewagon rides and a tentwith crafts for the little kids. An auctionof
donatedstuffwillbeat1:00PM . for infocallDean585-889-4439 address:
4259Maxwell Rd. ,Caledonia.
WyomingHook&Ladder - EasterBunnyPancakeBreakfast
day ,April 19th, 2014, 9am to11am, $4.00perperson.
FirstBaptistChurchofPavilionNY
will behostinga series of
Revival
Meetings beginning Easter SundayMorning
baughwill be theguest speaker. Sunday'smeetingswill commencewitha
Sunrise service at 7:30 am followedby services at 9:45 am, and11:00 am.
Thepublic iswelcome.MrSharbaughwill speakagainMon.-Wed.evenings
at 6:30pm. There is plenty of parking,we arehandicapped accessible and
there is anursery. Callwithanyquestions to585-584-3179; ext #12, leave
amessageand the secretarywill call youback."
Wednesday, April 23rd, 2014, the Stafford Historical Society
will behaving itsAnnualMembershipMeetingat theTownHall locatedat
8903Route237. After the Society's businessmeeting and the electionof
members to theBoardofTrustees, the featured speakerwill beSueConk-
lin, Genesee CountyHistorian. Her presentationwill be on the"History of
CommunityCalendar Submissions shouldbe sent to:
LEROY—AnneA. Ingalls, 87, passed
away Wednesday evening (April 2,
2014) in the lovingpresenceofher fam-
ily at Unity Hospital after a long battle
with ovarian cancer. In lieu of flowers,
the familywould likememorialsdirected
LE ROY— Barbara Jean (Shepard)
SowapassedawayMarch31,2014.Ar-
rangementsmadebyCameronBrady&
Steuber Funeral Home, LeRoy.
BERGEN — R bert A. Letter, 63,
passed away unexpectedly Tuesday
(April 1, 2014) at his home in Bergen.
In lieu of flo ers, memorials may be
made to Genesee Cancer Assistance
Inc., 16BankSt., Batavia, NY14020.
LE ROY— Diane L. Barrows (Smith)
died Friday (April 4, 2014) at age 71.
Memorials may be made to a charity
of your choice. Condolences may be