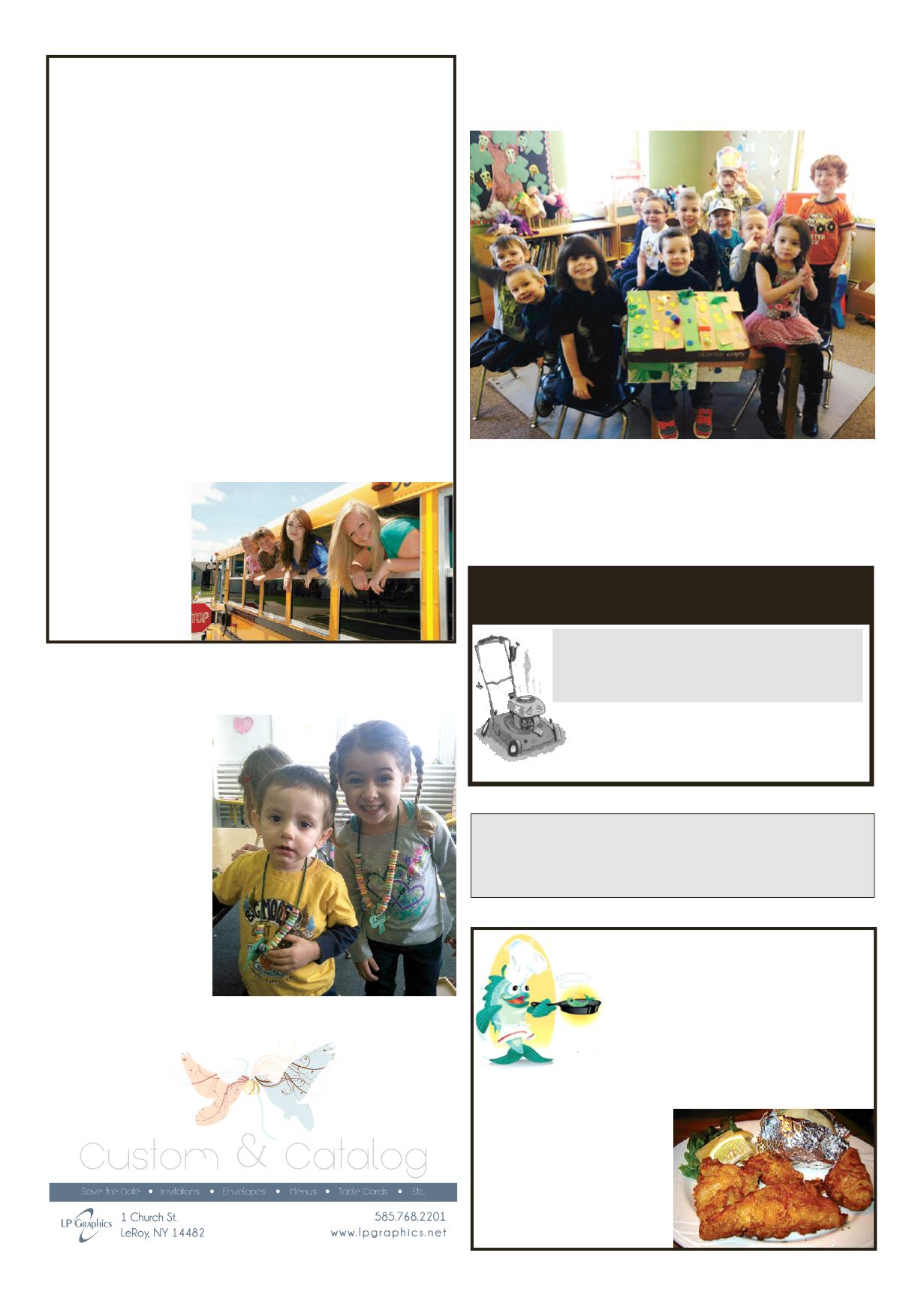 LE ROY PENNYSAVER & NEWS - MARCH 23, 2014
FISH FRY
(585-502-5155)
•Engine and Transmission Rebuilds
•Lawn and Garden Equipment •ATV's, Dirt Bikes
•Pick Up and Delivery Available
Hours: Tues., Wed. 6 pm to 8 pm
Thurs., Fri., Sat. 9 am to 6 pm, Closed Sun., Mon.
8525 Rt. 237, Stafford, NY 14143
PUBLIC NOTICE
A Public Vote is to be held on Tuesday March 25, 2014
in the Wolcott Street School Gym Corridor
from 2:00 p.m. – 7:00 p.m.
Purpose Of The Vote:
Le Roy Central School residents are being asked to authorize the
district to borrow money for the purchase of new school busses
in an amount not to exceed $330,000. This dollar amount would
purchase three (3) full size 65 passenger school busses equipped
with a two-way radio and a video surveillance system. These vehi-
cles will replace existing vehicles based on the district replacement
schedule which takes into account the vehicle mileage, body condi-
tion, mechanical condition, past service history and program needs.
All transportation expenses are reimbursed locally through state
aid in New York State according to a calculated percentage.
Le Roy's state aid percentage is currently 89%. Therefore, the total
cost to the district taxpayers for this proposition amounts to an es-
timated $7,260 per year for five years. The unaided portion of this
Little Bugs Playgroup
at Love Bugs Preschool
used fruit loops to talk
about and identify col-
ors in a rainbow. They
worked hard manipu-
lating their fingers to
put on as many fruit
loops as they wanted to
make a beautiful rain-
bow necklace. The best
part was eating their
creations!
Rainbows at Love Bugs!
Sunshine Nursery School's Pre-K and Nursery classes had fun
searching their classrooms for all of the tricks left behind by
sneaky little leprechauns. Although they weren't lucky enough
to catch a leprechaun, they were happy to find a pot of gold and
treats among the tricks. Pictured here is the Pre-K class showing
off their leprechaun trap. Better luck next time Sunshine!
Leprechaun Love
For Sunshine!
SUPPORT YOUR LOCAL ADVERTISERS!
They help sponsor the local news section of the Le Roy Pennysaver.
THANKS FOR YOUR SUPPORT!