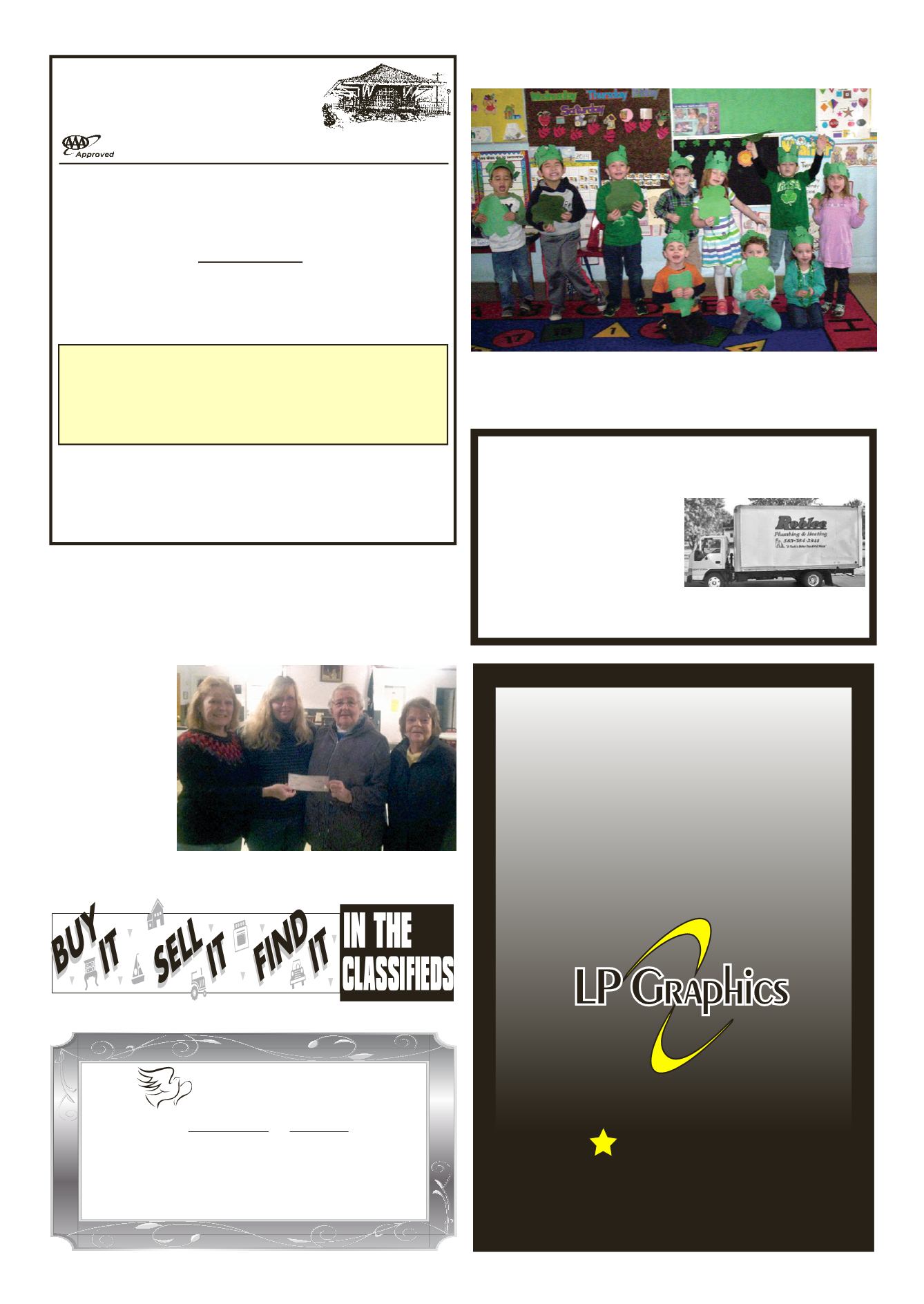 LE ROY PENNYSAVER & NEWS - MARCH 23, 2014
D & R Depot
63 Lake St. (Rt. 19), LeRoy • 768-6270
Let's Meet At The ...
Open For Breakfast, Lunch & Dinner - 7 Days A Week 7 am-9 pm
The Depot's new sister company,
Double L Rental
heaters, bars, linens, dishes & catering supplies for your special occasions!
10% DISCOUNT when you use both the
D & R Catering Services and Double L Rental for your event.
Visit doublelrental.com, or call us at (585) 344-0023
F
ALCONE
F
AMILY
Funeral & Cremation Service, Inc.
Director/Owner
Director / Owner
Funeral Director
SUNDAY, MARCH 23rd dinner special
ROAST TURKEY DINNER
with Jen's homemade dressing - $14.99
(includes soup or salad, real mashed potatoes, gravy, beverage,
and pumpkin pie)
SUNDAY, MARCH 30th DINNER SPECIAL
OLD FASHIONED POT ROAST DINNER
with carrots and onions - $14.99
(includes soup or salad, potatoes, beverage, and dessert)
5 pm Dinner Show - By Reservation Only
Special Appearance – STRING OF PEARLS
With Jerry Curry, Nancy Drum
Guest Appearance By Al Mastrolio
(there is a $5.00 cover charge for the benefit of the musicians)
LeRoy Nursery School celebrated St. Patrick's Day. The children
all wore their green, played games, made shamrock hats and of
course danced the Jig. Pictured here is the 3 Day Pre K Class.
Wearing The Green
Women o f t he
Moose present-
ed the Le Roy
Food Pantry with
a $200.00 check
from the funds
raised on Winter-
fest Weekend.
Food Pantry
Receives Check
ROBLEE
Plumbing & Heating, LLC
10991 Lake Rd., Pavilion • (585) 584-3841
Full Insured
LUXAIRE
GOULD
NYS Certified Backflow Tester
Water & Sewer Lines • Water Treatment & Conditioning Systems
1 CHURCH ST, • LE ROY, NY • lpgraphics.net
WE HANDLE ALL ASPECTS OF PRINTING...
PROGRAMS
LETTERHEADS
BILL HEADS
FLYERS
BROCHURES
POSTERS
CARBONLESS FORMS
ENVELOPES
RAFFLE TICKETS
NEWSLETTERS
RESUMES
TYPESETTING
RUBBER STAMPS
ENGRAVED SIGNS
NAME TAGS
COPIES
LAMINATION
COMMUNITY FAX
NEWS AND PICTURES
ADVERTISING
BUSINESS CARDS
HOURS: Monday thru Friday 8:00 to 5:00