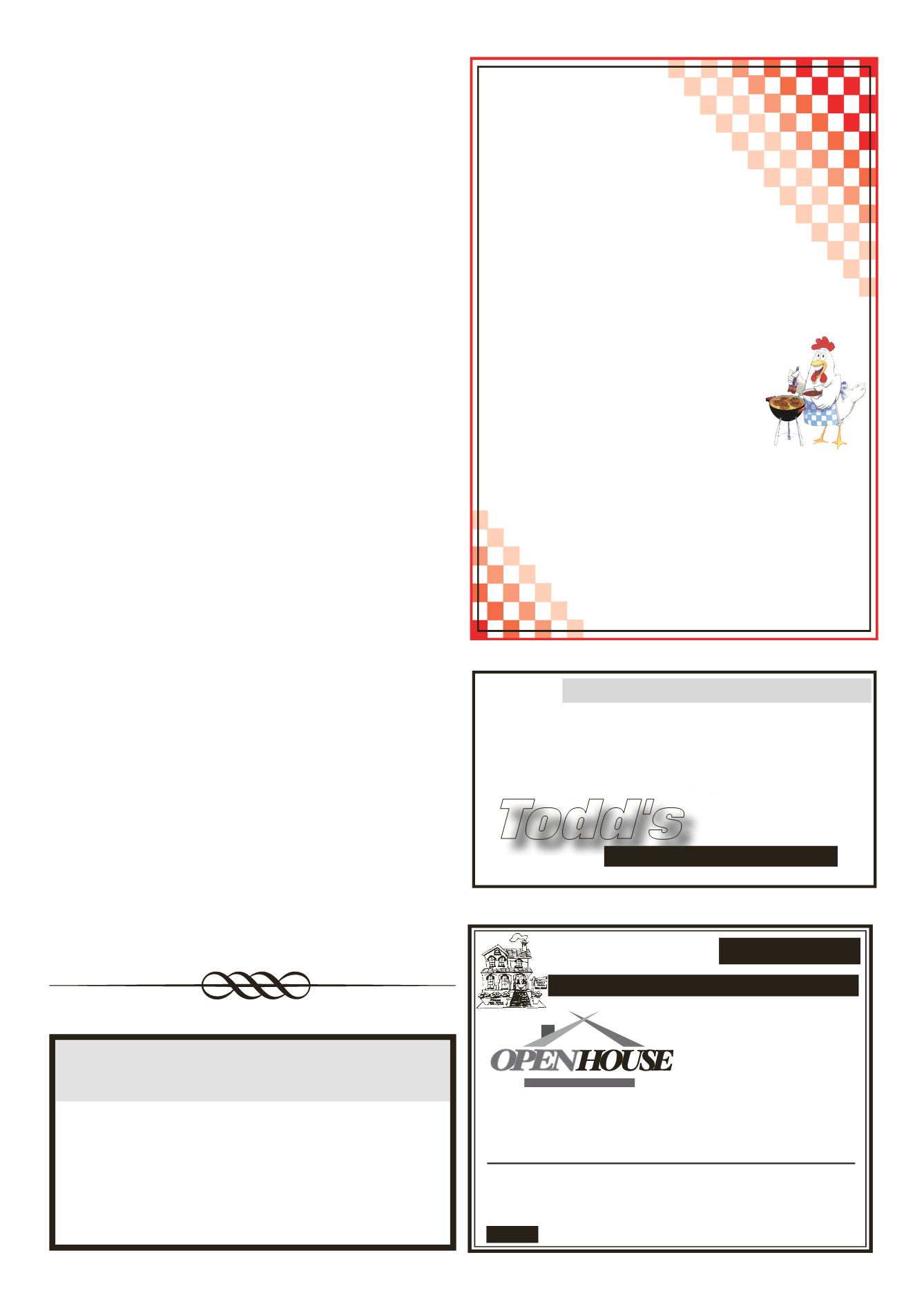 LE ROY PENNYSAVER & NEWS - MARCH 23, 2014
LE ROY: 8411 East Main Rd. -
Mint 3 bedroom Ranch home.
Large country lot, 12 course finished basement, eat-in kitchen,
formal diningroom, hardwood floors, fireplace in livingroom and
Rider Real Estate Not The Biggest - Just The Best!
New Homes • Additions • Garages • Pole Barns
Todd Carli • Phone 703-0964
Todd's
Decks • Windows • Doors
Kitchens • Baths
Ceramic Tile
Basement Finishing
Custom Shelves/Built-Ins
Siding • Remodeling
Roofing • Snow Plowing
FULLY INSURED
ALL WORKMANSHIP GUARANTEED • INSURED
297-9097 • 768-7737
• Interior Painting
• Plaster/Lath Restoration
• Drywall & Drywall Repair
• Texture Removal
• Floors Stripped
& Refinished
• Old Ceilings &Walls
Made Like New!
Mike Darby's Patch & Paint
CHICKEN BBQ + FLEA MARKET
Come one, come all to a lovely day in the
countryside and help support youth service clubs
and community service scholarships. Our Club
BBQ and a classy Flea Market
Saturday, APRIL 5th
at Burgh and Schoenenberger Associates' facility,
7070 Telephone Road, Pavilion. The location is at the junction
Route #19 and #20 halfway between LeRoy
and Pavilion
and is handicap accessible.
The BBQ begins at 11:30 am until sold out
proceeds will benefit the Global Youth Service Team.
The flea market runs from 9 am to 5 pm, with a
bag
sale
50% off
marked prices from 3 pm-5 pm.
Everything must go! This will be our
BIGGEST and BADDEST
yet, with tons of useful stuff.
Are you interested in a large, lovely industrial building
to start your own business or expand current operations?
The facility itself is also for sale, with occupancy
If you are interested in office furnishings, tours and a
tag sale will be available from 2 pm to 5 pm.
SEE YOU APRIL 5th!
by Senator Ranzenhofer
March 2014
By passing its one-house bud-
get bill last week, the New York
State Senate moved one step
closer to a fourth consecutive
on-time budget. The budget
resolution controls spending and
builds on the progress of the past
three years to stabilize the State's
The Senate's budget resolu-
tion reduces taxes to help small
businesses and manufacturers
to create jobs; makes greater
investments in education; and
provides property tax relief for
The Senate budget expands
tax relief for manufacturers and
accelerates the elimination of the
job-killing 18a-energy tax sur-
charge (known as the two percent
utility tax) on businesses so they
can utilize those savings to hire
relief, too. The Senate Budget
allocates $1.4 billion to impose
a freeze on property taxes. It
also makes the property tax cap
permanent and strengthens the
STAR program. These programs
are simpler alternatives to the
Governor's original proposal.
Lastly, the Senate plan in-
creases investment in education.
Under the plan, state school aid
is boosted by $811.9 million.
Under the plan, $541 million of
the Gap Elimination Adjustment
(GEA) is restored, while com-
pletely eradicating the GEA by
2016-2017, for a total restoration
of $1.1 billion in education aid.
The GEA is a controversial bud-
get maneuver that has resulted in
billions of dollars being unfairly
taken away from our children. I
continue to oppose this misguid-
ed maneuver, and I will push for
I am pleased that the Senate
Budget resolution reflects my pri-
orities of reducing taxes, holding
the line on spending and invest-
ing in education. Now, the State
Senate and State Assembly will
convene conference committees
to resolve differences between
each one of their one-house bud-
get resolutions. With the State
Budget deadline less than two
weeks away, I will be certain
to keep you up-to-date on new
Last week, the State Senate and
State Assembly convened for a
joint session of the State Legisla-
ture for an important vote on four
Board of Regents candidates. The
State Assembly is responsible
for nominating candidates for a
On behalf of the thousands of
frustrated parents, students and
teachers that I represent, I voted
against these candidates. The
State Education Department and
Board of Regents are responsible
for the flawed roll-out of Com-
mon Core. I could not, in good
conscience, vote to re-elect those
members who were in charge.
Our students deserve better.
The implementation of Common
Core has been less than stellar.
I will be working with my col-
leagues throughout this legisla-
tive session to fix this problem
so that every child can achieve
a bright, successful future in our
schools. As your State Senator,
I will continue to stand up for
Senate State Moves Budget
Resolution Forward