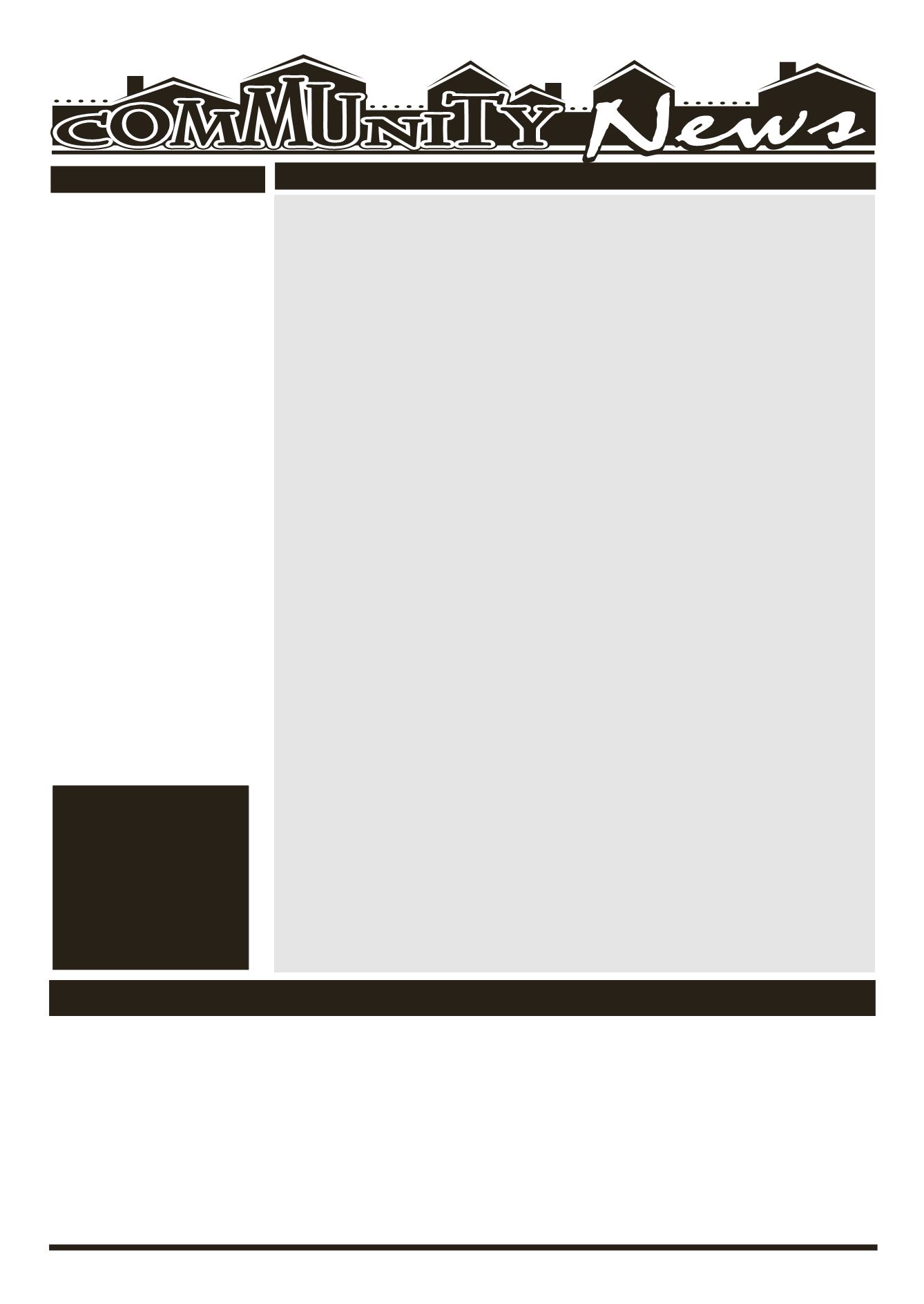 LE ROY PENNYSAVER & NEWS - MARCH 23, 2014
Le Roy
Pennysaver
All Genesee County residents, 60 and older, can take part in this week's activities at the Batavia Senior Center, 2 Bank St., Batavia. For more information, call 343-1611.
SENIOR CITIZENS ACTIVITIES
WEEKLY EVENTS
OBITUARIES
Tax Preparation
is available by appointment beginning at 9:00 a.m.;
Arthritis Exercise
is scheduled to begin at 9:30 a.m.;
A representative from Univera Health Insurance
Bridge
is scheduled to begin at 11:30 a.m.
Medicare Sign Ups
will be taking place between 12:00 pm and 2:00 pm;
Cribbage
is scheduled for 1:00 p.m.
Tax Preparation
is available by appointment beginning at 9:00 a.m.
Quilters
are scheduled to meet at 9:00 a.m. and
Euchre
is scheduled to begin at 1:00 p.m.
Cribbage and Bridge
is scheduled for 1:00 p.m.
Musical Keyboard Lessons
are scheduled to begin at 2:30 p.m.
Art Class and Line Dancing
Tai Chi
SUNDAY, MARCH 23
AWANA Program at Penuel Christian Fellowship.
days 12:15 to 1:45 pm. Ages 5-17 broken into groups. Developing friendships.
Having fun. Learning about God. Safe environment.
Konnect Youth Group at Living Waters Church,
days from 6:30 to 8:30 pm for ages 12-18. "Bring Down all theWalls! Connect
with God and Connect with others." For more information, check us out online
at: livingwatersleroy.org/konnect-youth-ministry/
Wyoming Hook & Ladder - Maple Weekend "MINI" Breakfast
12:30 pm, $5.00 per person.
MONDAY, MARCH 24
TOPS (Take Off Pounds Sensibly)
meets Monday evenings from 6:30-7:15
pm at the LeRoy Presbyterian Church, corner of Clay & Main Streets. Visitors
always welcome. Call 768-2933 for more info.
LE ROY'S WOLCOTT STREET SCHOOL TO HOST SCHOLASTIC BOOK FAIR,
MARCH 24-28, 2014
- The Le Roy Parent Teacher Service Organization will
host a week-long Scholastic Book Fair beginning Monday, March 24, at Wol-
cott Street School. Hours will be from 9 a.m. to 3:30 p.m. March 24-25; from 8
a.m. to 5:30 p.m. March 26-27; and from 4 to 8 p.m. March 28. Wolcott Street
School is located at 2-6Trigon Park. Find the Book Fair in Room 103.
TUESDAY, MARCH 25
LCCP's GRACE'S KITCHEN:
A FREE dinner every Tuesday evening, 5-7 pm at
theLeRoyUnitedMethodistChurch,10TrigonPark.ParkingavailableonTrigon
Park & the lots to the left and back of the Church. Handicapped Entrance in the
back of the Church. Takeout & delivery are available. For more info. contact
Selby Davis at 585-738-8882 or
TownofLeRoyPlanningBoardMeeting
(asnecessary)7:30pmattheTown
Hall, 48 Main St. For further info. call 768-6910, ext. 223.
Frozen-MovieShowingattheWoodwardMemorialLibrary
in grades K-6, at 3:15 p.m. Rated PG; 108 minutes
WEDNESDAY, MARCH 26
Susan B. Anthony,
the well known woman's rights activist from the 1800's
will grace the Stafford Town Hall at 7:00 P.M. Ms. Anthony was known to be
active against slavery & temperance movements; she also helped to organize
women's labor unions. Gretchen Murry Sepik, who is a well known actress,
storyteller and playwright will be portraying Ms. Anthony.
Writer'sWorkshopattheWoodwardMemorialLibraryforchildren ingrades1-3
Wednesday, March 26 from 3:15 to 4:15 p.m.
Attend a workshop and write a story that will be entered in the PBS Kids
Writers Contest. Register online at
SavingMr.Banks-MovieShowingattheWoodwardMemorialLibrary
at6p.m.WatchSavingMr.Banks intheCommunityRoomattheLibraryonabig
screenwithsurroundsound. Freepopcornprovided. RatedPG-13;125minutes.
THURSDAY, MARCH 27
Genesee Veterans Support Network
(GVSN) supports the development
of Veterans focused AA meetings every Thursday, 6-7 pm at the First Bap-
tist Church, 306 E. Main St., Batavia. Meetings led by Mike W. & are open to
non-veterans as well. Handicap accessible. For additional information call
GRACE'S CLOSET: A Clothing Giveaway Program
United Methodist Church, 10 Trigon Park, Le Roy. 9:30 am to 11:30 am every
Thursday. We have warm clothing for all ages. Bedding, curtains, comforters,
pajamas, shoes, boots. We are in need of winter coats for all ages. We accept
donations to be dropped off at the house next to the church. Please put all
bags INSIDE on the back porch. No electronics, TV's, computers, dishes, etc.
Any questions, call the office 768-8980.
InghamBookDiscussionGroup
meetsattheWoodwardMemorialLibrary in
Le Roy. at 2 p.m. or 6 p.m. Discuss Flight Behavior by Barbara Kingsolver.
Registration is not required.
FRIDAY, MARCH 28
Penuel Christian Fellowship,
One Step to Freedom addictions ministry, a
Christ Centered Addictions program, a weekly meeting every Friday at 7 pm.
Call the Church for more information at 768-6901 or 406-3863.
St. Paul's Episcopal Church, Rt 5, Stafford - Rummage and Baked
Goods Sale
- Friday, March 28, 2014, from 9 am to 3 pm and Saturday, March
29, bag sale from 9 am to noon.
UPCOMING EVENTS
LCCP's Mommy & Me Playgroup: Every 2nd & 4th Friday,
Le Roy Physical Therapy (in the back gym). Any moms and their birth-kin-
dergarten children are welcome to come enjoy socialization, lunch, coffee,
structured games & free play. $5 per mom
A Fish Fry will take place at the North Bergen Presbyterian Church
7068 North Bergen Rd. Bergen from 4:30 - 6:30 pm on Friday, April 4th. Menu
includes fried fish, roasted potatoes, coleslaw, applesauce, rolls, beverage,
and homemade desserts. Takeouts will be available. Call 494-1815 for more
Free Prom Dresses: Girls Helping Girls.
Hundreds of FREE dresses on
display. Monday, March 31st and Tuesday, April 1st from 6:30 p.m. to 8:30
p.m. at Living Waters Church, 30 Main St., LeRoy. Call 768-7570 for more
Breakfast with the Easter Bunny
at Le Roy McDonald's on April 6 from
9-11 am. Cost is $6 and includes small beverage and hash brown with choice
of hotcakes or a biscuit sandwich. For tickets please call 768-7700 or purchase
at McDonald's that morning. Don't forget your camera! All proceeds to benefit
the children of Le Roy Nursery School.
Community Calendar Submissions should be sent to:
BERGEN — Phyllis J. Fox, 84, of
South Lake Street passed away ear-
ly Wednesday morning (March 12,
2014) at United Memorial Medical
Center. Memorial contributions may
be made to the Genesee Country
Museum, 1410 Flint Hill Rd., Mum-
LE ROY — Doris M. Hackenmiller,
94, died Wednesday (March 12,
2014). In lieu of flowers, memorials
may be made to the Le Roy Village
Green Nursing Home, 10 Munson
St., Le Roy, NY 14482; or the Amer-
ican Heart Association, P.O. Box
3049, Syracuse, NY 13220-3049.
LE ROY/WARSAW — Mrs. Mary El-
len Davis, 69, died Thursday (March
13, 2014) at Strong Memorial Hos-
pital in Rochester. In lieu of flowers
memorials may be made to the Gol-
isano Children's Hospital at Strong
or the Juvenile DiabetesAssociation.
LE ROY — Stephanie T. Hawkins
Legg, 89, passed away peacefully
Saturday (March 15, 2014) at United
Memorial Medical Center, Batavia.
In lieu of flowers, memorials may be
made to the family or to a charity of
LE ROY/BATAVIA— John ''Jack'' E.
Horgan, 83, passed away Thursday,
Feb. 27, 2014, at the United Memorial
Medical Center in Batavia.