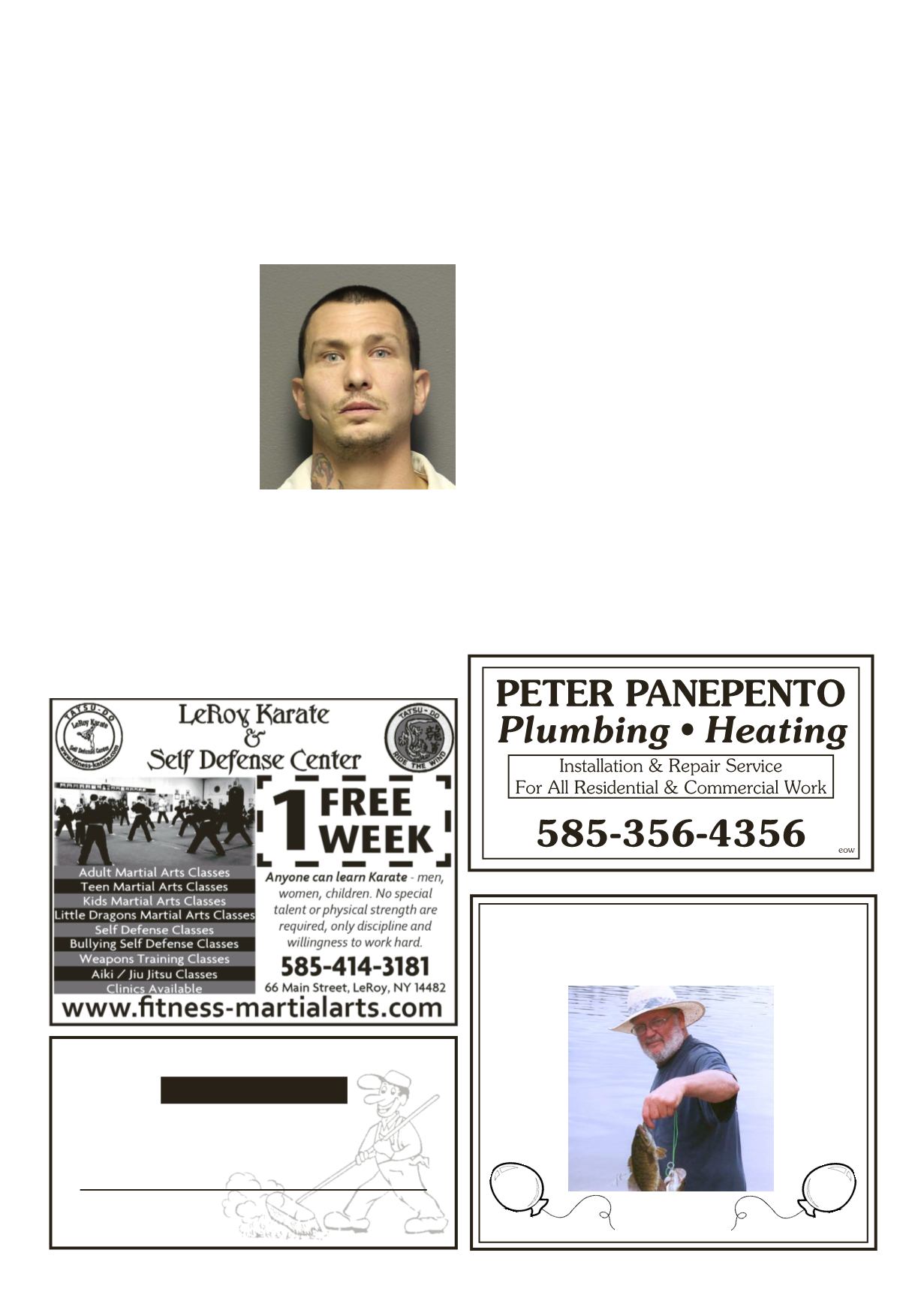 LE ROY PENNYSAVER & NEWS - JANUARY 8, 2017
On December 7th, 2016 Village of LeRoy Police arrested 31 year old Dan-
ielle L. Barager of 9 Summit Street, LeRoy, NY and charged her with Endan-
gering the Welfare of a Child.
The arrest stems from an investigation by Village Police into an incident that
occurred in the Village of LeRoy on December 4th, 2016. It is alleged that
during an argument Barager threw a claw hammer which ricocheted off the
floor and struck a 3 year old child in the shoulder causing injury. Barager was
issued an appearance ticket and is scheduled to appear in the Town of LeRoy
Court at a later date.
On December 24th, 2016, Officers
of the Village of LeRoy Police
Department
arrested
Matthew
McCracken, 33, of 10 Clay Street
Upper Apt, LeRoy, NY for attempted
criminal mischief 4th degree and
harassment 2nd degree. 
This arrest
occurred after Le Roy Police
Officer's responded to a report
of a male threatening to kill the
neighboring residents of an upper
apartment on Clay Street in the Vil-
lage of LeRoy. The investigation
alleged that during a dispute, Mc-
Cracken had threatened to kill and
injure his neighbor and burned the door and door frame of his neighbor's
apartment with a blow torch. At the time McCracken was refusing to answer
both his phone and the door to his apartment to communicate with Officers
and McCracken was believed to be in his apartment with a blow torch and a
two year old child. Out of concern for the child, Officer's forced entry into
the apartment and McCracken was taken into custody without incident. The
two year old child was found unharmed and was turned over to the mother.
McCracken was arraigned in the Town of LeRoy Court and was remanded
to the Genesee County jail in lieu of $500.00 cash bail. Further investigation
is pending. LeRoy Police were assisted at the scene by Members of the New
York State Police.
UPDATE:
The LeRoy Police Department re-arrested Matthew McCracken
on December 29th, adding two additional charges, Attempted Arson in the
Second Degree, a class C-Violent Felony and Endangering the Welfare of a
Child, a class A-Misdemeanor. It is now alleged that McCracken attempted
to damage the building at 10/12 Clay Street in LeRoy by the use of fire,
specifically a torch type item while knowing or having cause to believe
persons were inside the building at the time, specifically the neighbors and
a young child that McCracken was babysitting. McCracken's actions did
in fact cause blackened burn marks on the neighbors door and door frame.
The Endangering the welfare of a Child charge alleges that McCrack-
en endangered the physical or moral welfare of the same child during the
incident due to the attempted arson 2nd but further that he was impaired
by alcoholic beverage during the incident to the point he passed out or fell
asleep being unable to care for the child. McCracken was re-arraigned
before the LeRoy Town Court and further committed to the Genesee County
Jail in lieu of $25,000 cash bail or $50,000 bond.
On December 27th, 2016, Officers of the Village of LeRoy Police Department
arrested Gregory P. Bernard, 22, of East Bethany, NY, for Aggravated DWI,
DWI and moved from lane unsafely. His arrest was the result of an auto
accident in which it is alleged that Bernard, while on West Main Street in
LeRoy left his lane unsafely, jumped a curb and struck a sign and tree causing
damage. Bernard was processed and issued Appearance Tickets returnable to
the Town of LeRoy Court on January 23rd, 2017 at 1:00 PM. The aggravated
DWI charge stems from an allegation that Bernard had a BAC at or above
0.18%.
On December 28th, 2016, Village of LeRoy Police stopped a vehicle on State
Route 19 in the Village of LeRoy alleging an inadequate exhaust. The oper-
ator, Michael A. Ellis, age 27, of Batavia, NY, was allegedly found to have
a suspended New York State driver's license. The vehicle was turned over to
a relative at the scene. Ellis was issued uniform traffic tickets for aggravated
unlicensed operation 3rd, uninspected motor vehicle and inadequate exhaust
returnable to the Town of LeRoy Court on a later date.
Police Report
The Clean Sweep
Cleaning Service
•Carpet & Upholstery Cleaning
•Spot Cleaning & Odor Removal
•Tile & Wood Floor Cleaning & Waxing
•Braided & Area Rug Cleaning
•Complete Janitorial Services
9300 Warsaw Road, Le Roy, NY
John M. Joy •
Call 768-8497
eow
Happy Belated John
40?
50?
60?
40?
50?
60?