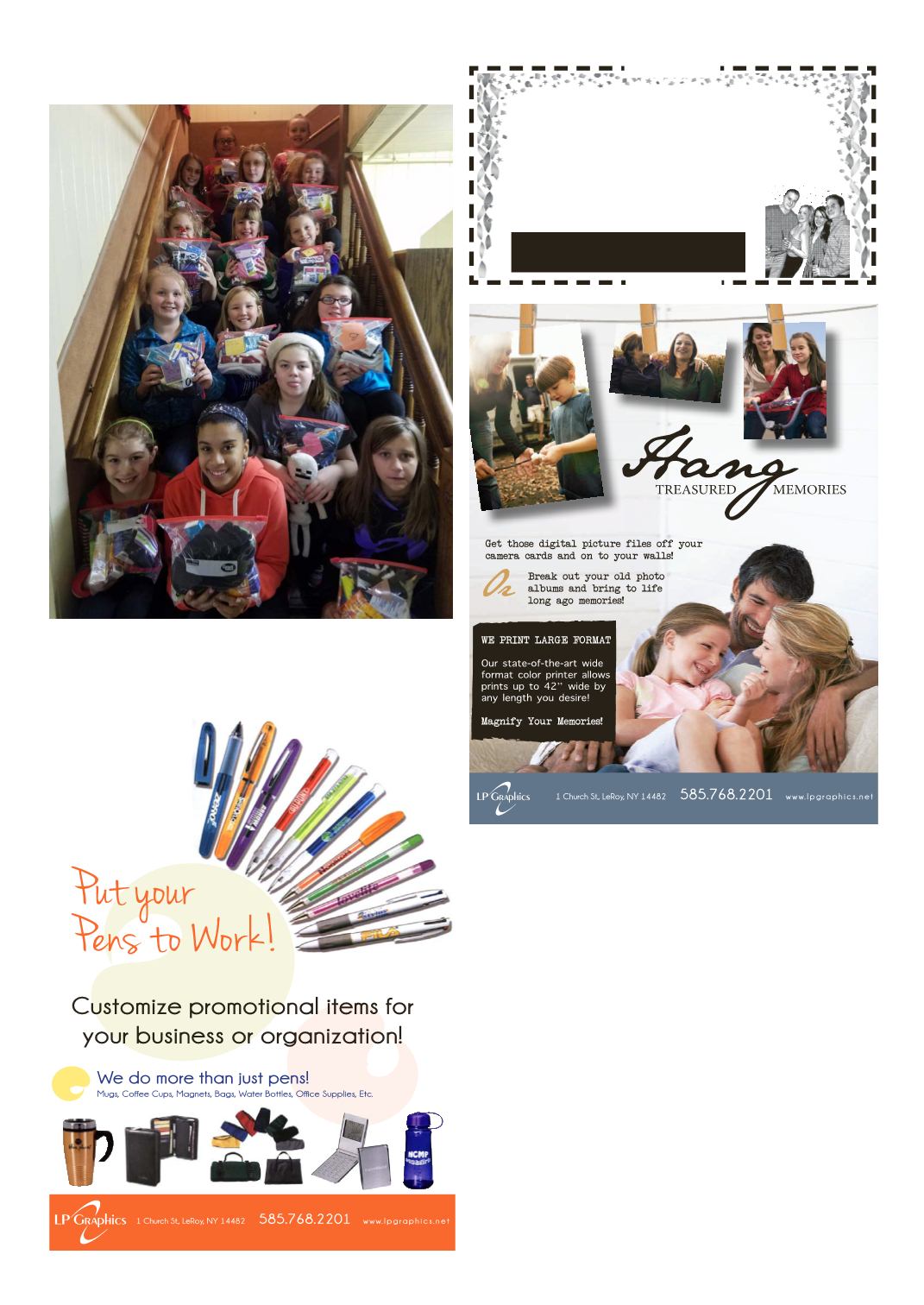 LE ROY PENNYSAVER & NEWS - JANUARY 8, 2017
Girl Scout Troop 42123 created Blessings Bags which can be hand-
ed out to people in need. Each bag contained various items likes
hats, gloves, socks, toiletries, and other needs. It was a true team
effort!
Girl Scout Troop 42123
Having An UPCOMING EVENT?
Need A Place TO HAVE IT?
American Legion
Post 576
53 West Main St., Le Roy, NY
585-768-2090
CLIP & SAVE
CLIP & SAVE
Inside - 2 Rooms Available
Outside - Large Pavilion
eow
Notes From The Mayor's Office
by Greg "Prop" Rogers
2016 is officially in the books! The annual tradition of the
First Night fireworks, sponsored by the LeRoy Business Council
rang out the old year. Once again the firework display brought out
many people from bridge to bridge and no one went away disap-
pointed. Thanks, to the Business Council and all the sponsors.
2016 was a year of movement. A Main St. Sidewalk Proj-
ect fixed a decade old problem that led to downtown momentum.
Creekside and soon to be opened "Capish" Restaurant (formally
Pontillo's) are making great strides to bring back our downtown.
We had two fulltime police officers leave and they have
been replaced. While we hated to see Daryl Robb and Jarred Dent
leave, we have replaced them with two very competent officers,
Greg Kellogg and Zach Klafhen.
The Village has just hired Ken Biggins to be part of our DPW; the
department has been working shorthanded for a while.
Many people stop me on the street with a pleasant word
on the direction of the Village, they are much appreciated. I truly
believe you can feel the momentum.
"Don't cry because it's over, smile because it happened" Dr. Seuss.