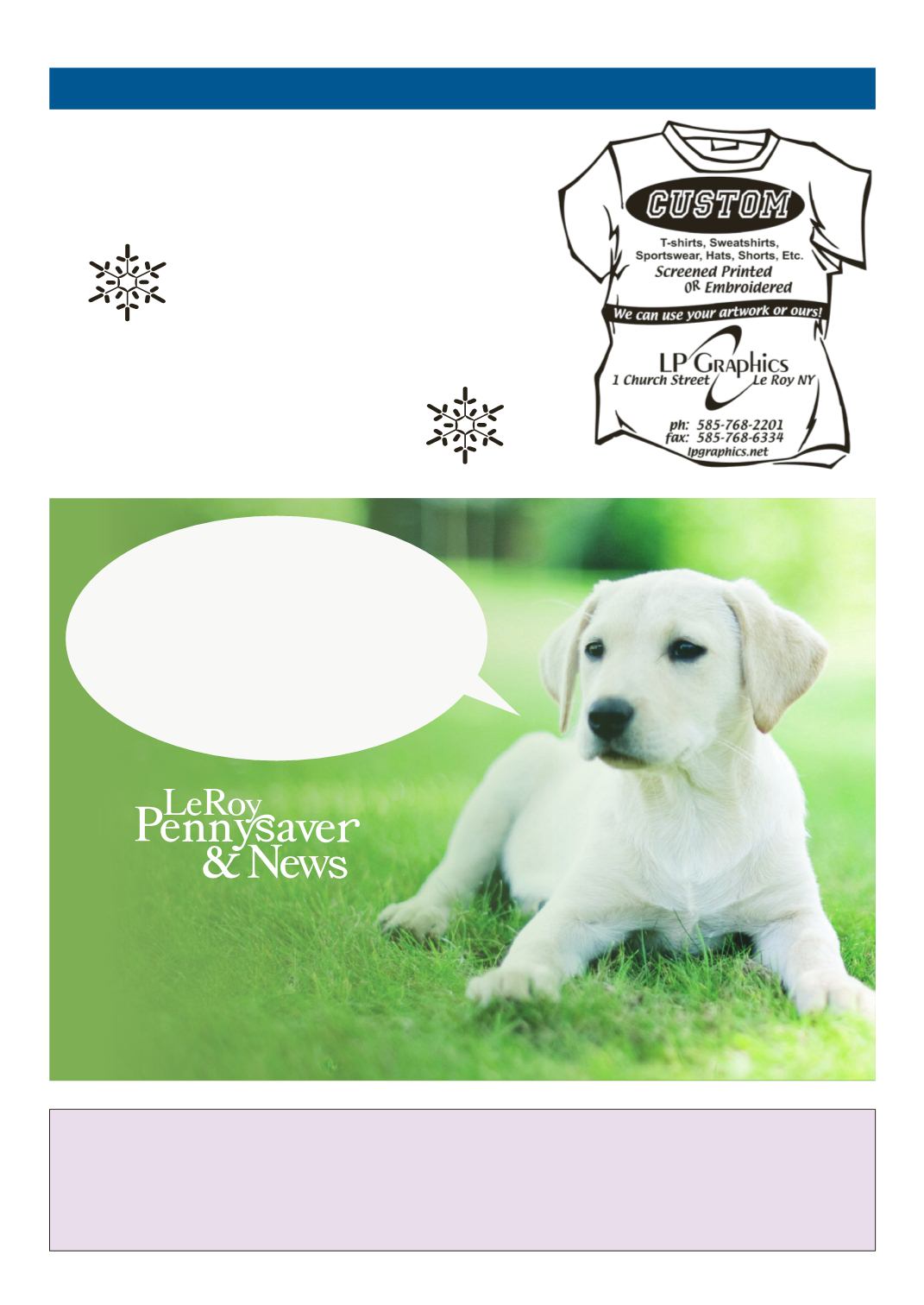 LE ROY PENNYSAVER & NEWS - JANUARY 8, 2017
C L A S S I F I E D S
HOTELS FOR HEROES – to find out
more about how you can help
our service members, veterans
and their families in their time
of need, visit the Fisher House
website at
www.fisherhouse.org
AIRLINE MECHANIC TRAINING-
Get FAA certified to fix jets.
Approved for military benefits.
Financial Aid if qualif ied.
Job placement and housing
a s s i s t a n c e. C a l l Av i a t i o n
In s t i t u te o f Ma i n te n a n ce
8 8 8 - 2 1 2 - 5 8 5 6
Drive with Uber.
You'll need
a Smartphone. It's fun and
easy. For more information,
c a l l : 1 - 8 0 0 - 8 4 9 - 0 7 8 2
HERO MILES - to find out more
about how you can help our
service members, veterans and
their families in their time of
need, visit the Fisher House
website at
www.fisherhouse.org
Cash buyer seeks large acreage
200+ acres in the Central/
Finger Lakes and Catskills
Regions of NY State. Brokers
we l c ome. F o r i mme d i a t e
conf idential response, call
1-607-353-8068 or email Info@
NewYorkLandandLakes.com
AVIATION Grads work with
JetBlue, Boeing, Delta and
others- start here with hands on
training for FAA certification.
Financial aid if qualif ied.
C all Av iation Ins ti t u te of
Maintenance 1-866-296-7094
GUN SHOW
- JW Jones Hall,
366 Leicester Rd., Caledonia,
14 42 3, S a t ., J a n u a r y 14,
9 - 4 , S u n . , J a n u a r y 1 5 ,
9 -3.
w w w. n f g s h o
w s . c om
My People
found me in the
Le Roy Penny Saver!
Advertise • Classifieds • News
HelpWanted • Community Calendar
1 Church St., LeRoy, NY 14482
585.768.2201
www. l e r
oy n y. com
SUPPORT YOUR LOCAL ADVERTISERS!
They help sponsor the local news section of the Le Roy Pennysaver.
THANKS FOR YOUR SUPPORT!