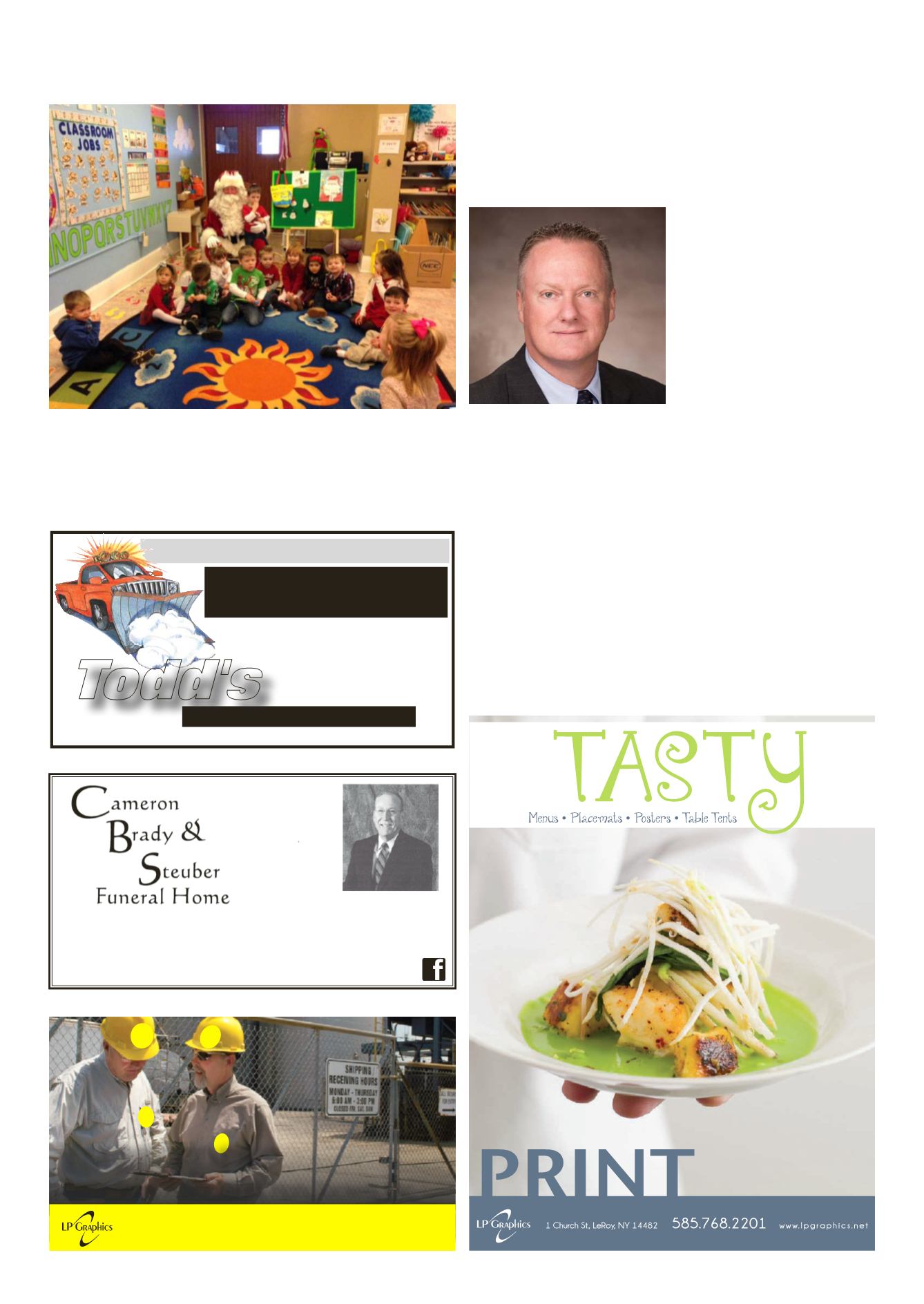 LE ROY PENNYSAVER & NEWS - JANUARY 8, 2017
Sunshine Welcomes Santa!
Sunshine Nursery School held their annual classroom Christmas
parties. Pre-K and Nursery families joined the children in creating
holiday crafts and the children proudly sang their favorite holiday
songs. A highlight of the day was a surprise visit from Santa!
Pictured here are some of the nursery students visiting with Santa.
BATAVIA, NY – Tompkins
Bank of Castile has promoted
Mickey Hyde to vice president,
branch manager of the LeRoy
branch.
Hyde has been with
Tompkins for over 13 years. In
his work managing the LeRoy
branch, Hyde concentrates on
developing relationships with
small businesses throughout the
community as well as tailoring a
wide variety of personal banking
solutions to our local customers.
"Mickey has done a
phenomenal job as our LeRoy
branch manager," said Diane
Torcello, senior vice president,
community banking. "He has a
strong commitment to helping
members of the LeRoy com-
munity with their personal and
business related finances, and
Tompkins Bank of Castile is
lucky to have him on our team."
Hyde is very involved
in the community, serving as the
chair for the steering committee
for Leadership Genesee, on
the Junior Achievement Advi-
sory Board, and as member of
RochesterPress-Radio Club. He
is also a member of the LeRoy
Moose club, the LPS Kiwanis
and the Sons of the American
Legion. He volunteers in many
capacities with LeRoy Central
School,suchasinJuniorAchieve-
ment, Lunch with Leaders,
Mock Interviews, Career Day
and the LeRoy Job Fair. Hyde
has been inducted into both the
Genesee Community College
and the Pavilion Central
School's Hall of Fame. He holds
a Bachelor's Degree in Busi-
ness Management from Eckerd
College.
He and his wife,
Toni, live in LeRoy with their
two daughters, Naomi and
Samantha.
Local Bank Promotes Hyde
Can You Spot
the Missed
Marketing
Opportunities?
EMBROIDERY
Dress Shirts, Polos, Vests, Hats, Jackets, Etc.
1 Church St.
LeRoy, NY 14482
585.768.2201
www.lpg
raphics.net
Providing full funeral and cremation services.
111 Wolcott Street, LeRoy, NY 14482
(585) 768-6800
www.leroyfuneralhome.com
cameronfuneralhome@yahoo.com
Jeff Deragon
Funeral Director/Owner
New Homes • Additions • Garages • Pole Barns
CUSTOM CARPENTRY LLC.
Todd Carli • Phone 703-0964
Decks • Windows • Doors
Kitchens • Baths• Ceramic Tile
Basement Finishing
Custom Shelves/Built-Ins
Siding • Remodeling • Roofing
FULLY INSURED
tfn
Todd's
Now Accepting New
Snow Plow Contracts
Residential • Commercial
Salting • Shoveling