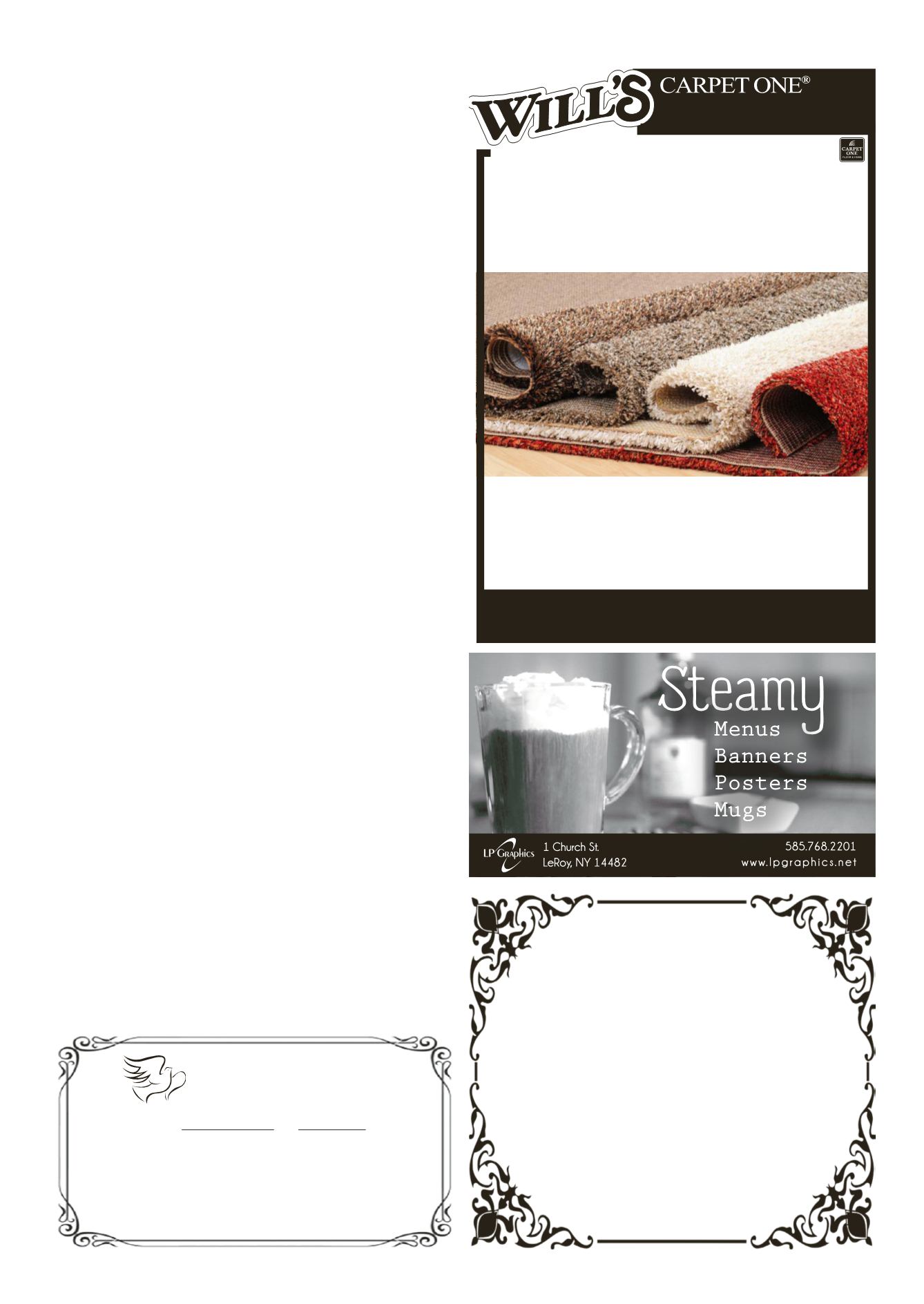 LE ROY PENNYSAVER & NEWS - JANUARY 8, 2017
8700 Lake Rd.
LeRoy, NY 14482
(585) 768-2400
www.falconefuneralhome.com
Vern C. Falcone
Jenna M. Falcone
Director / Owner
Funeral Director
F
ALCONE
F
AMILY
Funeral & Cremation Service, Inc.
Vern C. Falcone
Director/Owner
PO Box 187
8700 Lake Road
LeRoy, NY 14482
(585) 768-2400
vern.fffcs@yahoo.com
"A LOCAL FAMILY
CARING FOR LOCAL FAMILIES"
Around Town
I will report on the Board's reorganization meeting in my column
next month. What I would like to do here is begin speaking with
you (and continue throughout the first half of the year) about a few
of the most significant issues facing us in 2017.
You may have read a few articles recently in the Daily News about
the negotiations in progress concerning sales tax distribution be-
tween the County and City of Batavia (and, by association, with the
rest of the towns and villages throughout Genesee County). I can
think of no other issue more important that faces us (with signifi-
cant impact on the Village as well) this year, and it warrants your
close attention as things develop. While complex and co-mingled
with municipal water supply throughout the County, I will give you
a "Reader's Digest" version in this column.
In 1991, a contract was entered into between Genesee County and
the City of Batavia regarding the distribution of collected sales tax
revenue in Genesee County. This contract was renewed in 2007,
and is set to expire in February, 2018. In sum, the County collects
the "local" share (4%) of the sales tax levied in the county. Fifty
percent (50%) of those monies are set aside for county purposes,
sixteen percent (16%) goes to the City of Batavia, and thirty-four
percent (34%) is divided among the towns/villages through a for-
mula with a basis on real property tax value.
To demonstrate what this has meant to the Town of LeRoy, we re-
ceived approximately $1,012,600 in sales tax revenue for 2012;
$1,066,000 in 2013; $1,070,400 in 2014; $1,070,450 for 2015; and
I am expecting about $1,000,000 for 2016 (gas prices remain lower
than those earlier years but I am awaiting the fourth quarter num-
bers that reflect the Christmas shopping season). So, as you can see,
the Town counts on about $1,000,000 in sales tax revenue for its
annual budget each year. By way of example, $1 million equates
to about 60% of our total 2017 A (town-wide) and B (outside vil-
lage) Fund revenue amounts. The other 40% comes from a variety
of sources (court fines, NYS aid, mortgage tax, various fees, etc.),
including property taxes. That is, 60% of our in-coming monies
comes from one source- sales tax revenue.
I believe it is fair to say that any elimination, reduction, or growth
limitation of sales tax revenue to the town will most likely result in
an increase in property tax rates. Positive negotiations are continu-
ing, and the Genesee Association of Municipalities (representing
towns and villages on this issue) is well-represented on the nego-
tiations committee with the Supervisors of Bergen and Darien. As
things develop on this front, I will keep you informed.
Thank you and see you Around Town.
Stephen R. Barbeau
Supervisor
Town Supervisor Column
The family of Jennie Hale
would like to thank the whole D Wing Unit staff
at the LeRoy Village Green Nursing Home.
You all went above and beyond
your everyday duties to make sure
Jennie received excellent continuity of care
during her stay.
For the volunteers who have donated
food and their time,
we are eternally grateful for all your kindness.
As her family, we would also like to extend a
thank you to everyone who has given donations
in lieu of Jennie Hale.
FLOOR
& HOME
Hrs: Mon-Wed 8:30-5:30 Thurs-Fri 8:30-7:30 Sat 8:30-3 pm
Visit Our S
howroom at 651 E. Main Or On T
he Web:
www.willscarpetonebatavia.com
The ONE store for your perfect floor.
Store H urs: Mon.-Wed. 8:30-5:30,Thurs. & Fri. 8:30-7, Sat 8:30-3
651 E. Main St.
ph: 585*343*7830
Batavia, NY 14020
fax: 585-343-0875
Large & Small
Carpet Remnants
• Free Estimates •
• Financing Available to Qualified Buyers •
• Professional Installation Available
• Custom Area Rugs •
• We can bind Any Carpet to Your Size •