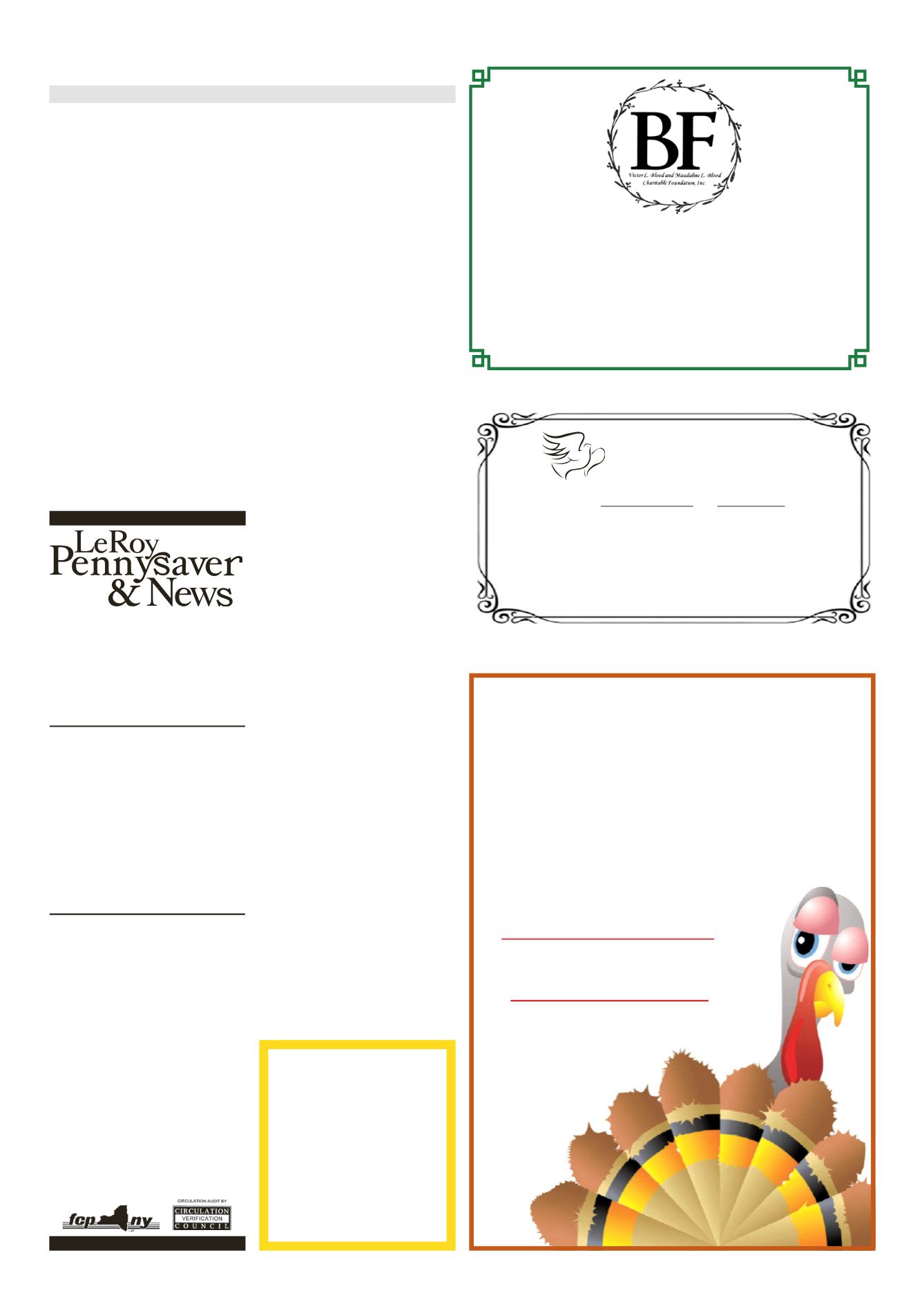 LE ROY PENNYSAVER & NEWS - NOVEMBER 6, 2016
Le Roy's Best Advertising Medium
EDITOR/PUBLISHER
David J. Grayson
editor@leroyny.com
CIRCULATION
editor@leroyny.com
HOW TO CONTACT US
STREET ADDRESS
1 Church St.
Le Roy, NY 14482
TELEPHONE
(585) 768-2201
FAX
(585) 768-6334
WEBSITE
www.leroyny.com
CLASSIFIEDS
office@leroyny.com
COMMUNITY CALENDAR
SUBMISSIONS
calendar@leroyny.com
EDITORIAL SUBMISSIONS
editor@leroyny.com
DISPLAY AD SUBMISSIONS
pennysaver@leroyny.com
The
Le Roy Pennysaver
will not knowingly accept or
publish advertising which is fraudulent or misleading
in nature. The publisher reserves the right to reject or
cancel any advertising.The
Le Roy Pennysaver
assumes
no financial responsibility for typographical errors in
advertisements, but if at fault, will reprint the portion of
the ad in which the error appears. Style, size of type and
location of advertisement are left to the discretion of the
publisher. The opinions expressed in this publication
are not necessarily those of the publisher. We cannot
guarantee the return of photographs.
© 2010
Le Roy Pennysaver
The Victor L. and Maudaline L. Charitable Foundation, Inc.
is pleased to announce the availability
of grant funding for 2017.
Eligible organizations must be 501(c)3 not-for-profit agencies
serving the residents of LeRoy. Maximum grants are $5,000.
Applications must be submitted online at the
Blood Foundation website:
www.vicbloodfoundation.com
by December 1st, 2016.
Thank you - the
8th Graders who
raked my leaves &
the 2 teachers!
The School &
Parents should be
proud of them.
The Lady on South
Street Rd.
If you haven't been pay-
ing attention, Tuesday is
Election Day. The polling
places will be spread out
through the community as
usual; this promises to be one
of the most memorable elec-
tions we will ever experience
in our lifetime. This cam-
paign is Netflix ready and
many people can't wait to
have it over, either way take
time to vote. I have a rule,
if you don't vote you can't
complain.
Monday evening at 7:00
at the Village Hall we will
host our monthly workshop.
This one will focus on aban-
don properties and how we
plan on dealing with them,
along with other housekeep-
ing issues. Please feel free to
attend they are open to the
public and the Board wel-
comes your input.
Congratulations go out to
the youth football junior and
senior teams on winning their
respective
championship
games last weekend. Great
job by all concerned, you
have represented our com-
munity well.
Grant Hertzler has started
his Eagle Scout project on
the corners of Routes 5 and
19. Much of the work will
have to be done in the spring,
but we look forward to the
completion of the project.
The Christmas tree that goes
on that corner was in need of
new lights; we have ordered
them and should have the tree
ready to go for the season.
The winter parking has
begun, (no parking on vil-
lage streets 2 – 6 am) on No-
vember 1st and will go until
March 31st. this is in place
to allow our DPW to be more
efficient in snow removal.
The DPW has begun leaf
pick up, as the season pro-
gresses we will try to give a
street by street pick up sched-
ule, when available, please
try to keep the leaves on the
terraces so they don't get in
our storm drains, Thanks.
"I am not afraid of an
army of lions led by a sheep;
I am afraid of an army of
sheep led by a lion."
Alexander the Great
Notes From The Mayor's Office
by Greg "Porp" Rogers
Mayor
Turkey
Dinner
S AT U R D AY
Nov. 12, 2016
Dinner 4:30 to 7:00 pm
Take Outs Available From
4:30 to 6:30 pm
Adults
$
10.00
Children (10 years & Under)
$
5.00
American Legion Auxiliary - LeRoy
8700 Lake Rd.
LeRoy, NY 14482
(585) 768-2400
www.falconefuneralhome.com
Vern C. Falcone
Jenna M. Falcone
Director / Owner
Funeral Director
F
ALCONE
F
AMILY
Funeral & Cremation Service, Inc.
Vern C. Falcone
Director/Owner
PO Box 187
8700 Lake Road
LeRoy, NY 14482
(585) 768-2400
vern.fffcs@yahoo.com
"A LOCAL FAMILY
CARING FOR LOCAL FAMILIES"