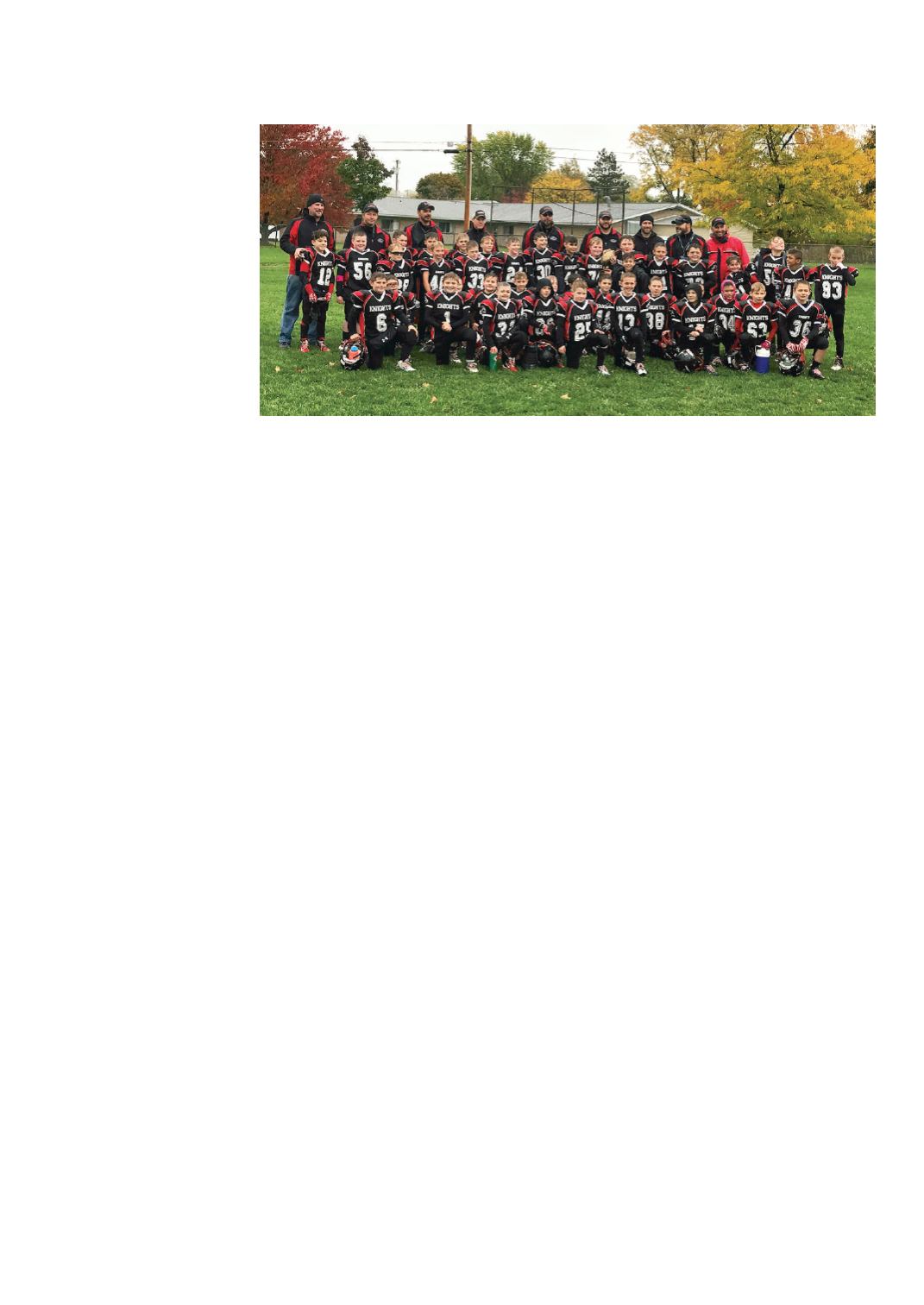 LE ROY PENNYSAVER & NEWS - NOVEMBER 6, 2016
LeRoy Junior Knights 20 –
Canisteo Redskins 0
The 2016 Community Youth
Football League Champion-
ship was played at Avon Central
School in a matchup between the
undefeated 8 – 0 LeRoy Junior
Knights against the 7 -1 Canisteo
Redskins. For the first time this
season, Mother Nature made her
presence felt on what would be a
cold, damp and at times, rainy day.
The Junior Knights would win
the toss and chose to defer, prefer-
ring to start the game on defense
and get the ball to start the second
half. Canisteo's offense, averag-
ing 24 points per game, would
take the field starting from their
35 yard line. Three stops by the
LeRoy defense powered by Hold-
en "Sully" Sullivan, Luke Lathan,
Jude Sherman, JoJo Vernacinni,
Aaric Luce and Jake Egeling set
up a 4th down and 3. Canisteo,
showing faith in the offensive
line, chose to go for it on fourth
down early in the game. Howev-
er, Holden Sullivan, Aaric Luce
and Jake Egeling teamed up to
bust through the line and stop the
Canisteo running back for no gain.
LeRoy would take over
possession of the football at
Canisteo's 42 yard line. LeRoy's
offensive line would seize control
of the line of scrimmage early
as Adam Woodworth and Luke
Lathan teamed up behind them to
drive the Knights down to 10 where
they faced a 3rd down and 1. The
Knights would draw the defense
offsides and be rewarded with a 1st
and goal at the 5. One play later,
Woodworth would give LeRoy a
6 – 0 lead. The PAT attempt failed.
LeRoy 6 - Canisteo 0.
Canisteo's next possession
started with a fumbled exchange
between the QB and running
back pushing them into a 2nd and
14. On the next play, Canisteo's
Gavin Bob got loose first around
the left end then cut back all the
way across the field, avoiding
multiple LeRoy tacklers before
finally being brought down at the
49 for a 19 yard gain. LeRoy's de-
fense would again stiffen for three
straight plays forcing a 4th & 2.
For a second time in as many pos-
sessions, Canisteo chose to go for
it. DJ O'Geen made it a bad de-
cision as he shed his blocker and
stopped the Canisteo back a yard
short of the first down maker.
LeRoy would take over at
their 42. An 8 yard gain byWood-
worth was negated after a holding
penalty. This would end up being
the final play of the first quarter.
On the first play of the 2nd quar-
ter, LeRoy would turn the ball
over to the Redskins who would
take possession at LeRoy's 45
yard line.
On the first play of their next
drive, Canisteo's Gavin Bob broke
loose down to LeRoy's 20 yard
line. On the next play, Bob once
again broke free around the left
side and appeared to be headed
for a game tying score when Jude
Sherman raced across the field for
a touchdown saving tackle forcing
Bob out at the 1 yard line. With
only a half yard to spare, LeRoy
would stage a huge four play goal
line stand behind defensive stal-
warts Luke Lathan, DJ O'Geen,
Jude Sherman and Holden Sulli-
van. Wyatt Draper and Jake Egel-
ing would make the final stop be-
hind the line on 4th and goal.
With their backs against the
goal line, the Junior Knights chose
to line up Woodworth under cen-
ter for consecutive QB sneaks.
Aaric Luce, DJ O'Geen and Hold-
en Sullivan would provide enough
push to allowWoodworth to move
the ball to the 6 yard line setting
up a crucial 3rd & 5. Woodworth,
behind an ever determined offen-
sive line and lead blockers pow-
ered forward for 8 yards and a first
down. Now with some breathing
room, the Knights were poised to
strike. After a 5 yard run by Luke
Lathan, Jake Higgins and Jude
Sherman executed text book blocks
"on the edge" and Adam Wood-
worth out ran the entire defense for
81 yards and TD. The PAT failed.
LeRoy 12 – Canisteo 0.
The half ended as Canisteo
was forced to punt as time ran out.
LeRoy opened the second half
with the football and a chance
to lengthen their lead and take
firm control of the game. Seven
straight plays run into the heart
of the defense aided by a face
mask penalty set up LeRoy with
a 1st and 10 at Canisteo's 20. The
eighth play of drive proved too
much for the Redskins' defense
as Wyatt Draper, Luke Lathan and
Jude Sherman delivered punish-
ing blocks at the point of attack
and Woodworth raced 20 yards
for a touchdown. After a suc-
cessful PAT run by Woodworth,
LeRoy had extended the lead to
LeRoy 20 – Canisteo 0.
Canisteo looked like they
were going to answer and answer
quickly as Gavin Bob again, on a
nifty cut, got to the sideline and
appeared to be on his way to a 65
yard touchdown. However, for
the second time, Jude Sherman
sprinted from across the field to
catch him from behind at the 4.
This set up LeRoy's second goal
line stand of the day. Four at-
tempts to score from the 4 yard
line turned up empty as LeRoy's
defense, behind Cole Tonzi, Wy-
att Draper, Cam Wilson, Aaric
Luce, Jude Sherman and Jack
Egeling stopped them short, again
with only a half yard to spare.
The remainder of the second
half saw LeRoy's offense play
"keep away" as they held onto the
ball for a total of 29 plays. In do-
ing so, they never gave Canisteo
a chance to stage a comeback as
Canisteo was given the opportuni-
ty to run just 9 second half plays.
In a show of determination and
heart, as many as 19 different Ju-
nior Knights took turns on the of-
fensive line while paving the way
for first down after first down.
As the game clock wound
down to zero, the Knights were
able to assume the best offensive
formation in football, the "Victory
Position" as quarterback Alex
Spezzano took the final snap
and "took a knee". LeRoy 20 –
Canisteo 0.
The Junior Knights offensive
line and lead blockers led the way
for Adam "Bucha" Woodworth
as he gained 226 hard fought
yards on 31 carries. Luke Lathan
carried the ball 7 times for 27
yards and Jude Sherman 6 times
for 19 yards.
The Junior Knights defense
was led by Jude Sherman who
recorded 10 tackles followed
by Jack Egeling with 8. With
6 tackles each was Holden
Sullivan and Aaric Luce. Adam
Woodworth had 5 tackles, Luke
Lathan 4. DJ O'Geen and Wyatt
Draper each had 2 tackles. Jay
Lathan, Alex Spezzano, JoJo
Vernacinni, Noah Kaczanowski,
Connor Elmore, Joey Reschke,
Cole Tonzi, Cameron Wilson all
chipped in with 1 apiece.
The victorymarked the second
straight CYFL Championship
and 18th consecutive win by the
LeRoy Junior Knights.
LeRoy Junior Knights Football
2016 CYFL Championship Game