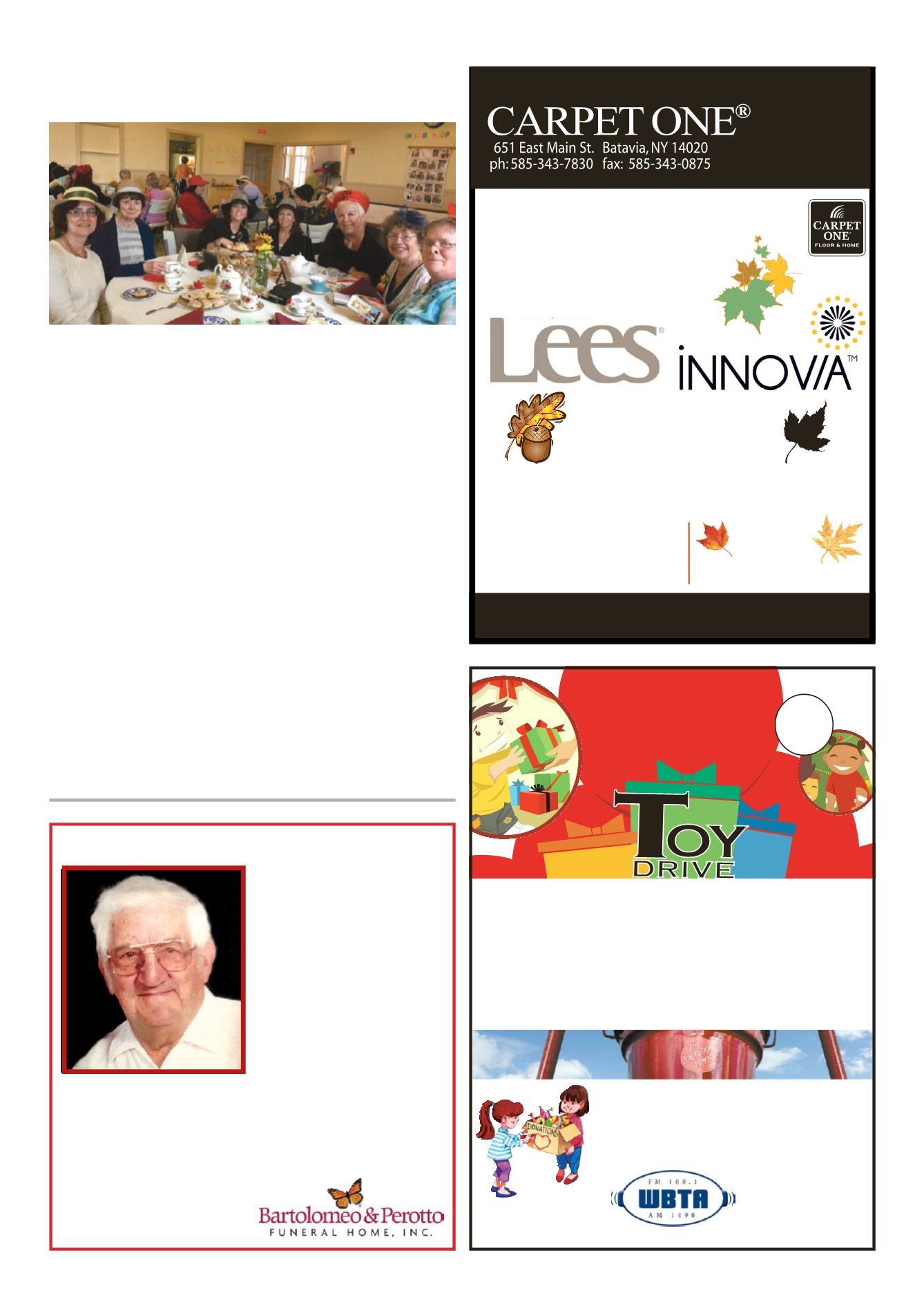 LE ROY PENNYSAVER & NEWS - NOVEMBER 6, 2016
Wolcott: October 26, 2016, at the
age of 94. He is survived by his
wife, Antoinette "Ann" (Occhinegro)
Minosh; many nieces, nephews,
great-nieces, great-nephews, great-
great nieces & nephews; many
loving friends. Nate was a retiree
of Eastman Kodak, serving over 40
years there. He loved bass fishing on
East Bay & was Ham Radio operator
for many years. Nate & Ann spent
their winters at Tiger Creek Forest
in Lake Wales, FL. Nate was an avid
photographer, was a nature lover
and enjoyed spending time with the
love of his life Ann at their home.
To light a candle of remembrance, visit
www.aliferemembered.com
Visitation and service for Natale were held on
Saturday, October 29th
at
Bartolomeo & Perotto Funeral Home in Greece, NY. Entombment in Holy
Sepulchre Cemetery located in Rochester, NY.
In lieu of flowers, please donate
to a church of your choice
in Nate's memory.
Minosh, Natale G. "Nate"
Fri. December 9th
9am to 4pm
Ken Barrett Chevrolet Showroom
Main Street, Batavia
Bring a NEW unwrapped toy and help make
Christmas brighter for kids in Genesee County
.
It's that
t
im
e
again!
I T ' S THE ANNUA L
WBTA
Ken Barrett Chevrolet Cadillac
Salvation Army
2016
If you can not make it down during the live event
drop off your item at the
WBTA Studios at 113 Main St, Batavia
during business hours
NOW thru December 9
Sandra's Tea
A Huge Success
On Sunday, October 23
over sixty women gathered to
remember Sandra Tompkins
Jones, have a cup or two of tea,
eat delicious finger sandwiches
and cookies, laugh and raise
money for GO ART! Creative
Arts Camp for Kids. Over
$1400 was raised to help
provide scholarships to the
week-long camp for Le Roy
students in grades 1-6. The
Spring camp begins April 10.
Applications
will
be
available through the school
and GO ART website. The Art
teachers will help select the
students. The scholarships will
provide an opportunity for at
least 8 Le Roy youth to attend.
Transportation will also be
arranged if necessary.
Sandra was an Art History
major and loved working with
children especially in LCCP
and teaching Sunday School at
the First Presbyterian Church
of LeRoy. Many people
remember having a cup of tea
with Sandra Jones which always
included good conversation,
lovely china cups, and laughter.
When Sandra passed away
from pancreatic cancer in 2013,
her friends, family, church and
community lost a wonderful
companion, mentor, partner in
fun, volunteer and a listening
ear over a cup of tea.
For the second year friends
of Sandra organized this high
tea to raise money for a cause
that would have been meaning-
ful to Sandra. Each table wrote
a haiku about Sandra or tea.
Here is one of the creations that
captured the spirit of the tea.
Spicy, fragrant, warm,
Tea reminds everybody
Of Sandra's spirit
Live Broadcast Dec. 9 on WBTA Fm 100.1, 1490 AM,
WBTAi.com
and your mobil App
Free Estimates
Financing Available for
Qualified Customers
Visit Ou
r Showroom at 651 E. Main Or On T
he Web:
w w w .
w i l l s c a r p e t o n e b a t a v i
a . c o m
The ONE store for your perfect floor.
FLOOR
& HOME
WILLS
Mon-Wed 8:30-5:30 Thurs-Fri 8:30-7:30 Sat 8:30-3 PM
The ONE store for your perfect floor.
featuring
FALL FLOORING
SALE!
REGULAR LINE
ON SALE
STARTING AT $3.39 SQ. FT.
INSTALLED WITH 6LB. PAD
Hurry!
Sale Ends Soon