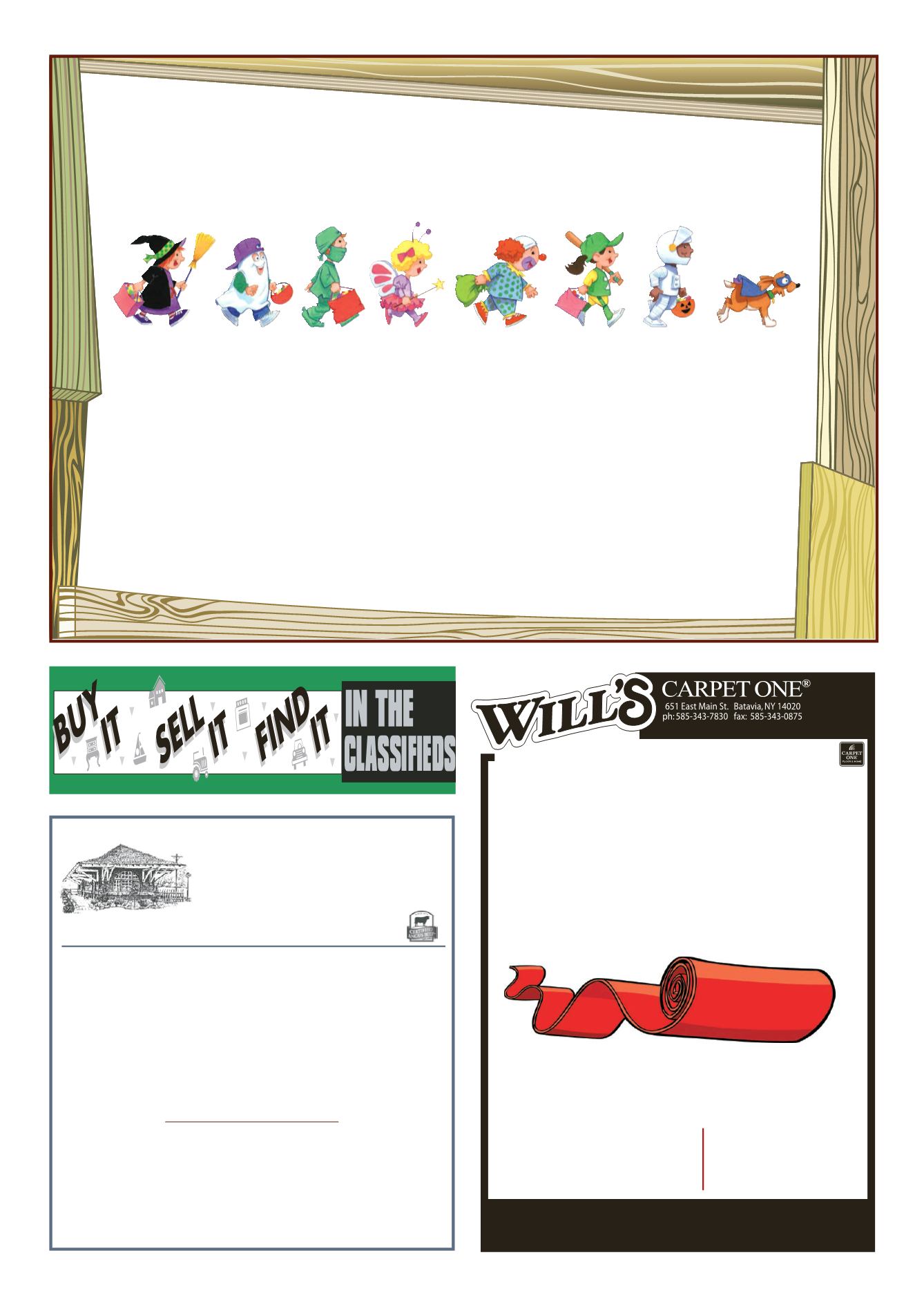 LE ROY PENNYSAVER & NEWS - OCTOBER 30, 2016
Annual Halloween Parade
SPONSORED BY: LEROY BUSINESS COUNCIL
MONDAY OCTOBER 31
6:00 PM
FLOOR
& HOME
Hrs: Mon-Wed 8:30-5:30 Thurs-Fri 8:30-7:30 Sat 8:30-3 pm
Free Estimates
Financing Available for
Qualified Customers
Hurry!
Sale Ends Soon
Visit Our S
howroom at 651 E. Main Or On T
he Web:
www
.willscarpetonebatavia.co
m
FEATURING
LEES CARPETS
INNOVIA CARPETS
The ONE store for your perfect floor.
FALL FLOORING
SALE!
REGULAR LINE ON SALE
STARTING AT $3.39 SQ. FT.
INSTALLED WITH 6LB. PAD
October/November Sunday Dinner Specials
10/30 SWISS STEAK $17.99
Includes soup or salad, peppers and onions, mashed potatoes,
veggie, and homemade Coconut Creme pie.
11/6 HOMEMADE POT ROAST $17.99
Dinner served with soup or salad, carrots and onions, and
Chocolate Creme pie
THANKSGIVING DAY NOVEMBER 24
Serving from 11am - 7pm
Serving a slightly limited dinner menu - including Roast turkey
with homemade dressing and gravy, vegetarian items,
Chicken pot pie, Steaks & Prime Ribs of Beef, seafood items,
and delicious homemade desserts.
Reservations are strongly suggested
THE DEPOT ALSO WILL BE OFFERING THEIR FAMOUS 'LEFTOVERS
TO GO' FOR YOUR EVENING OR NEXT DAY HUNGER PANGS
Lake St. (Rt. 19), LeRoy • 768-6270
... A Great American Brasserie
Open For Breakfast, Lunch & Dinner
Sun.-Thurs. 7-7, Fri. & Sat. 7-9
www.dandrdepot.com
D
&
R Depot Restaurant
Delicious • Attentive
Relaxing
Meet in the Bank Street parking
lot behind the Bank of Castile at
5:45. Parade will start at 6:00 PM
with a walk up Main Street to the
LeRoy Fire Department for cider
and doughnuts!