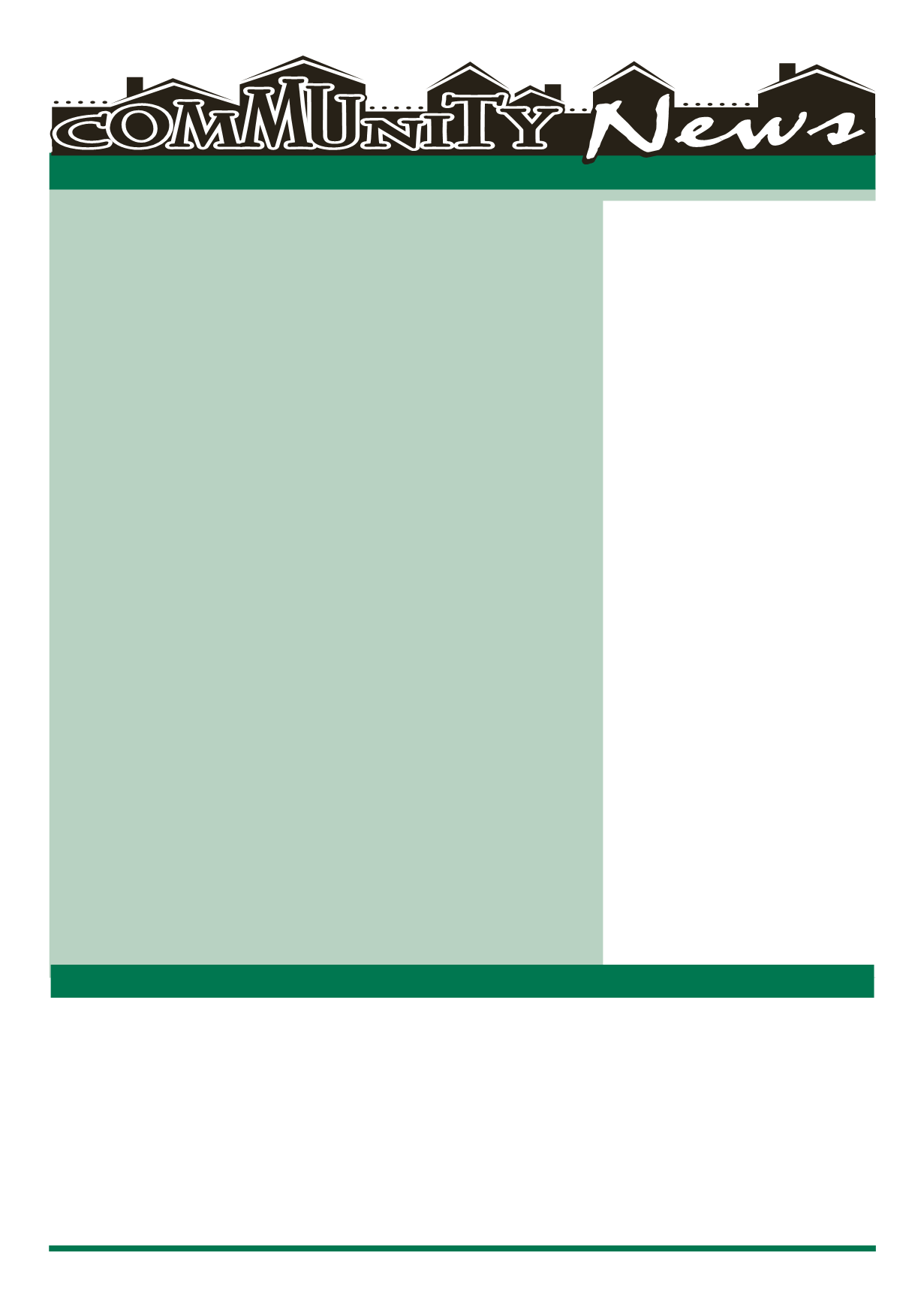 LE ROY PENNYSAVER & NEWS - OCTOBER 30, 2016
All Genesee County residents, 60 and older, can take part in this week's activities at the Batavia Senior Center, 2 Bank St., Batavia. For more information, call 343-1611
Monday:
Arthritis Exercise
is scheduled to begin at 9:30 a.m.;
Bridge
is scheduled to begin 11:30 a.m.;
RSVPMeeting
is scheduled
to begin at 12:30 p.m.;
Tai Chi
is scheduled to begin at 1:30 p.m.
Tuesday:
Cribbage is scheduled to begin at 1:00 p.m.
Wednesday:
Quilter's Group
is scheduled to begin at 9:00 a.m.;
Alzheimer's Association Meeting
is scheduled to begin at 9:00
a.m. …
Euchre
is scheduled to begin at 1:00 p.m.
Thursday:
Tai Chi
is scheduled to begin at 9:30 a.m.;
Gentle Fitness
is scheduled to begin at 10:30 a.m.;
Gentle Fitness is scheduled
to begin at 10:30 a.m.
Cribbage
is scheduled to begin at 1:00 p.m.;
Bridge
is scheduled to begin at 1:00 p.m.
Friday:
Legal Services
is available for APPOINTMENTS ONLY ….
Art Class
is scheduled to begin at 10:00 a.m.;
Line Dancing
is scheduled to begin at 10:00 a.m.;
Euchre
is scheduled to begin at 1:00 p.m.
MONDAY, OCTOBER 31
TOPS (Take Off Pounds Sensibly) meets Monday evenings at the
LeRoy Presbyterian Church, corner of Clay & Main Streets. Doors
open at 6:00 PM and meeting is from 6:30-7:15PM. Visitors are
always welcome. Call 585-768-7103 for more information.
ToddlerTimeforTwosandThreesattheWoodwardMemorialLibrary,
every Monday through November 14 from 10:30 - 10:50AM.
TUESDAY, NOVEMBER 1
PreschoolStorytime :EveryTuesdayat11am featuringstories,craft
and songs at Pavilion Public Library, 5 Woodrow Dr., Pavilion. For
info call: 584-8843.
PreschoolStorytimeForchildrenages3,4,5and6attheWoodward
Memorial Library. Every Tuesday through November 15 from
6:30-7:00 PM.
GRACE'SCLOSET:AclothinggiveawayprogramsponsoredbyLeRoy
United Methodist Church, 10 Trigon Park, LeRoy, 9:30 to 11:30AM
every Thursday. We have clothing for all ages. We are in need of
boy'sclothingsizes0-3T.Donationscanbedroppedoffatthehouse
nexttothechurch.Pleaseputallbags
INSIDEonthebackporch.NO
ELECTRONICS, COMPUTERS,DISHES, etc. OpenTuesdays 5-6:30 pm.
Any questions call the office at: 768-8980.
WEDNESDAY, NOVEMBER 2
First Baptist Church of LeRoy 5 East Main Street invites you to a
Service of Remembrance on Wednesday, November 2nd at 7 PM
Anyone who has experienced the death of a loved one or a loss
of any kind would find this service to be helpful in their healing.
Come and bring a friend.
TheSeniorCitizensofLeRoyandStaffordmeetthethirdWednesday
of the month from March through December for dinner and a
plannedprogram. Wemeet intheKnightsofColumbusHallbehind
Save-A-Lot on West Main Street. Each person attending brings a
generous dish to pass or pays $4.00 each for a nice buffet meal and
social. Bring your own place setting and beverage. Coffee, tea and
dessert are provided. Dinner is served at 6:00 pm followed by a
program. Please join us for an enjoyable evening. Any questions,
please contact Judy Ridley, Director @ 768-2001, or Sharon Frost
at: 768-6846.
THURSDAY, NOVEMBER 3
National Park and Monument Travelogue presented by Lloyd
Miller on Thursday, November 3 from 6:30 to 7:30 p.m. at the
Woodward Memorial Library. Lloyd Miller shares his experiences
traveling over 8000 miles in 2016 to see sixteen National Parks
and Monuments. Call 768-8300 or register online at
www.
woodwardmemoriallibrary.org.
FRIDAY, NOVEMBER 4
Penuel Christian Fellowship, One Step to Freedom addictions
ministry, a Christ Centered Addictions program, a weekly meeting
every Friday at 7 pm. Call the Church for more information at:
768-6901 or 594-9575.
Penuel Christian Fellowship is organizing a young adult fellowship
and Bible study. Ages: 12 and up,Time: Fridays from7-9 pm, Study:
the book of Romans (a 16 week course), taught by Josiah Gariboldi.
Place: 7115West Main Street.
SATURDAY, NOVEMBER 5
Riga Church Craft Show: November 5. At 7057 Chili-Riga Cntr.
Rd.(Rts. 33A@36) Houseplants, crafted jewelry,wood signs, LOTS
of variety ! Chinese Auction of new items ,proceeds benefit 2 food
pantries ! Get a jump on holiday shopping-see you soon !
UPCOMING EVENTS
Stone Church Rural Cemetery Association annual business meeting
will be held at 7 pm,Tuesday,
November 8th
at the Stone Church
Presbyterian Church, Route 19, Bergen. The meeting is open to
the public.
TheLeRoyTown&CountryGardenClubwillmeeton
November9th
at 6:30 pm at LeRoy First Presbyterian Church. Program is on Bees
& to make bee's wax candles. Remember to bring a non-perishable
item for the LeRoy Food Pantry. Contact Jules Feltes at 703-0087
for more information.
Community Calendar Submissions should be sent to:
c a l enda r@l e r oyny. c om
WEEKLY EVENTS
OBITUARIES
Bergen:
John F. "Jack" Robinson, age 74, of Bergen, passed away unex-
pectedly on Monday, October 24, 2016 at Unity Hospital. Calling
hours will be held on Friday from 4-8 p.m. at the H.E. Turner &
Co. Funeral Home, 51 South Lake Avenue, Bergen.
Byron:
TrevorJ.Mathisen,13,passedawayonSaturday,Oct.22,2016at
Strong Memorial Hospital. Trevor's celebration of life will begin
at10a.m.onSunday,October30that5939GriswoldRoad,Byron.
AllareencouragedtowearTrevor'sfavoritecolor, limegreenand
arrival by 4 wheeler, dirt bike or tractor is strongly encouraged.
TherewillbemanyactivitiesthroughoutthedaytohonorTrevor's
memory including a bonfire. Memorials in Trevor's name may
be made to Golisano's Children Hospital's PICU, in care of Office
of Gift & Donor Records, P.O. Box 270032, Rochester, New York
14627. To leave a condolence, share a story or light a candle in
Trevor's name, please visit
www.bataviafuneralhomes.com.
Byron:
Richard Leslie Hyde, 82, of Tavares Florida and Byron and Alex-
ander, New York passed away peacefully in his home of Friday,
September23,2016withhiswifeof60years,Joanne,athisside.
InmemoryofRich,donationsmaybemadeforFirstUnitedMeth-
odistChurch-8221LewistonRoad-Batavia,NewYork14020and
toAlexanderFireDepartment–"NewAmbulanceFund"-10505
MainStreet-Alexander,NewYork14005.Memorialserviceswill
heldbeonOctober29,2016at11amattheAlexanderRecreation
Hall- lunches will be served. (Casual attire)
LeRoy / Wyoming:
Andre Carmel, age 79, of Transit Road, passed away Saturday
morning (October 22, 2016) at Rochester General Hospital in the
loving presence of his family. Visitation, services and interment
forAndrewillbeheld inhishometownofSt.Bruno,Quebec later
intheweek.A localmemorialservicewillbeheldatafuturedate
to be announced. In lieu of flowers, memorials are suggested
to the Lipson Cancer Institute, c/o United Memorial Medical
Center,127NorthStreet,Batavia,N.Y.14020.Yourmemoriesand
condolences may be shared with Mr. Carmel's family at
www.
falconefuneralhome.com.
LeRoy:
AlbertF.Machols,age89,ofGeneseePark,passedawayTuesday
evening (October 18, 2016) at Unity Hospital. There are no prior
calling hours and services will be private. In lieu of flowers, me-
morials are suggested to either Volunteers for Animals, 3841 W.
Main St. Rd., Batavia, NY 14020 or the donor's choice.
SENIOR CITIZENS ACTIVITIES October 31 - November 4