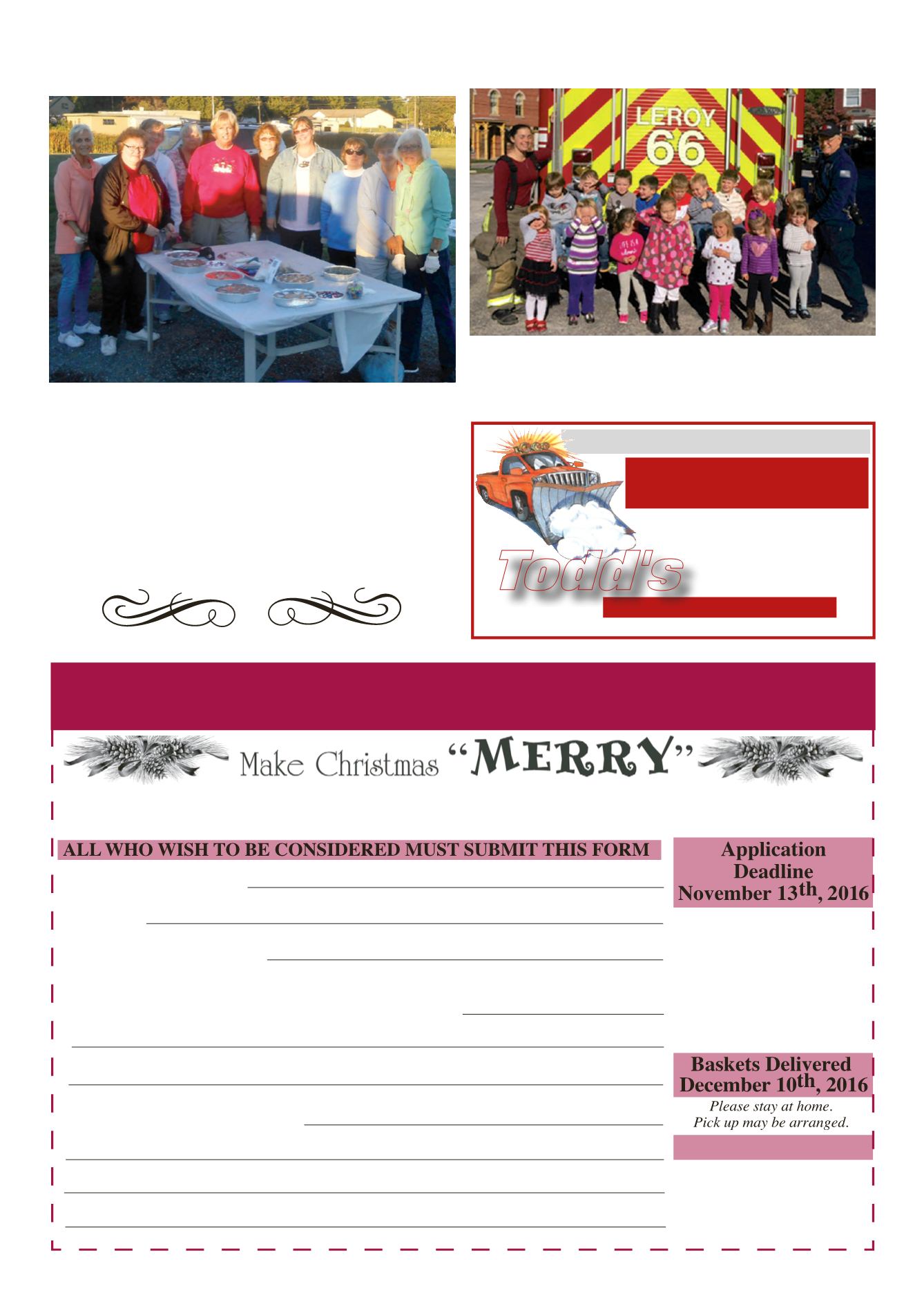 LE ROY PENNYSAVER & NEWS - OCTOBER 30, 2016
In September the LeRoy Town & Country Garden Club met at
Ann Walters' barn to make cement stepping stones. Everyone's was
unique as each individual brought the items they wanted on the stones.
Shown above are 10 of the Garden Club members who obviously
enjoyed this project.
The November meeting will be held at 6:30 on Nov 9th at the
First Presbyterian Church in LeRoy. The program will be on bees
and we will be making bee's wax candles. Members are asked to
bring non-perishable items for the LeRoy Pantry. Contact Jules Feltes
at 703-0087 for more information.
LeRoy Garden Club
The Le Roy Pantry & Help Fund will be considering recipients for this year's food baskets and gifts programs. If you or if you know of
someone who you feel should be considered, please fill out the form below: Applicants must live in the
Le Roy Central School District.
MAIL TO
:
Le Roy Pantry & Help Fund
Ms. Judith Ridley
7965 Black Street Rd.
Le Roy, NY 14482
Le Roy Pantry & Help Fund
Submitting a name does not
guarantee assistance. The
allocations committee must
balance need against available
resources and must reserve
for itself the right to make
decisions on its perception
of greatest need. You will be
notified only if declined.
Established 1980
Le Roy, New York 14482
NAMES OF HOUSEHOLD:
ADDRESS:
PHONE NUMBER
( A MUST )
:
Prefer local number
CHILDREN
(names, male or female and date of birth)
( A MUST )
REASONS FOR CONSIDERATION:
Firefighter Christina and Firefighter Jerry took time out
of their busy schedules to teach Sunshines's nursery
friends about fire safety. The children were very excited
to have the opportunity to climb aboard Fire Engine 66!
Hometown Heroes Visit SNS!
New Homes • Additions • Garages • Pole Barns
CUSTOM CARPENTRY LLC.
Todd Carli • Phone 703-0964
Decks • Windows • Doors
Kitchens • Baths • Ceramic Tile
Basement Finishing
Custom Shelves/Built-Ins
Siding • Remodeling • Roofing
FULLY INSURED
tfn
Todd's
Now Accepting New
Snow Plow Contracts
Residential • Commercial
Salting • Shoveling