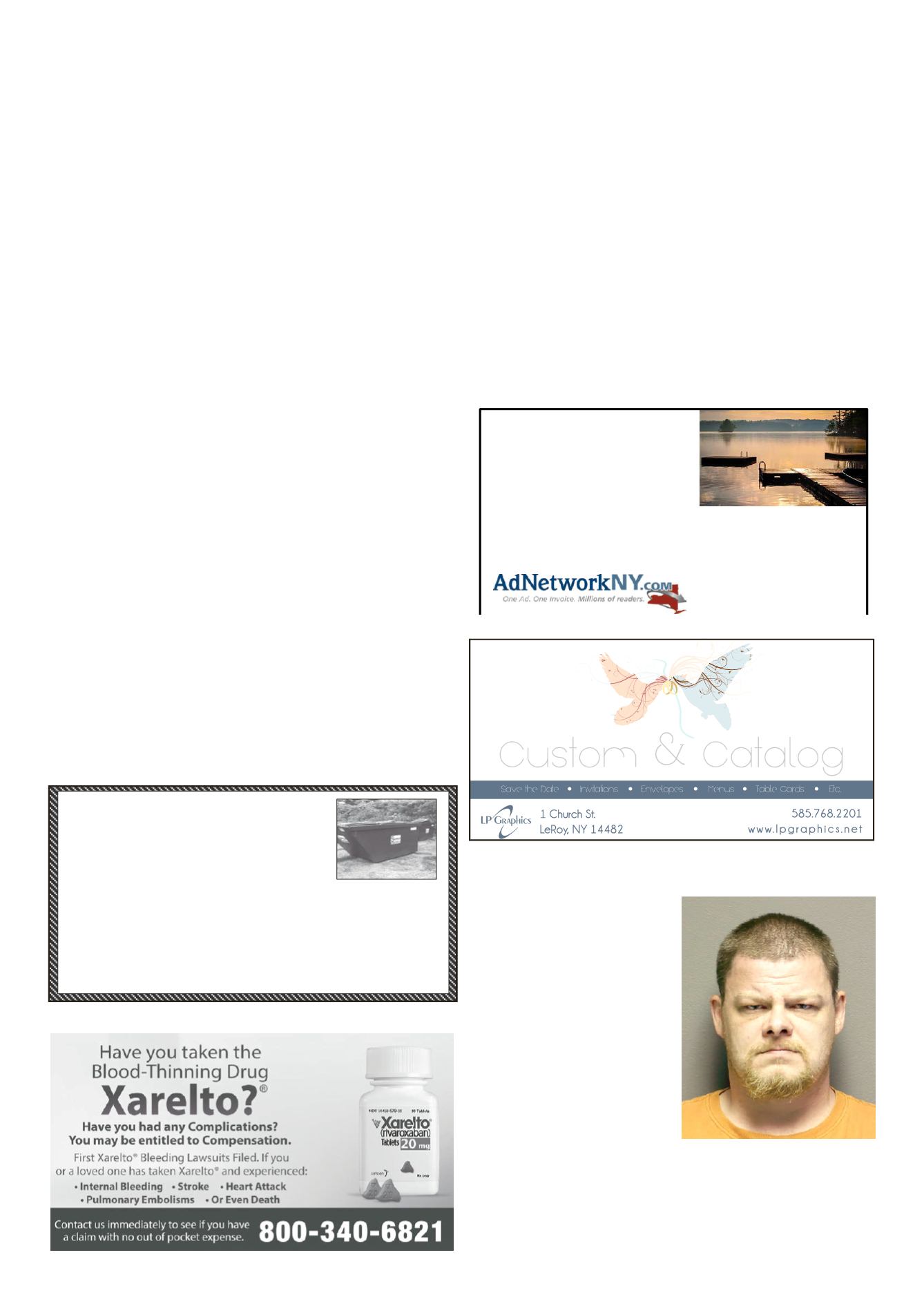 LEROYPENNYSAVER&NEWS - JULY 24, 2016
07/19/2016 - 34 year oldRon-
aldD. Stives of 61Myrtle Street
LeRoywasarrestedby theLeRoy
Police Department and charged
with one count each of Sexual
Abuse in the 1st Degree, aClass
D-Felony and Endangering the
WelfareofaChild,aclassA-Mis-
It is alleged that during the
morning hours of 07/18/2016,
Stivessubjected thevictim tosex-
ual contact when the victimwas
incapable of consent by reason
of being physically helpless. Further it is alleged that when he did
so, Stives knowingly acted in amanner likely tobe injurious to the
physical,mentalormoralwelfareofachild less than17yearsofage.
Stives was arraigned before the Hon. Daryl Sehm of the LeRoy
Town Court and committed to the Genesee County jail in lieu of
• 2, 4, 6&8 cu. yd. sizes available
•Weekly pickup • Simple& easy to readbilling
SCOFIELD'S
ISNOWOFFERING
Prices you'll behappywith!
GiveUsACall,We'll TalkALittleTrash
585-343-8383
Nicholas Muehlbauer
Stafford, NY, graduated Cum
on May 14, 2016, with a BS in
ConnorM.Clark
completed his baccalaureate
studies in business administra-
tion in spring 2016 at SUNY
Oswego and was recognized at
the college's Commencement
The following local residents
made theDean'sList atRoches-
ter InstituteofTechnology for the
Michael Barnard
who is studying criminal justice.
Benjamin Bliss
who is studying illustration.
Maggie Callan
who is studyingdiagnosticmed-
Benjamin Ezard
who is studying chemical engi-
ElizaHarvey
is studyingfine arts studio.
EricaHickey
isstudyingadvertisingandpublic
Joshua Horning
who isstudyingcomputerscience.
EricHunt
studying new media interactive
PeterMadau
isstudyingchemicalengineering.
RyanMangefrida
who isstudyingpolitical science.
Cassidy Mcginnis
ford, who is studying diagnostic
Rebecca Schwan
who is studyingbusiness admin-
MichaelSlack
is studyingfilm and animation.
Aidan Sullivan
who is studying in the physician
TraciTurner
MichaelWilmoth
who is studying computing se-
Rochester Institute of Tech-
nology celebrated its 131st Ac-
ademic Convocation in May.
Diplomas were distributed to
graduates following the event at
separateceremoniesheldbyeach
of RIT's nine colleges and two
academiccenters.Local residents
DavidBelcher
receivedanMBA inbusinessad-
ministrationfromRIT'sSaunders
GeoffreyBerl
received a BS in software engi-
neering from RIT's B. Thomas
Golisano College of Computing
Benjamin Bliss
who received a BFA in illus-
tration from RIT's College of
EdwardCigno
received an MS in mechanical
engineering from RIT's Kate
GleasonCollegeofEngineering.
Eric Hunt
receivedaBS innewmedia inter-
active development from RIT's
B. Thomas Golisano College
of Computing and Information
Shannon Lajuett
who receivedaBS inbiomedical
sciences from RIT's College of
HealthSciencesandTechnology.
Michael Slack
who received a BFA in film and
animation fromRIT'sCollegeof
MichaelWilmoth
who received aBS in computing
security from RIT's B. Thomas
Golisano College of Computing
Selling land, camps,
waterfront?
Sell it here!
ad in this paper and others like it all aroundNYState.
R
EACHASMANYAS
3.2
MILLIONHOMES
.
Call this paper or visit us online
877-275-2726