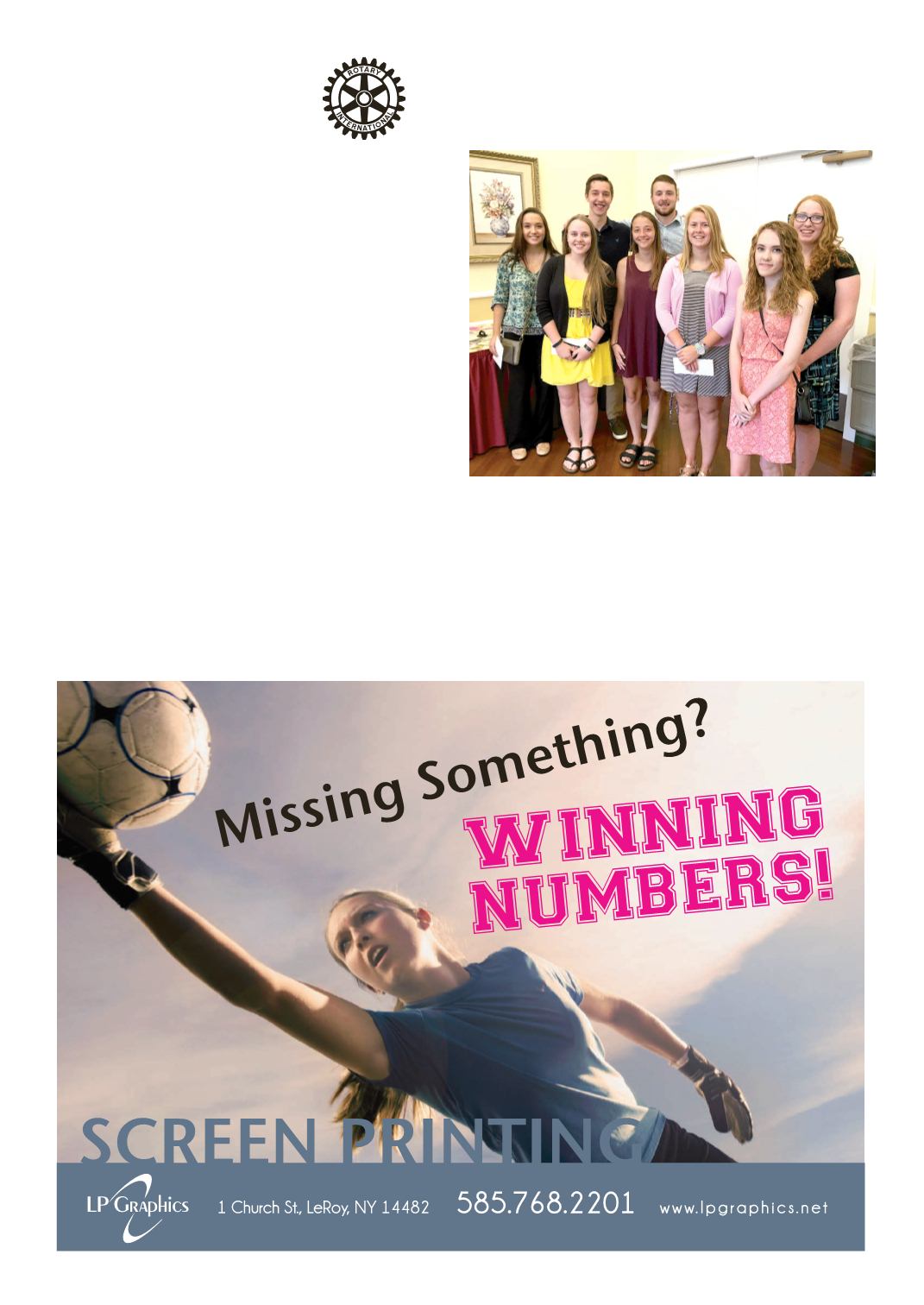 LEROYPENNYSAVER&NEWS - JULY 24, 2016
LeRotary
Notes
Notes 7/13
The second meeting of Pres-
ident David's term started with
the bell ringing, followed with
Pledge of Alliance
Guests included Batavia Ro-
tarianGaryChurchill, andMilne
Scholarship recipients, Taylor
Kirby, Hanna Rosicka, Mary
Purdy,KieranO'Halloran,Katie
Smith,AmyLowe,NickEgleing
BobBennettwas asked to fess
up and announce his own July
birthday and as usual, our tradi-
tional birthday song was sung.
Summertimeactivitiesbrought
out many announcements in-
cluding sign-ups for the Oatka
Festival Hot Dog Stand, The
Dedication of the Statue of Lib-
erty on Sunday the 17th, along
with the annual Duck Derby,
Genesee County Chamber Golf
Tournament–July27th,Genesee
County United Way event on
August21st andLeRoyBusiness
CouncilGolfTournament - Sep-
President David called upon
BobBennett,MikeCassata,Dave
-himself, JerryMcCullough,Tom
McGinnis,MarciaMcKenzieand
BobSullivan formissedmeetings.
All ponied upwith amakeup,
excuse or green card. EvenTom,
although he thought he was
Fining was wide spread start-
ingwith Bob Sullivan receiving
an award for 10 years of perfect
attendance, Bob Bennett, Tony
Gugino, and TomMcGinnis for
the awesome way they shovel
-(not thewhitestuff)!JimEllison
for a fantastic trip to Italy, and
TimMoag for the quick turn-
around time completingDavid's
reports. New and old pictures
came to the surface as Randy
Vink was fined for grandkids
and himself in the pool, Carol
Guys and
Dolls
David Frost for a picture of him
withWeegiePratt, LarryBoylan
for his picture with Seely Pratt
and Bob Boyce receiving con-
gratulations for Beth becoming
a Paul Harris recipient. With
today's temperatures reaching
90+ degrees, JerryMcCullough
thought he'd announce that it is
HOT.PresidentDavehadhimpay
for that piece of information and
TracyFordpaid forneglecting to
inform theclub thatBatavia'sRo-
tarymeeting had been changed.
Today's program consisted of
award presentations to eight of
the Milne Scholarship winners.
For more information about the
Rotary Club of LeRoy visit le-