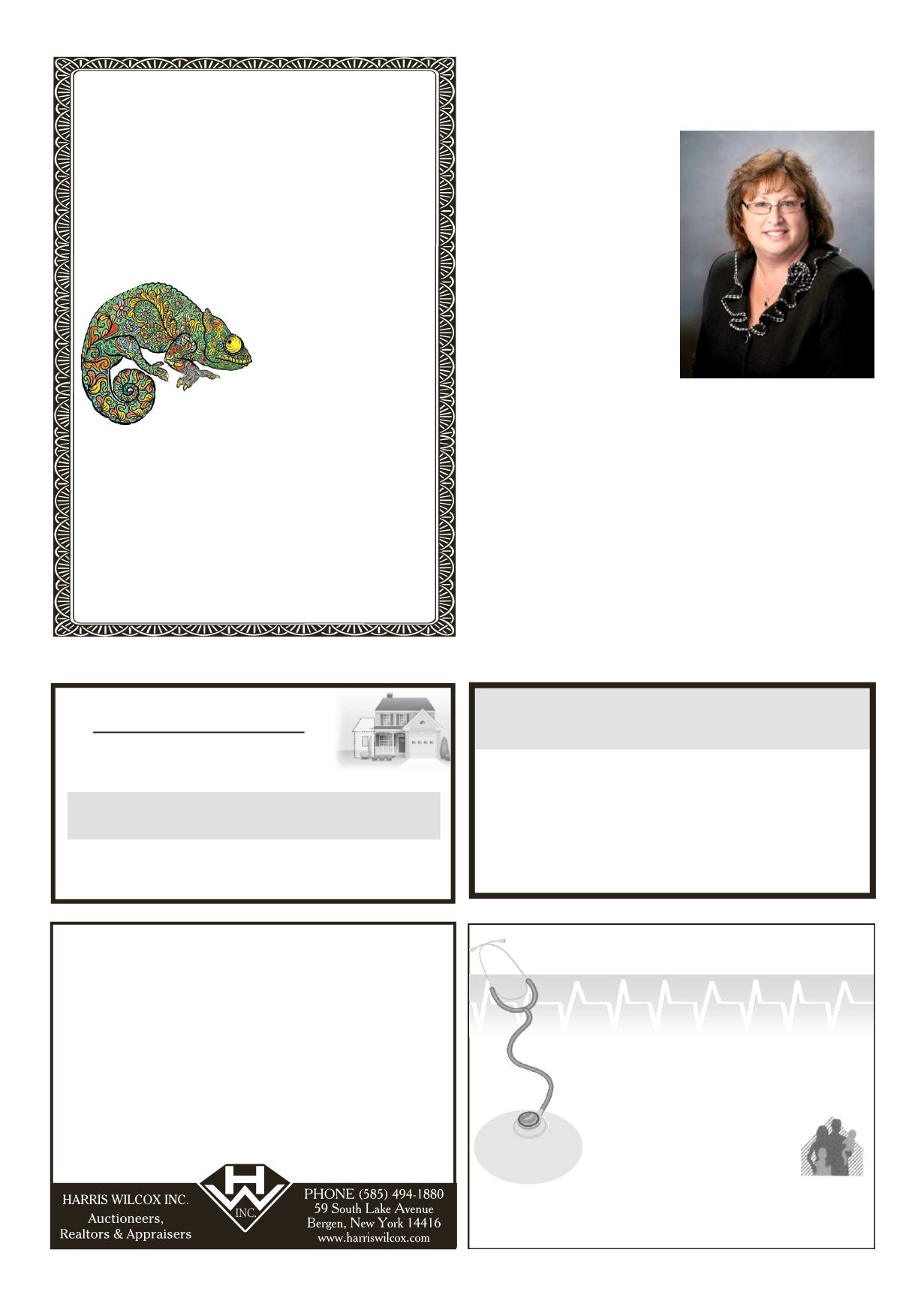 LEROYPENNYSAVER&NEWS - JULY 24, 2016
Mostmajor insurances accepted (we donot acceptMedicaid plans).
Pleasecall
to set up your newpatient visit.
3TountasAvenue, Suite #1, LeRoy
ThomasH. Ball,MD
•BoardCertified InternalMedicine
•FellowAmericanAcademy of Pediatrics
PeterCoggiola, FNP
•Specializing inFamilyMedicine
Now certified for
DOTPhysicals
R o u tine W e ll-C h ild &
F am ily C a re,Preventative C a re,
A d u ltPh y sic a ls,S po rts Ph y sic a ls
"CompleteCarpentry Service"
M
ILLER
B
ROTHERS
B
UILDERS
CustomHomes •Remodeling•Additions
Roofing• Siding
DANIEL
MICHAEL
HERBERTANDLINDAWAGNERREALESTATE
THURS., JULY28, 2016 • 5:00P.M. • LEROY, NY
Auction tobeheldat 7080QuinlanRoad, west offWest BergenRd.
Sellingwill bea1500 sq. ft. homewith2 car garage, private yard, in-
groundpool and16' x26' shop/pool house.Homehas3bedrooms, 2
fullbaths,office, living roomand family roomwith rearupperdeck.This
is a1 owner home that is ready for updates. Assessed for $122,400,
sells at $60,000 or above. $10,000deposit required to bid.
OPENHOUSES:
SAT., July 23, from 10am-11am
andMON., July 25, from4-5pm
For details call PenneVincent at 303-2325 or Shelly Falcone at 683-0995
Darlene Raines has been pro-
moted to officer at Tompkins
She has been in the banking
industry for over 31 years and
with Tompkins over nine years.
She currently serves as the as-
sistant branch manager in the
"Darlene is an experienced
banker with extensive financial
skills," said Diane Torcello, se-
nior vice president, community
banking manager. "Tompkins
and the LeRoy community ben-
efit from her expertise."
Resurrection Parish, Catholic
Daughters, the YWCA and a
graduateofLeadershipGenesee.
She has her notary certification
aswell asNationwideMortgage
She resides in Alexander with
her husband, Kevin. They have
three children and seven grand-
Tompkins Bank of Castile is a
communitybankwith16offices
in the five-countyWestern New
York region. Services include
complete lines of consumer de-
positaccountsand loans,business
accounts and loans, and leasing.
In addition, insurance is offered
through an affiliate company,
Tompkins Insurance Agencies,
Wealth Management, Trust and
Investment services are provid-
ed through Tompkins Financial
Advisors. Further information
about thebank is availableon its
AlexanderResident
Promoted toBankOfficer
WoodwardMemorial Library
"ZentangleBottles"
program ledbyKimArgentaof
Art Ah LaCart.
Monday, July25
6:30 – 8p.m.
Grades 6-12
Add lights to your bottle to
decoration for your room.
Registration is required.
Call 768-8300or register onlineat
This program ismade possiblewithReachGrant Funds,
aDecentralizationRegrant Program
of theGenesee-OrleansRegional ArtsCouncil (GOART!)
ALLWORKMANSHIP GUARANTEED • INSURED
297-9097 • 768-7737
• InteriorPainting
• Plaster/LathRestoration
•Drywall&Drywall Repair
•TextureRemoval
• Floors Stripped
&Refinished
•OldCeilings&Walls
MadeLikeNew!
MikeDarby'sPatch&Paint