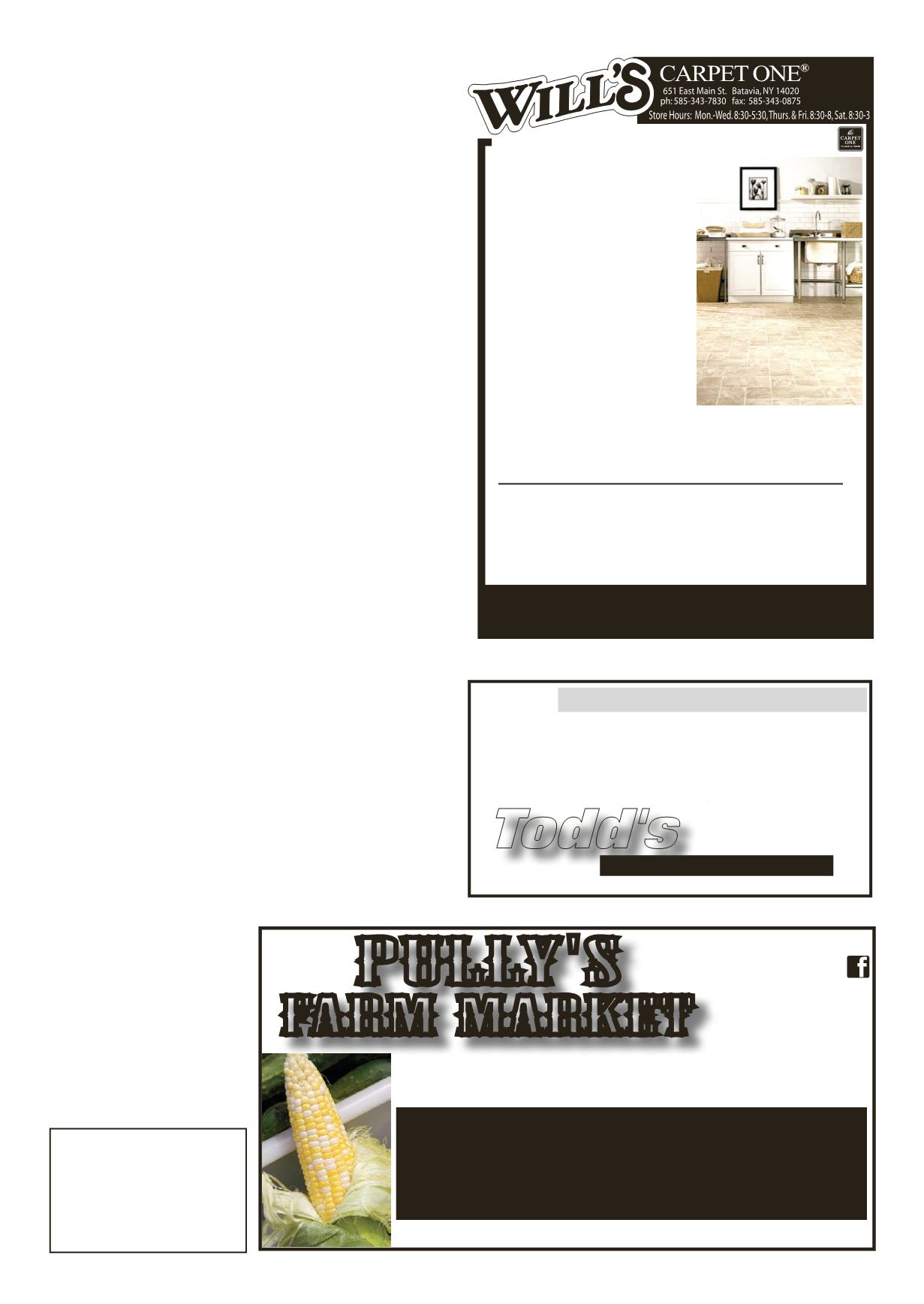 LEROYPENNYSAVER&NEWS - JULY 24, 2016
TheONE store for your perfect floor.
FLOOR
&HOME
bySenatorRanzenhofer
July 2016
Throughout the 2016 Legisla-
tiveSession, I haveworkedhard
to enact new laws to improve
the quality of life in our com-
munity and to help ensure that
all Western New Yorkers have
a better opportunity to succeed.
Progress has been made on a
number of legislative initiatives
at the recent conclusion of the
Amore equitable and region-
ally-balanced transportation
fundingplanhasbeen approved.
Now,UpstateNewYorkwill not
Instead,ourWesternNewYork
communitieswill receive thecrit-
ical funding needed to complete
important local bridge and road
repairprojects.This fundingwill
help to improve the condition of
our infrastructure,whilecreating
By fully eliminating the GEA
budget cuts, and providing a
record level of state aid to school
districts, teachers and students
willget the resources theyneed to
succeed. This important funding
will help to alleviate pressure at
the local level for property taxes.
Statespendinggrowthhasbeen
controlled to less than two per-
cent, which is crucial to protect
residents from higher taxes.
I advanced the passage of a
major,newMiddleClass Income
Tax Cut, resulting in the lowest
state income tax rates in68years.
Thisnew$4.2billion taxcutwill
benefit middle-class taxpayers,
families and small businesses.
Thisnew income taxcut isonly
oneof78different taxcutspassed
over six years, saving over $11.3
billion. The corporate tax rate is
at its lowest level since1968, and
the tax rate formanufacturershas
been reduced to a level not seen
since1917. Inaddition, theprop-
erty tax cap has stopped more
than$15.3billion in tax increases.
New landmark legislation has
been enacted to combat heroin
and opioid addiction. These new
lawswill help to stem the tide of
this epidemic and save lives by:
• Enhancing insurance cov-
erage for individuals seeking
treatment and recovery services;
•Expandingaccess toaddiction
treatment opportunities; and
•Extending the lengthof timea
personcan receive these life-sav-
Lastly, year after year, I have
supported comprehensive re-
forms to promote integrity in
government,ensuregreateropen-
ness and transparency, and hold
corrupt public officials account-
That iswhy Ipushed foraCon-
stitutional Amendment to strip
pensions from elected officials
convicted of corruption. Those
whobetray thepublic trust should
not be allowed to collect taxpay-
Eachoneof thesemeasureswill
help create a brighter and more
prosperous future for residents
inour community. Evenafter the
progress of the 2016 Legislative
Session, there is still more work
tobe done. Iwill be sure to keep
ControlledSpending,
LoweredTaxes, and
NewEthicsReformMeasure
•Professional InstallationAvailable
•FinancingAvailable forQualified
Sale!
In-Stock
FiberFloor
Vinyls
99
¢
Large&SmallCarpetRems
• Professional BindingAvailable
Don't waste precious time
8160LakeRd. (Rt. 19)
LeRoy, NY
1/2mile southof Thruway
768-2280 • 704-1157
Hours:Mon.-Sat. 9-6, Sunday9-5
pullysfarmmarket.com
Jams • Jelly •Honey • Syrup
Gift CertificatesAvailable!
Watermelon •Cantaloupe • Peppers
Cherries • SummerSquash •Zucchini •Onions
Cucumbers •Tomatoes • Peaches
NewHomes •Additions •Garages •PoleBarns
ToddCarli • Phone 703-0964
Todd's
Decks •Windows •Doors
Kitchens •Baths
CeramicTile
Basement Finishing
CustomShelves/Built-Ins
Siding •Remodeling
Roofing • SnowPlowing
FULLY INSURED