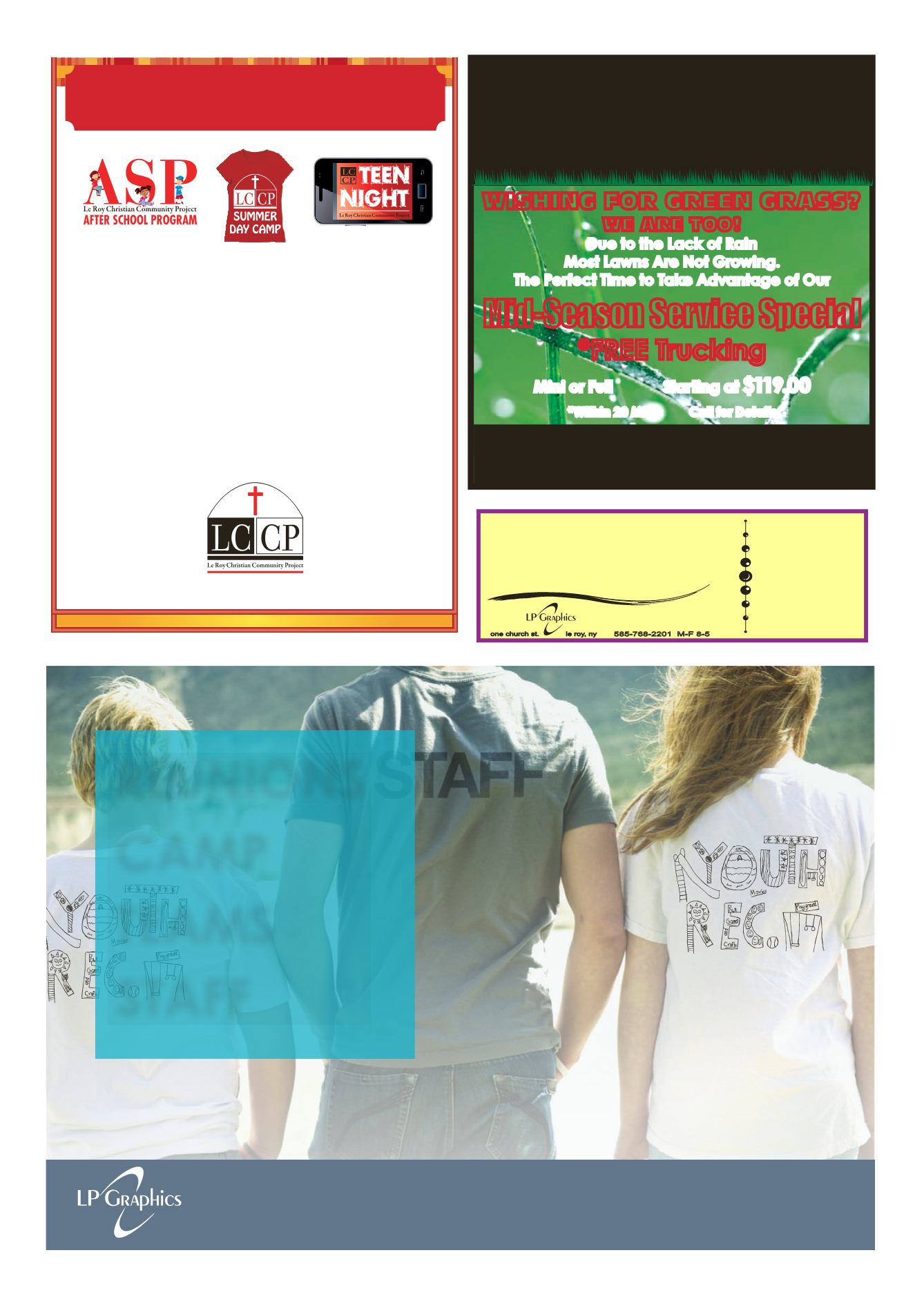 LEROYPENNYSAVER&NEWS - JULY 24, 2016
fter 18 years of providing afterschool programs in our community, the LeRoy
Christian Community Project is sad to announce that as of September 2016, we will not
reopenourAfter School Program, TeenDrop-InCenter or SummerDayCamp.
The Le Roy Christian Community Project will continue to operate the Backpack Program and
We are so grateful for the support that the community has shown us and for the families and
children thatwewereblessed toworkwith throughout the years.
Thank you to SusanWakefield and Jana Pritchett for 18 years of dedication to these programs.
We are proud of our staff for providing quality after-school enrichment programs that have served
this community for a very long time.
Thankyou foryourpast support of ourprograms for theyouthof our communityandyourongoing
support of our remainingprograms.
for ourwonderful community, supporters and friends of L.C.C.P.
7EastMainStreet • LeRoy,NewYork 14482 • 585-768-7540 • leroychristiancommunityproject.org
ExecutiveDirector, SusanWakefield •AssistantDirector, JanaPritchett
LINWOOD
TURF EQUIPMENT, LLC
1818 LinwoodRd., Linwood, NY
HOURS:Mon.-Fri. 8am-5:00pm, Sat. 8am-12:00noon
Due to the Lackof Rain
Most LawnsAreNotGrowing.
The Perfect Time to TakeAdvantageofOur
*FREE Trucking
Mini or Full Startingat
$119.00
*Within20Miles Call for Details
1ChurchSt., LeRoy,NY14482
585.768.2201
.net
SCREENPRINTING
REUNIONS
CAMP
TEAMS
STAFF
one church st. le roy, ny
one church st. le roy, ny