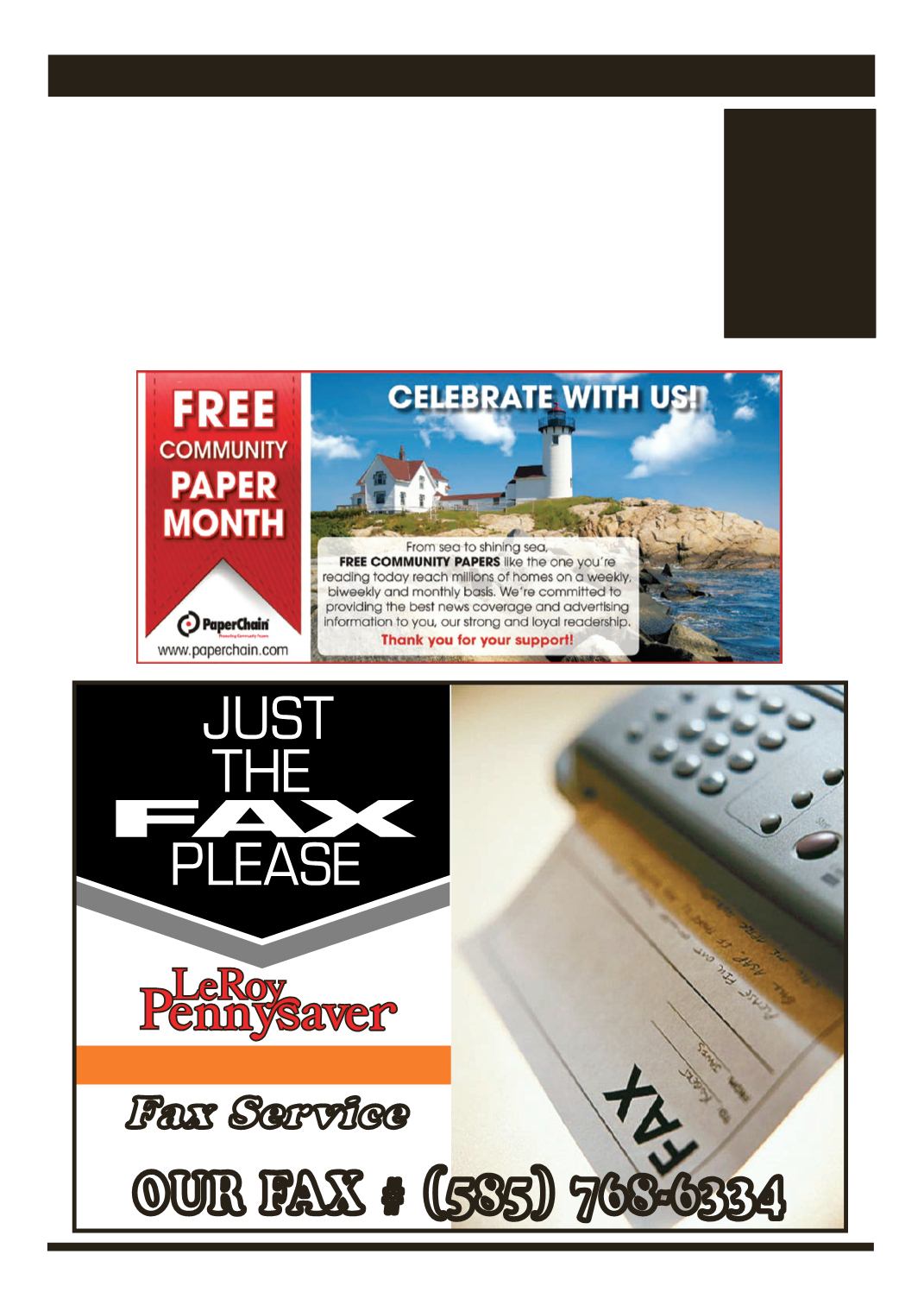 LEROYPENNYSAVER&NEWS - JULY 24, 2016
Le Roy
Pennysaver
REPLACEMENT
WINDOWS
$199.00 Installed. DoubleHung
Tilt-ins, LifetimeWarranty. BBB
A+ rating, serving NYS over 40
years. Senior Citizen & Veteran
Discount. All major credit cards
accepted. Call Rich @ 1-866-
DISH TV 190 channels
speed Internet Only $49.95/
mo! Ask about a 3 year price
guarantee & get Netflix includ-
ed for 1 year! Call Today 1-800-
ABANDONE
TION SALE AUG. 6th – 3 HRS
NYC! 7acres–$19,900; 10acres
– $24,900; 20 acres - $39,900;
30 acres- $59,900. 24 Parcels
beingSOLDOFF!Termsareavail!
Call to register 1-888-701-1864
Virtual Tour: NewYorkLandan-
A PLACE FOR MOM.
tion's largest senior living refer-
ral service. Contact our trusted,
local experts today! Our service
is FREE/ no obligation. CALL
HOTELS FORHEROES -
out more about how you can
help our servicemembers, vet-
erans and their families in their
time of need, visit the Fisher
OXYGEN CONCENTRATOR
pendence.Enjoy Greater Mo-
bility. NO more Tanks! 100%
Portable Long-Lasting Bat-
SOCIALSECURITYDISABILITY
BENEFITS.
Denied benefits?We Can Help!
WINorPayNothing!ContactBill
Gordon & Associates at 1-800-
919-8208 to start your applica-
ULTIMATE BUNDLE
RECTV & AT&T. 2-Year Price
Guarantee-Just $89.99/month
(TV/fast internet/phone) FREE
Upgrade. New Customers Only.
1ChurchSt., LeRoy, NY • (585) 768-2201