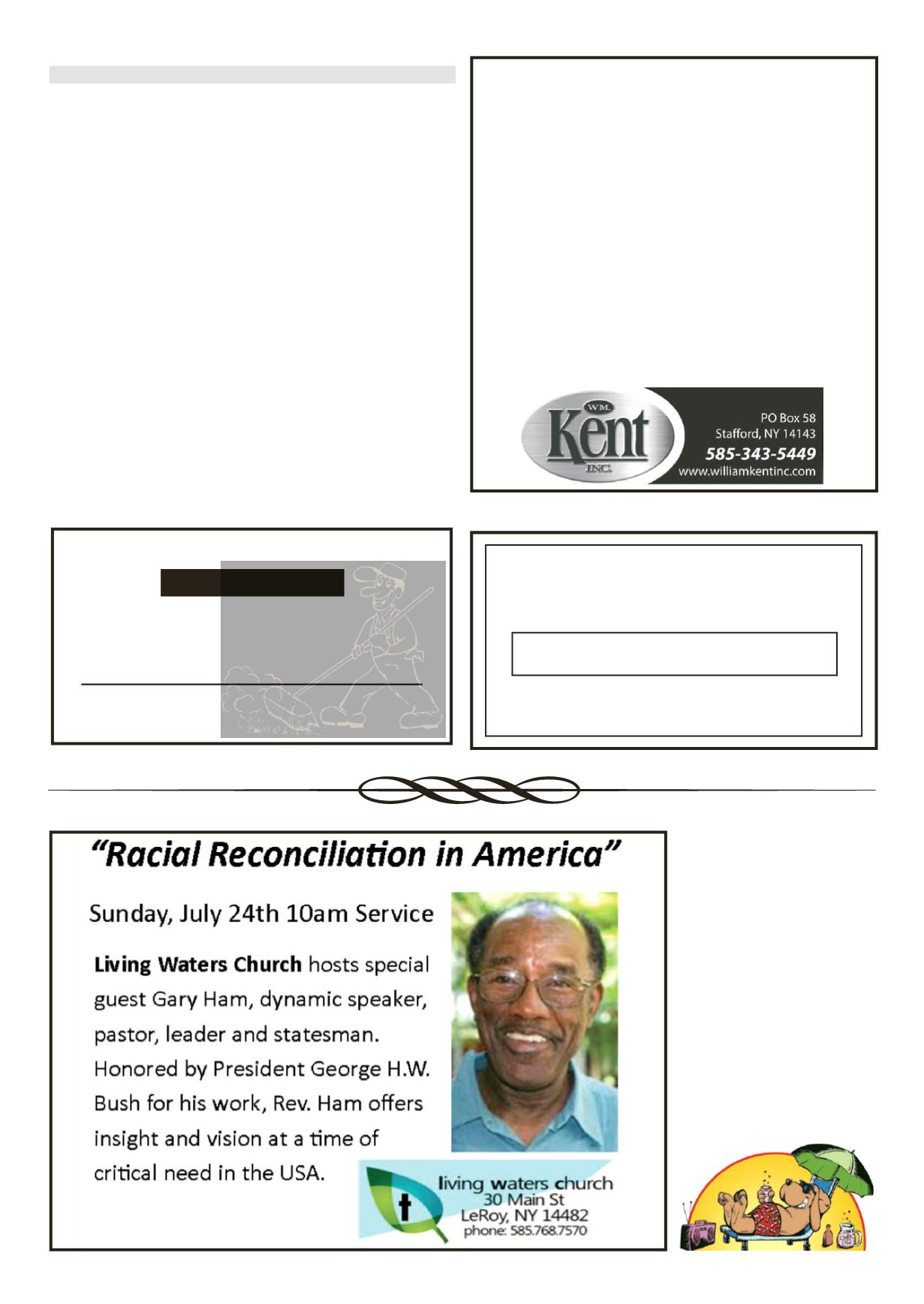 LEROYPENNYSAVER&NEWS - JULY 17, 2016
Plumbing • Heating
Installation&Repair Service
For All Residential &Commercial Work
CleaningService
•Carpet &UpholsteryCleaning
•Spot Cleaning&Odor Removal
•Tile&WoodFloor Cleaning&Waxing
•Complete Janitorial Services
PropertyofDougandDonnaCallAuction
Tractor,Woodworking Equipment, Lumber &Antiques
Monday July 18, 2016
4:00 PM
6230 EastMorganvilleRd. Stafford, NY
Located1½miles northof StaffordandRt. 5
on thecorner of Rt. 237and EastMorganvilleRd.
IH 706gas tractor with fast hitch, 20" planner; Delta 12"
saw; Huske 18HP 42"garden tractor; Flatwagon; Black-
Max5HPuprightcompressor; 30' fiberextension ladder;
other ladders; handandpower tools andmuchmore.
Lumber:
Large quantity of sawed oak, cherry, maple,
walnut, ashandpine lumber stored in thebarn.
Antiques andother:
verynice framedprints; highchair;
chests;chairs; flaxwheel;nicecarpenter'schest;upright
freezer; locking file; officeequipment andmore.
Terms:
13%BP, 3%discount for cashor goodcheck.
byGreg "Porp"Rogers
Mayor
Lady Liberty is back in her
proper place. A big Thank You
goes out to all who helped with
this project, especially Lynne
Belluscio for spearheading this
project. This is just another case
of the positive energy here in
LeRoy thatmakes it the greatest
place to live. Thanks again all.
The Village hopes to add to
thiscreekbankenergywithsome
clean up and stone placement
to try to enhance this treasure
that adds somuch charm to our
community.Wehave applied for
and continuous grant to support
this effort, the first round was
Just a reminder, your August
sewer bill will increase, as we
raised the sewer rate. It is our
hopes to have this rate back to
last year's ratewithin two years.
Part one was to purchase a new
belt press; this has been put out
to bid and is very expensive but
will pay for itselfwithin5years.
Muchwork isbeingdone tostabi-
lize the sewer rate for the future.
Try to take time out to enjoy
all of the festivities at theOatka
Festival. This is truly part of
the charm of our community.
Welcome back to all the people
whocomeback for thisevent.Re-
memberyoumay livesomewhere
else now, but you'll always be a
"Once you replace negative
thoughtswithpositiveones,you'll
start havingpositive results"
Notes From TheMayor's Office
DylanFix
was named to theDean's List in
Ithaca College's School of Busi-
ness for thespring2016semester.
Harjit Singh,
a student at FairleighDickinson
University's Metropolitan Cam-
pus, located inTeaneck, NJ, has
graduatedwith anMA in crimi-
nal justice as ofMay 2016.