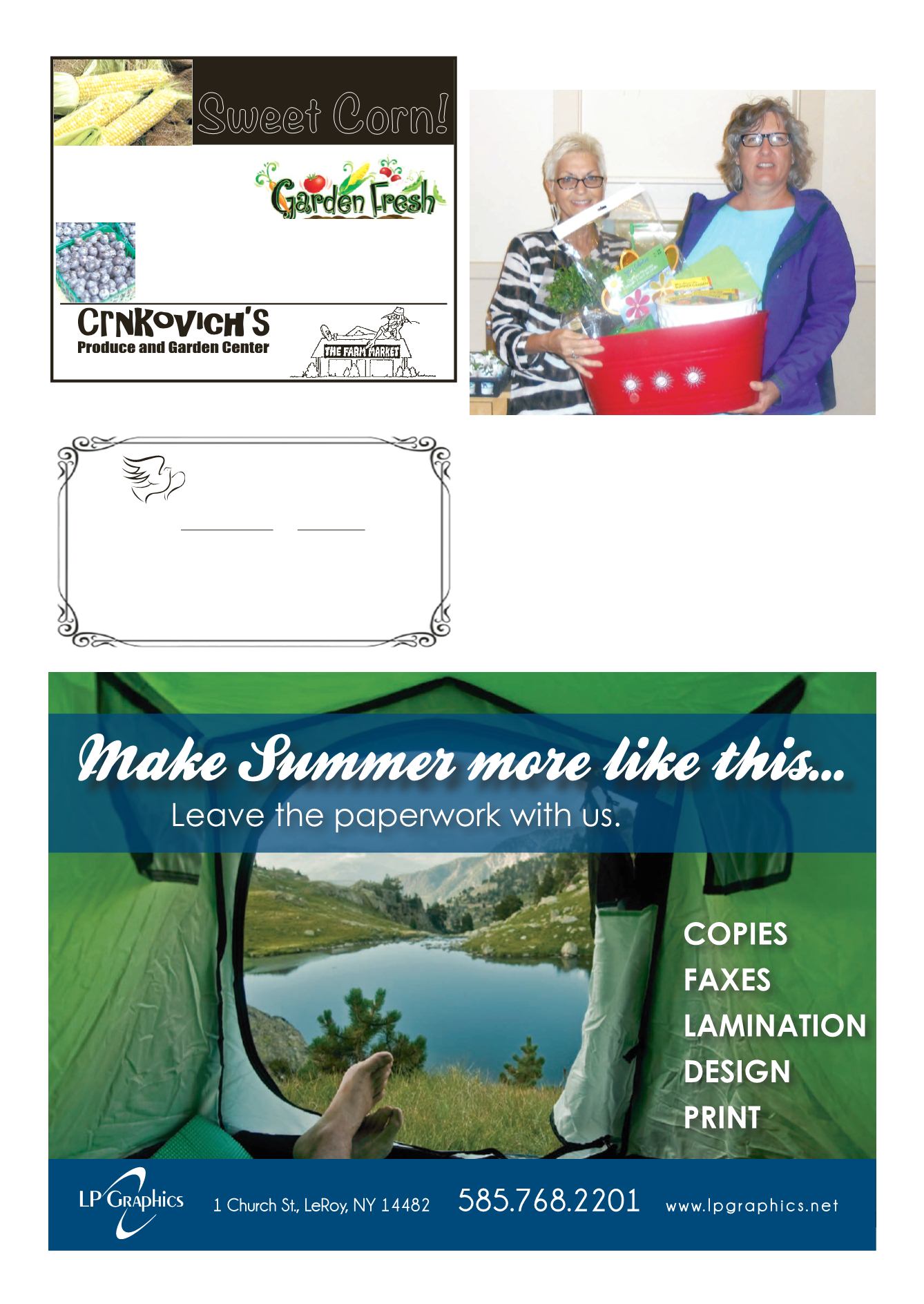 LEROYPENNYSAVER&NEWS - JULY 17, 2016
Director /Owner
FuneralDirector
F
ALCONE
F
AMILY
Funeral&Cremation Service, Inc.
Director/Owner
"ALOCALFAMILY
CARINGFORLOCALFAMILIES"
denClubPlantAuctionwas held
on Wednesday, June 8th at the
LeRoyFirstPresbyterianChurch.
Perennials, bulbs, houseplants
andothergarden itemsweresold.
Themoney raisedwill beused
tocover thecostofputtingflowers
in the planters on Main Street,
at the Post Office, the Statue of
Liberty, and the gazebo on the
LeRoyGardenClubAuction
Picturedabove is thePresident, JulesFeltes,with thedoorprize
winner, LauraRanalli.
creekbank.Aswellasbeingused
to maintain the gardens around
the signboards at the entrances
During thesummer theGarden
ClubwillbevisitingaHostaGar-
den in Caledonia and a Garden
Center in Brockport. Contact
JulesFeltesat703-0087 formore
8041 E.MainRd. (Rt. 5) 1Mile East of LeRoy
OpenDaily •768-7259•768-7813
SweetCorn!
Cukes • Tomatoes
Peppers •Onions
Potatoes • Broccoli
Zucchini& Summer Squash
Peaches • Plums •Cherries • Blueberries
Jams • Jellies • Pickles
Dressing• Sauces