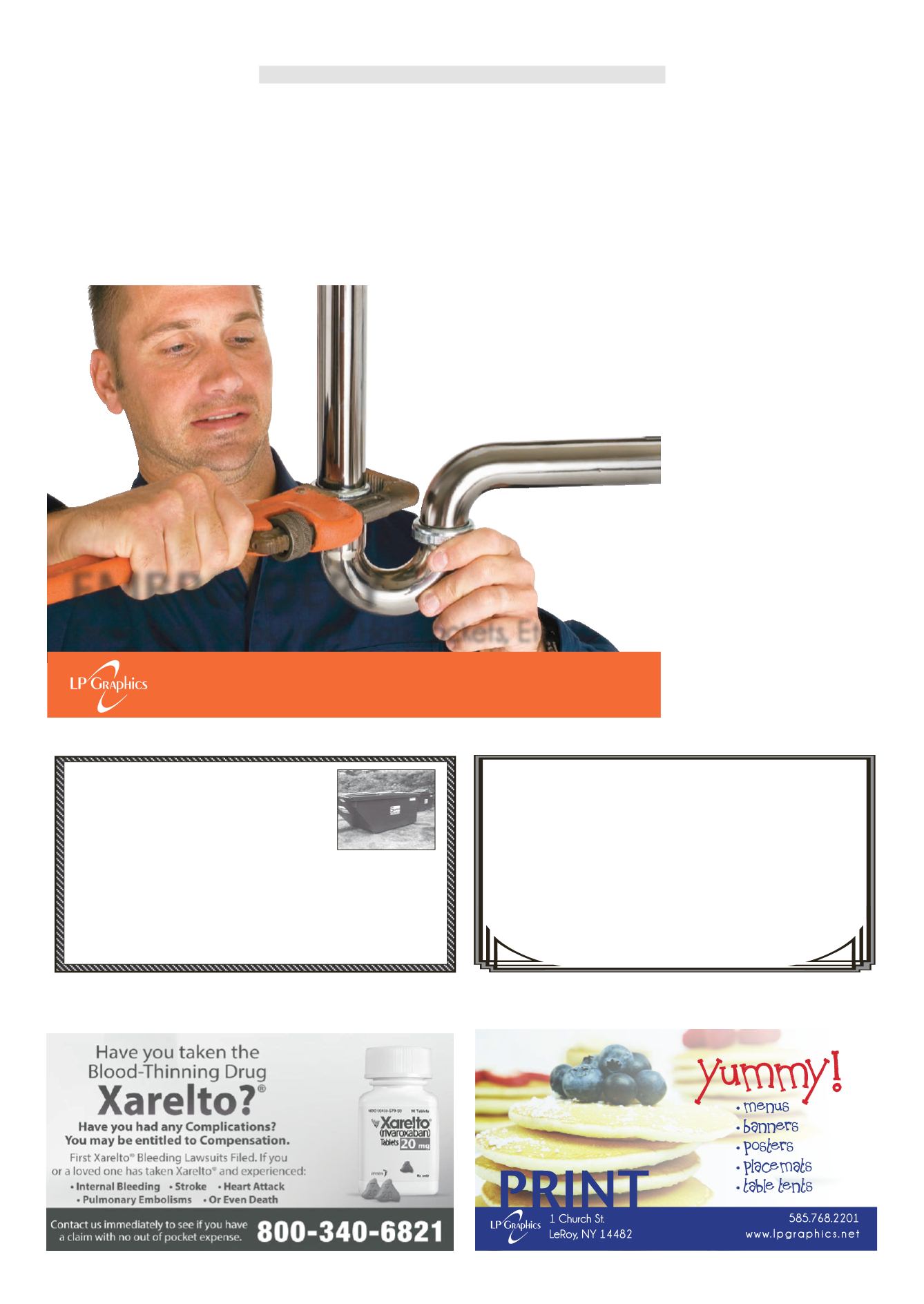 LEROYPENNYSAVER&NEWS - JULY 17, 2016
byKimCox
Superintendent of Schools
Happy July! I hope you are en-
joying some wonderful summer
weather. It's hard to believe that
graduation was already three
weeks ago! We are so proud of
our 2016 Graduates and their
their futures are bright.We look
forward to their successes in the
BestWishesClass
of 2016!
On July 12, 2016, the Le Roy
Board of Education held its an-
nual Reorganizational Meeting.
The board reelected President
Don Hobart to his 14th term!
Vice President Jackie Whiting
Wish to express our appreciation to everyonewho
offered kindness, condolences and comfort during
our time of sorrow.
A special thanks to theLeRoyMooseFamilyCenter
for hosting the celebration of life.
• 2, 4, 6&8 cu. yd. sizes available
•Weekly pickup • Simple& easy to read billing
SCOFIELD'S
ISNOWOFFERING
Pricesyou'll behappywith!
GiveUsACall,We'll TalkALittleTrash
585-343-8383
1ChurchSt., LeRoy, NY14482
585.768.2201
raphics.net
Dress Shirts, Polos, Vests, Hats, Jackets, Etc.
was elected to her second term.
The board also welcomed new
member Peter Loftus.Whilewe
are still in the process of hiring,
we are happy towelcome Jamie
Turman and Stacie Wilson, el-
ementary teachers, and Zack
Paley,math teacher.ChelseaEa-
ton is filling the role of assistant
principal at the Wolcott Street
School andJenniferDeanwillbe
our new Athletic Director. You
will be hearing more about all
TheR. I. T. E. project is in full
swing. We are excited to watch
our entire campus transform
before our eyes. We can't wait
to reveal all the wonderful en-
hancements that we have made
to the district. Everyone is a bit
displaced for the summer, so if
you need to get in touch with
us at either building, be sure to
call for the best directions and
locations.Follow theprogresson
@LeRoy_Knightsor@
LeRoyWSS
New to the District?
call us as soon as possible to
register your children for school
sowecanplan for a smooth tran-
sition to our school district.
Returning to the District?
Don't forget to complete your
transportation forms for pick-
upanddelivery
Routes are alreadybeing created
The rest of the summer will
passquicklysomakesureyouget
out and enjoy some sun and fun.
See you at theOatkaFestival!