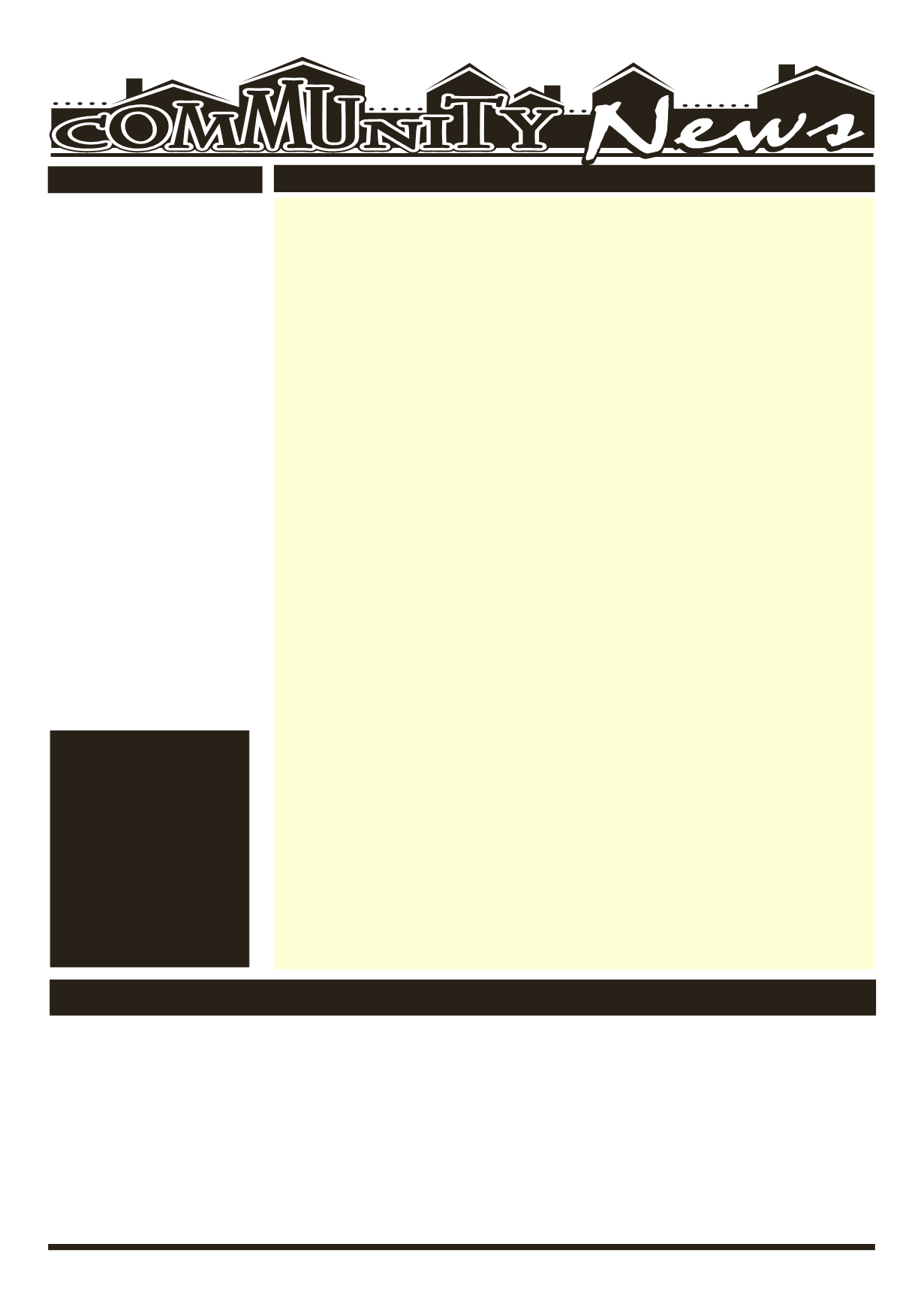 LEROYPENNYSAVER&NEWS - JULY 17, 2016
Le Roy
Pennysaver
All GeneseeCounty residents, 60andolder, can takepart in thisweek'sactivitiesat theBataviaSenior Center, 2BankSt., Batavia. Formore information, call 343-1611.
SENIORCITIZENSACTIVITIES (July 18th - July 22nd)
WEEKLYEVENTS
OBITUARIES
ArthritisExercise
is scheduled tobeginat 9:30a.m.;
Bridge
is scheduled tobeginat 11:30a.m.;
Medicare101
NewsletterAssembly
is scheduled tobeginat8:45a.m;
Cribbage
is scheduled tobeginat1:00p.m.
Quilter'sGroup
is scheduled tobeginat 9:00a.m.;
Euchre
is scheduled tobeginat 1:00p.m.;
FarmersMarketCouponDistri-
bution
is scheduled tobeginat2:00p.m.
Cribbage
isscheduled tobeginat1:00p.m.;
Bridge
isscheduled tobeginat1:00p.m.
ArtClass
is scheduled tobeginat10:00a.m.;
LineDancing
is scheduled tobeginat10:00a.m.;
Euchre
SUNDAY, JULY17
MONDAY, JULY18
TOPS (TakeOffPoundsSensibly)
meetsMondayevenings at the Le-
Roy Presbyterian Church, corner of Clay &Main Streets. Doors open at
6:00pmandmeeting is from6:30-7:15pm.Visitorsarealwayswelcome.
Call 585-768-7103 formore information.
Surf Shack VBS, 6-8:15 pm, First Baptist Church,
Street. Bible Stories, games, snacks, crafts, music, drama, mission
projects for children 4-12 years. Call 768-2308 for information or to
pre-register Sponsored by First Baptist, First Presbyterian, St. Marks
Episcopal, andUnitedMethodist Churchesof LeRoy.
TUESDAY, JULY19
Preschool Storytime :
EveryTuesdayat 11am featuring stories, craft
and songs at PavilionPublic Library, 5WoodrowDr., Pavilion. For info:
LCCP'sGRACE'SKITCHEN:
AFREEdinnereveryTuesdayevening,5-6:30
pmat theMasonicCommunityCenteron12BankSt. Plentyofparking.
Takeout & delivery are available. Formore info. contact Selby Davis at
GRACE'SCLOSET:Aclothinggiveawayprogram
UnitedMethodist Church, 10 Trigon Park, Le Roy, 9:30 am to 11:30 am
every Thursday.We have clothing for all ages. We are in need of boy's
clothingsizes0-3T.Donationscanbedroppedoffat thehousenext to the
church. Pleaseput all bags INSIDE on thebackporch. NO ELECTRONICS,
OpenTuesdays5-6:30pm.
AXISStudentMinistryatLivingWatersChurch
Sundaysfrom6:30to8:30p.m.for7thto12thgrade.Ourgoal isforteens'
livestobe impacted,andradicallychanged. Formore information,check
Town of LeRoy Planning BoardMeeting
at theTownHall, 48MainSt. For further info. call 768-6910, Ext. 223.
WEDNESDAY, JULY20
VillageofLeRoyBoardMeeting
, 7:00pmat theVillageHall, 3West
Stress Relief program
Woodward Memorial
Library
from 6:30 to 7:30 p.m. Learn breathing techniques to calm
the body andmeditation techniques to ease themind. Led by Jessica
Held. Registration is required! Call768-8300or registeronlineat
THURSDAY, JULY21
FRIDAY, JULY22
PenuelChristianFellowship,
OneSteptoFreedomaddictionsminis-
try,aChristCenteredAddictionsprogram,aweeklymeetingeveryFriday
at7pm.Call theChurch formore informationat768-6901or594-9575.
Penuel ChristianFellowship
isorganizingayoungadult fellowship
andBiblestudy.Ages:12andup,Time:Fridays from7-9pm,Study: the
bookof Romans (a16week course), taught by JosiahGariboldi.Place:
SATURDAY, JULY23
FreeFoodoutreachbroughttoyoubyFoodlink
parking lot. Every3rdSaturdayof themonth. 11-1pm. Call Penuel
ChristianFellowshipat585-768-6901withanyquestions.
Balloon Twisting
for children in grades 3-6 at the
Woodward
Memorial Library
from 2:30 to 3:30 p.m. Led by: Michael Heisler.
Registration is required! Call 768-8300 or register online at
UPCOMINGEVENTS
Foodlink FreeMobile Food Pantry:
Morganville United Church of
Christ is partneringwithFoodlinkofRochestertohostafreemobilefood
pantry,Tuesday, July26, 4:00-6:00pmatMorganvilleUnitedChurchof
Christ,8466MorganvilleRoad (offRt237,1milenorthofStafford). The
exactfood itemsandquantityavailablearenotknown,butfreshproduce
will be available. Must be 18 years of age, no income requirement or
ID required. Must provideownbags/vehicle to transport items to your
home. Foodprovidedonafirstcome,firstservebasiswhilesupplies last.
FirstBaptist Church
DailyVacationBible
School
during theweek of August 1st - 5th . It will be held at the
church at 10956 South Lake Road which is route #19. The theme
this year is the"Fruit of theSpirit"andwewill learnof"TheChildren
of the Bible". Therewill be crafts, Bible Stories, aMissionary Story,
and game time and refreshments. Everything is free. Call with any
questions585-584-3179ext#12and leaveamessage.The secretary
CommunityCalendarSubmissions shouldbe sent to:
STAFFORD - John F. Lowery Sr., 70,
passedawayonThursdayJuly7,2016
at the Buffalo VA Medical Center. In
lieu of flowers, memorials may be
made toDisabledAmericanVeterans
STAFFORD - Karen F. Clement, age
66, an administrative assistant for the
Town of Stafford, passed away on
Friday, July8, 2016atHighlandHealth
System. In lieu of flowers, memorials
may be made to All Saints Anglican
Church, c/oFr.DavidHarnish,POBox
233, Irondequoit, New York 14534 or
the charity of the donor's choice.
PAVILION - MARTIN H. SCHOFF -
Age83,diedpeacefullyFridayevening
July8,2016at theLeRoyVillageGreen
BYRON – Mrs. Libby L. Geitner, 69,
of Byron, passed away at her home
surroundedbyher loving familyonJuly
13, 2016under the careof HomeCare
& Hospice. In lieu of flowers, please
consider memorials in Libby's name
to the familyor toSt. JamesEpiscopal
Church,405EastMainStreet,Batavia,