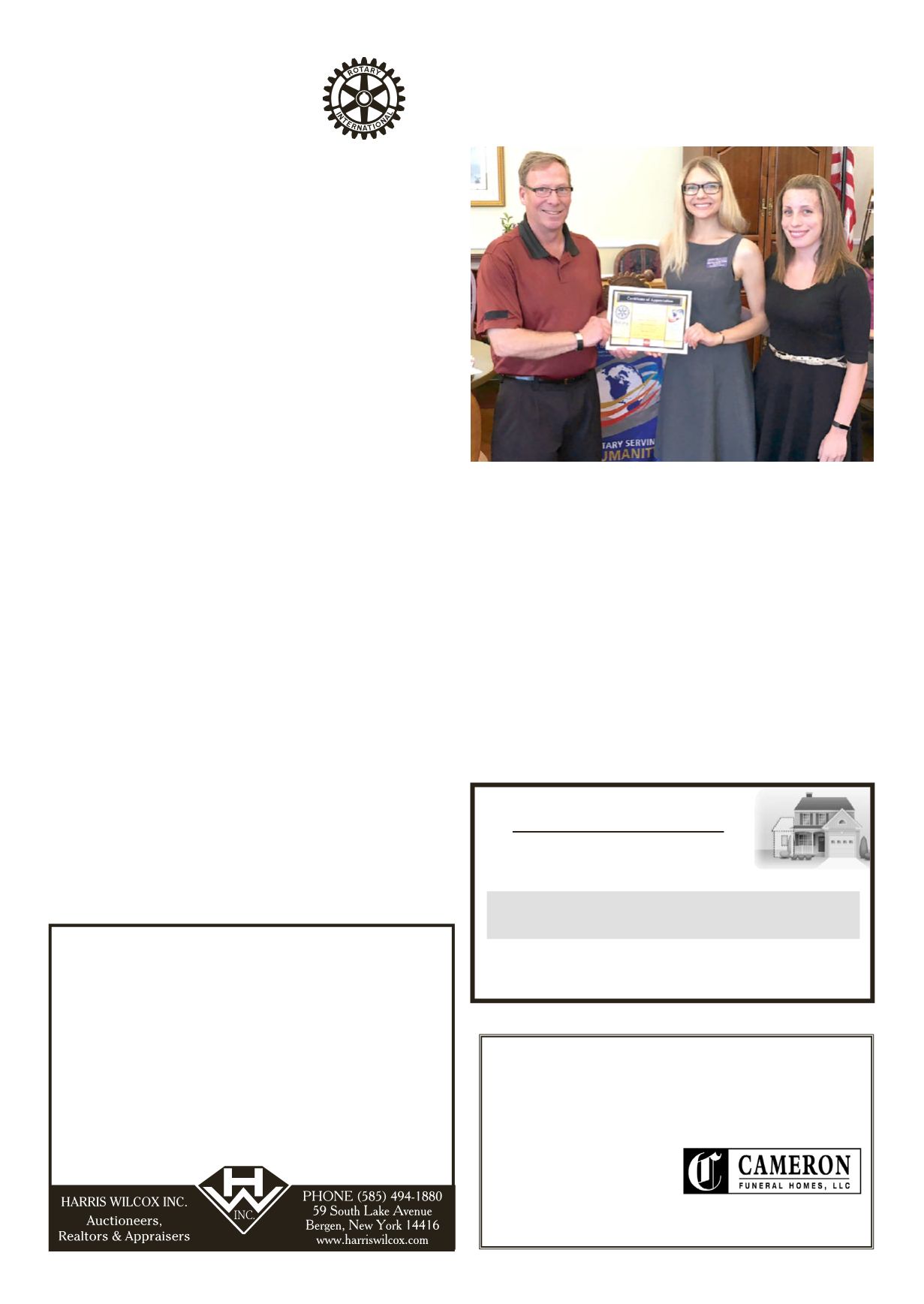 LEROYPENNYSAVER&NEWS - JULY 17, 2016
LeRotary
Notes
HelpingFamiliesCelebrateaLifeLived
"Our FamilyServingYours Since 1907"
Trusted•Honest •Proven
Cameron, Brady&Steuber
FuneralHome
111Wolcott Street
LeRoy,NY14482
(585) 768-6800 •
Likeus onFacebook
"CompleteCarpentry Service"
M
ILLER
B
ROTHERS
B
UILDERS
CustomHomes •Remodeling•Additions
Roofing• Siding
DANIEL
MICHAEL
HERBERTANDLINDAWAGNERREALESTATE
THURS., JULY 28, 2016 • 5:00P.M. • LEROY, NY
Auction tobeheldat 7080QuinlanRoad, west offWest BergenRd.
Sellingwill bea1500 sq. ft. homewith2 car garage, private yard, in-
groundpool and16' x26' shop/pool house.Homehas3bedrooms, 2
fullbaths,office, living roomand family roomwith rearupperdeck.This
is a1owner home that is ready for updates. Assessed for $122,400,
sells at $60,000 or above. $10,000deposit required to bid.
OPENHOUSES:
SAT., July 23, from 10am-11am
andMON., July 25, from4-5pm
For details call PenneVincent at 303-2325 or Shelly Falcone at 683-0995
It was a packed house for
President David Grayson's
first meeting. Guests included
Nobrega from the Alzheimer's
Association. Gary Churchill
from the Batavia Rotary Club
There were many announce-
ments today. Oatka Festival
announcements included: The
RededicationCeremonyforLady
Liberty is on the Creek Bank,
7/17 immediately following the
Regatta,Rotary'sHotDogStand
needsvolunteers, andpleasevisit
our Rotary Petting Zoo. Lynne
Belluscio isalso looking forkids
to escort Lady Liberty in the
Parade.LeRoyBusinessCouncil
is having aGolf Tournament on
9/13. There is aMilneMeeting
onJuly19th.TheGeneseeCoun-
ty Chamber of Commerce Golf
BobCarlsen, NanetteChiulli,
Erik Fix, TimMoag, RobMur-
ray, Christine Gephart, Christie
LoTempio, and JimEllisonwere
all taggedformissingourAnnual
President David received a
head start on his totem by get-
tingfined for violatingour name
tag policy, and for his lack of
knowledge on "the plinth". Jim
Ellsion, Christie LoTempio, an
ChristineGephartwereall fined
forvacations.TimMoagpaidup
for quality timewith the grand-
Bob Carlsen also presented
President David with a bottle of
champagne from theRotaryClub
of Batavia's 50th Anniversary
Party, which took place in 1969.
phrey, and Carol Wolfe were
recognized for being newBoard
Members thisyear. RandyVink,
Tom Cox, and Tracy Ford were
recognized for being outgoing
BoardMembers, and thanked for
Nobrega from theWestern New
York Alzheimer's Association
joined us today to present on
Alzheimer's. Alzheimer's is the
most common formof dementia,
a general term for memory loss
and other intellectual abilities
serious enough to interfere with
daily life. Alzheimer's disease
accounts for 60 to 80 percent of
dementiacase. Alzheimer's isnot
a normal part of aging, although
the greatest known risk factor is
increasing age, and themajority
of people with Alzheimer's are
65 and older. But Alzheimer's is
not just a disease of old age. Up
to 5 percent of people with the
disease have early onset Alzhei-
mer's (alsoknownasyounger-on-
set), which often appears when
someone is in their 40s or 50s.
Alzheimer'sworsens over time.
Alzheimer's is a progressive
disease, where dementia symp-
toms gradually worsen over a
number of years. In its early
stages, memory loss ismild, but
with late-stage Alzheimer's, in-
dividuals lose theability tocarry
onaconversationand respond to
theirenvironment.Alzheimer's is
the sixth leading cause of death
in theUnitedStates. Thosewith
Alzheimer's live an average of
eight years after their symptoms
become noticeable to others,
but survival can range from
four to 20 years, depending on
age and other health conditions.
Alzheimer'shasnocurrent cure,
but treatments for symptoms are
availableand researchcontinues.
Although current Alzheimer's
treatments cannot stop Alzhei-
mer's fromprogressing, theycan
temporarily slow the worsening
of dementia symptoms and im-
provequalityof life for thosewith
Alzheimer'sand theircaregivers.
Today, there isaworldwideeffort
under way to find better ways to
treat the disease, delay its onset,
and prevent it from developing.
Please visit the Alzheimer's
Association website for more
information on the disease, and
Please like theRotaryClub of