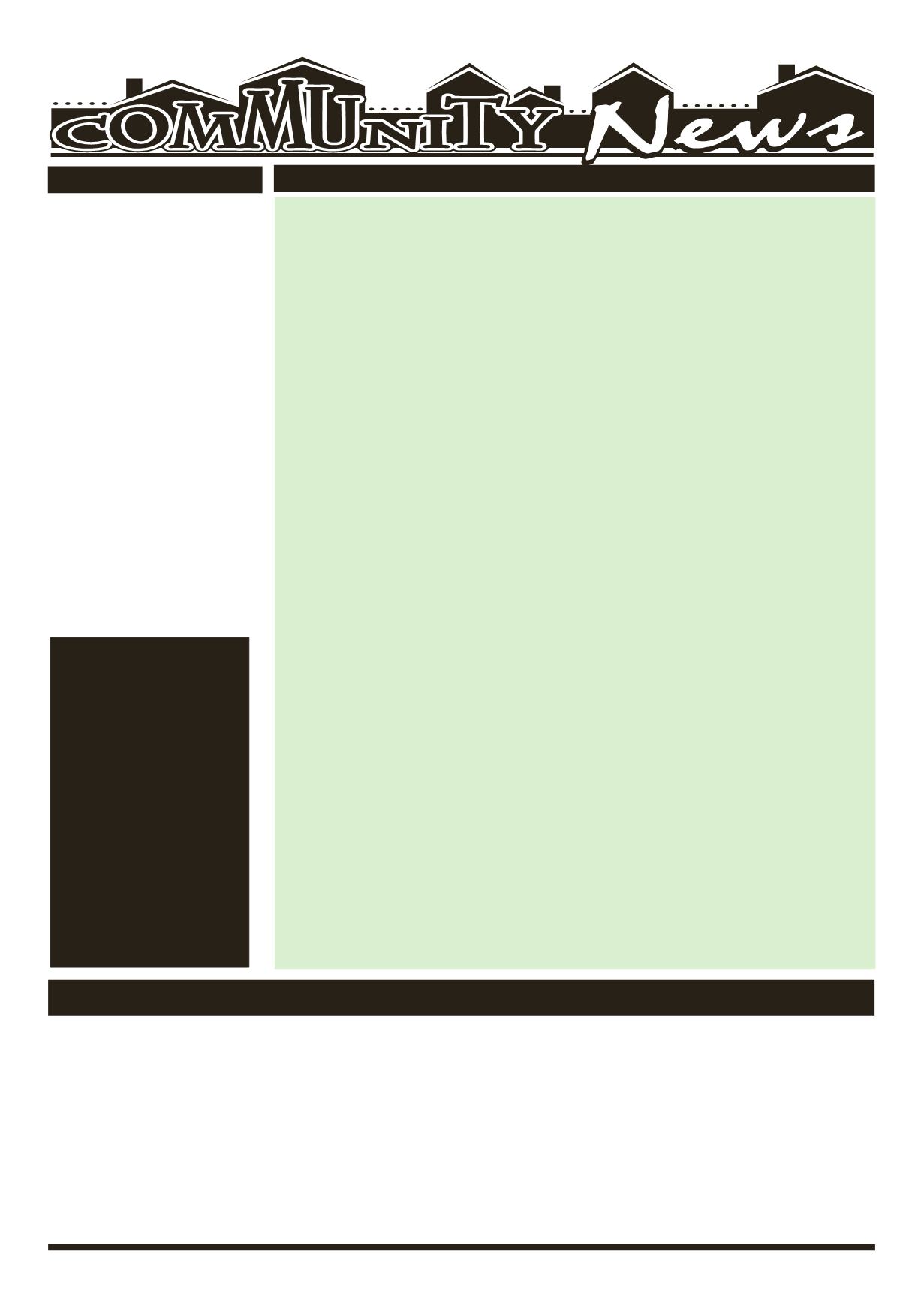 LEROYPENNYSAVER&NEWS - JULY 10, 2016
Le Roy
Pennysaver
All GeneseeCounty residents, 60andolder, can takepart in thisweek'sactivitiesat theBataviaSenior Center, 2BankSt., Batavia. Formore information, call 343-1611.
SENIORCITIZENSACTIVITIES (July 11th - July 15th)
WEEKLYEVENTS
OBITUARIES
ArthritisExercise
is scheduled tobeginat 9:30a.m.;
ARepresentative fromUnivera Insurance
will beavailablebetween10:00a.m. to12:00
Bridge
is scheduled tobeginat11:30a.m.
Cribbage
is scheduled tobeginat1:00p.m.
Quilter'sGroup
is scheduled tobeginat9:00a.m.;
NYConnectsProgramMonitoring
is scheduled tobeginat9:00a.m.;
LifespanMeeting
scheduled tobeginat 9:30a.m.;
RSVPWNYConsortiumMeeting
is scheduled tobeginat 9:30a.m.;
Marshall FundMeeting
Euchre
is scheduled tobeginat1:00p.m.;
FarmersMarketCouponDistribution
is scheduled tobeginat2:00p.m.
FarmersMarket CouponDistribution
is scheduled tobegin at 9:00 a.m.;
ARepresentative fromBlueCross/BlueShield Insurance
availablebetween10:00a.m. and12:00p.m.;
Cribbage
isscheduled tobeginat1:00p.m.;
Bridge
isscheduled tobeginat1:00p.m.
FarmersMarketCouponDistribution
is scheduled tobeginat9:00a.m.;
ArtClass
is scheduled tobeginat 10:00a.m.;
LineDancing
Euchre
is scheduled tobeginat1:00p.m.
SUNDAY, JULY10
MONDAY, JULY11
TOPS (Take Off Pounds Sensibly)
at the LeRoy Presbyterian Church, corner of Clay&Main Streets.
Doorsopenat6:00pmandmeeting is from6:30-7:15pm.Visitors
arealwayswelcome. Call 585-768-7103 formore information.
TUESDAY, JULY12
PreschoolStorytime:
EveryTuesdayat11amfeaturingstories,
craftandsongsatPavilionPublicLibrary,5WoodrowDr.,Pavilion.
LCCP'sGRACE'SKITCHEN:
AFREEdinnereveryTuesdayevening,
5-6:30pmattheMasonicCommunityCenteron12BankSt.Plenty
ofparking.Takeout&deliveryareavailable.Formore info.contact
SelbyDavisat585-738-8882or
GRACE'SCLOSET:Aclothinggiveawayprogram
LeRoyUnitedMethodist Church, 10TrigonPark, LeRoy, 9:30 am
to11:30ameveryThursday.Wehaveclothing forall ages. Weare
inneedofboy's clothing sizes0-3T.Donations canbedroppedoff
at thehousenext to the church. Pleaseput all bags INSIDEon the
back porch. NO ELECTRONICS, COMPUTERS,DISHES, etc.
Open
Tuesdays5-6:30pm.
Anyquestions call theoffice768-8980.
AXISStudentMinistryatLivingWatersChurch
LeRoy. Sundays from6:30 to8:30p.m. for7th to12thgrade.Our
goal is for teens'lives tobe impacted,and radicallychanged. For
more information, checkusoutat:
WEDNESDAY, JULY13
The July LeRoy Town& Country Garden Clubmeeting
willbea tourof thehostagardens inCaledoniaonWednesday,
July13that6:30pm.ContactJulesFeltesat703-0087 formore
THURSDAY, JULY14
Townof LeRoyBoardMeeting,
FRIDAY, JULY15
PenuelChristianFellowship,
OneSteptoFreedomaddictions
ministry,aChristCenteredAddictionsprogram,aweeklymeeting
every Friday at 7 pm. Call the Church for more information at
Penuel Christian Fellowship
is organizing a young adult
fellowshipandBible study. Ages: 12andup,Time: Fridays from
7-9pm, Study: thebookof Romans (a16week course), taught
by JosiahGariboldi.Place: 7115WestMainStreet.
SATURDAY, JULY16
Free Food outreach brought to you by Foodlink
Mill Street parking lot. Every3rdSaturdayof themonth. 11-
1pm. Call Penuel Christian Fellowshipat 585-768-6901with
UPCOMINGEVENTS
TheSeniorCitizensofLeRoyandStafford
Wednesday of themonth fromMarch throughDecember for
dinner and a planned program. Wemeet in the Knights of
ColumbusHall behindSave-A-Lot onWestMainStreet. Each
personattendingbringsagenerousdish topassorpays$4.00
each for anice buffetmeal and social. Bring your ownplace
setting and beverage. Coffee, tea and dessert are provided.
Dinner is served at 6:00 pm followed by a program. Please
joinusforanenjoyableevening. Anyquestions,pleasecontact
JudyRidley,Director@768-2001,orSharonFrost@768-6846.
SurfShackVBS July18th-21st,6-8:15pm,FirstBaptist
Church,
5 East Main Street. Bible Stories, games, snacks,
crafts,music, drama,missionprojects for children4-12years.
Call 768-2308 for informationor topre-register Sponsoredby
FirstBaptist,FirstPresbyterian,St.MarksEpiscopal,andUnited
Methodist Churchesof LeRoy.
FoodlinkFreeMobileFoodPantry:
of Christ is partneringwith Foodlinkof Rochester tohost a free
mobilefoodpantry,Tuesday,July26,4:00-6:00pmatMorganville
UnitedChurchofChrist,8466MorganvilleRoad(offRt237,1mile
northofStafford). Theexactfood itemsandquantityavailableare
notknown,but freshproducewillbeavailable. Mustbe18years
ofage,no income requirementor ID required. Mustprovideown
bags/vehicle to transport items toyourhome. Foodprovidedon
afirst come, first servebasiswhile supplies last.
CommunityCalendarSubmissions shouldbe sent to:
LEROY ~ Dorothy H. Pickell, age
94, passed away Wednesday af-
ternoon (June 29, 2016) at United
MemorialMedical Center. In lieuof
flowers, memorials are suggested
to Genesee ARC, 64 Walnut St.,
Batavia, NY 14020; Alzheimer's
Association, 435 E. Henrietta Rd.,
Rochester, NY 14620 or Multiple
Sclerosis Society, 1000 Elmwood
Ave., Rochester, NY 14620.
PAVILION ~ Charles L. Whaley,
age 78, ofWyomingRoad, passed
away Sunday evening (July 3,
2016) at StrongMemorial Hospital
surrounded by his loving family.
Memorials are suggested to either
Crossroads House, PO Box 403,
Batavia, NY 14021 or to a charity