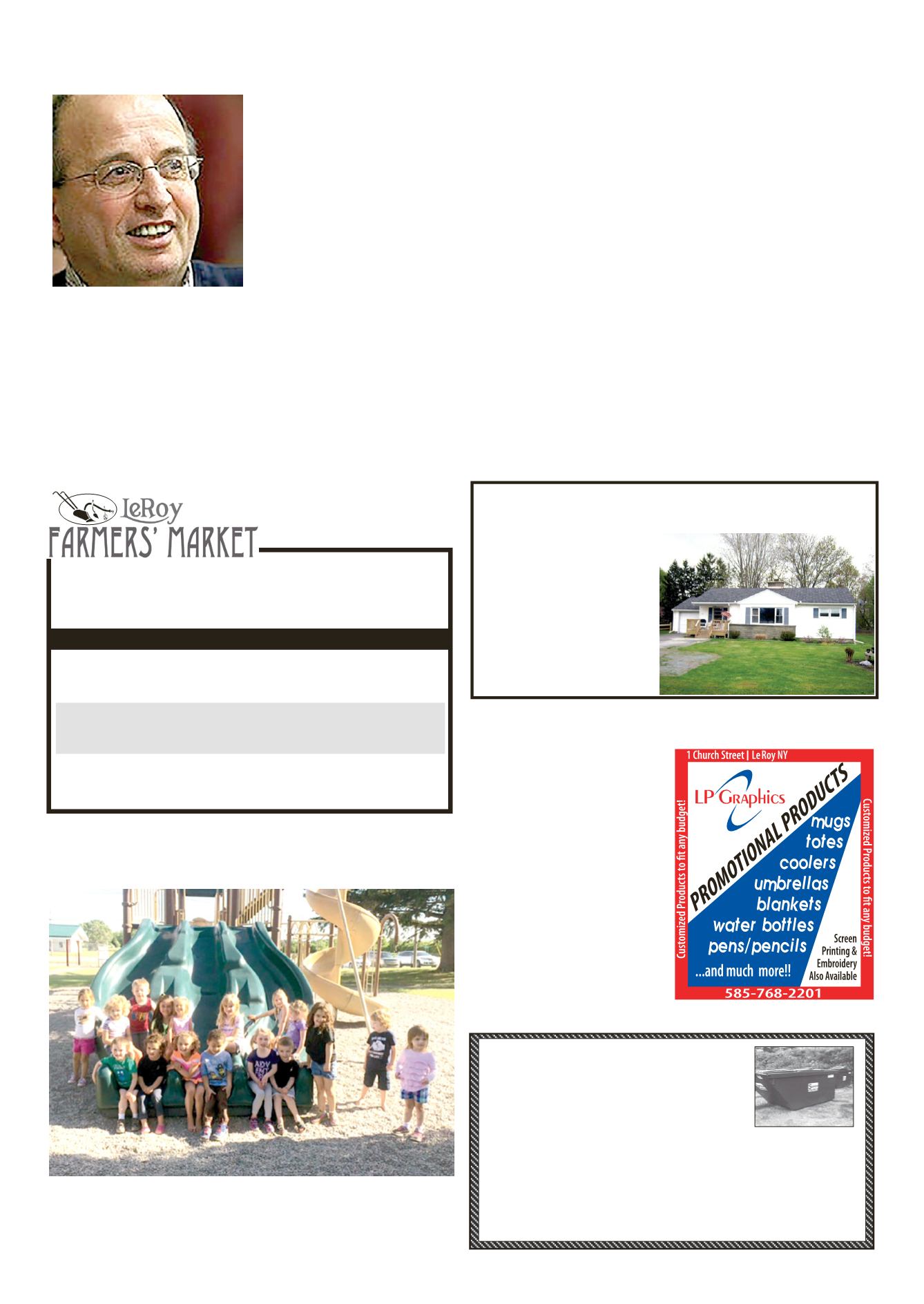 LEROYPENNYSAVER&NEWS - JULY 10, 2016
LEROY: 9221WarsawRd. -OpenSun 7/10, 12-2pm
Home has lots of improve-
ments, newer high efficiency
natural gas furnace, and tank
Pouredwall basements.Deep
lot. PC43577 $114,900 noth-
OTH-
NAGLE TEXT: PC43577
TO:VIDEOS
SunshineNurserySchool's friends and families joined together
for a picnic at Emery Park where they celebrated an exciting
and successful school year.ThankyouSNSboardmembersand
teachers for all the great fun!
Fun InTheSunWithSNS
• 2, 4, 6& 8 cu. yd. sizes available
•Weekly pickup • Simple&easy to read billing
SCOFIELD'S
ISNOWOFFERING
Prices you'll behappywith!
GiveUsACall,We'll TalkALittleTrash
585-343-8383
eRoyFarmer'sMarket onFacebook
Saturdays ThroughOctober 1st
LOCAL • FRESH•DELICIOUS •NUTRITIOUS
Seasonal Fruits andVegetables
Will BeArrivingWeekly!
Entertainment - Folk 'OTheRoad -
Musicians/VocalsFolk andCeltic
FeaturedArtist ThisWeek -MaryMargaret Ripley - Pen& Ink
ALWAYSLOOKINGFORNEWVENDORS&VOLUNTEERS
ContactMaryMargaret Ripley - 297-2441
MikeRaponeSelected toSec-
tionVBasketballHall of Fame
CoachMike Rapone ('71) has
accumulated hundreds of victo-
riesandcollectednumeroushon-
ors for himself andNotre Dame
HighSchool.Thisweekheadded
another prestigious honor to his
impressive coaching resume
whenhewas selected to the2016
classof theSectionVBasketball
HallofFame.Hewillbe formally
inducted in November and will
joinND coachesBill Sutherland
and Bayne Johnson, athletes
Gino Olivieri, Tom McCulley
andChristinaVolpe, and princi-
palWadeBianco asmembers of
theSectionVHall of Famewith
Inhis35 seasons atNDCoach
Rapone has amassed a record of
649-167 – winning games at an
amazing80%clipoverhis tenure.
Hisconsistentwinningduringhis
career is unmatched in Section
V history, as an average season
over his 35 years ends with a
CongratulationsCoachRapone
Mikewashiredas theJVcoach
in1977 and in threeyears in this
position recorded twoundefeated
seasons. His first varsity season
in1980-81endedwithaGenesee
Region championship, our first
SectionVbasketball title, aNYS
Regional championship, and an
appearance in theNYSChampi-
In theyearssincehisfirstvarsi-
tyseasonhehascaptured29Gen-
esee Region championships, 9
SectionV titles, 5NYSRegional
championships, and2NewYork
State crowns in 1992 and 2001.
His teamshavecollectedfourteen
#1 tournament seeds, appeared
in 19 SectionV title games, and
he is theonlycoach inSectionV
history to claim championships
in four different classifications
Rapone became the all time
leader in Section V coaching
victories with his 546th win vs.
ArkportHighSchool inasection-
al tournament semi-final game.
His total of 649 coaching victo-
ries currently leaves him 5th on
the all timeNewYorkState list.
Please joinus incongratulating
Coach Rapone on this tremen-
doushonor forhimselfandNotre
Dame.Moredetailson the induc-
tionceremonywillbe releasedas
TuesdayNight
Men'sGolf
League
DWMGL results fromweek 10:
1st -
LowGross -
LowNet -
(Tie)
Closest to thePin-