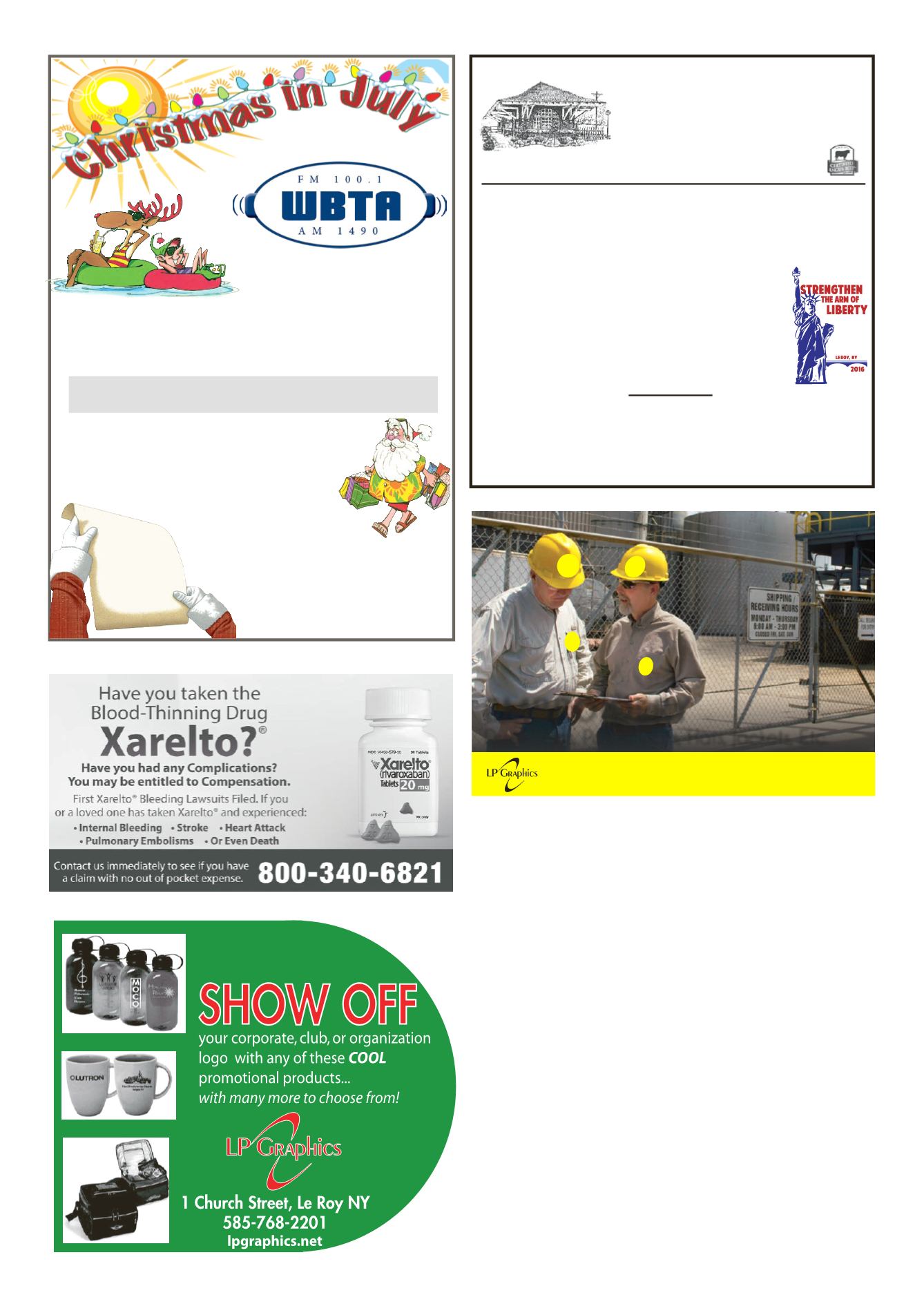 LEROYPENNYSAVER&NEWS - JULY 10, 2016
07/4/2016 - 23 year old JessiM. Heale of BuffaloRoad, Bergen,
wasarrestedonJuly3,2016by theLeRoyPoliceDepartment.Heale
was chargedwithUnlawful Possession ofMarijuana, a violation.
Healewas a passenger in a vehicle stopped by the LeRoy Police
Departmentandwasallegedly found tobe inpossessionofmarijuana.
Healewas issuedanappearance ticket and is scheduled toappear
in theLeRoyTownCourt on July 25, 2016 to answer to the charge.
44 year old SergioA. Forte Jr. ofMyrtle Street, LeRoy, was ar-
rested on July 3, 2016 by the LeRoy PoliceDepartment. Fortewas
chargedwithUnauthorizedUse of aVehicle in theSecondDegree,
Forte allegedly operated a motor vehicle not belonging to him
knowing thathedidnothaveconsent from theowner tooperatesuch
vehicle. Fortewas charged accordingly due to a prior conviction of
UnauthorizedUse of aVehiclewithin the preceding ten years.
Fortewas arraigned in front ofHon. JudgeWelsh at theTown of
LeRoy Court and remanded to the Genesee County Jail in lieu of
$1,000 cash bail or $2,500 bond. Forte is to return to the Town of
LeRoyCourt onSeptember 6th, 2016 at 1:00PM.
1ChurchSt., LeRoy, NY14482
585.768.2201
Dress Shirts, Polos, Vests, Hats, Jackets, Etc.
LakeSt. (Rt. 19), LeRoy• 768-6270
... AGreatAmericanBrasserie
OpenForBreakfast, Lunch&Dinner
Sun.-Thurs. 7-7, Fri. &Sat. 7-9
&
SUNDAY, JULY 10th
homemadeGLOMKIS andPIEROGIES
ServedwithChickenKluskieNoodle soup or salad,
and aBakedApplewith ice cream for dessert 16.99
SATURDAY, JULY 16th/SUNDAY, JULY 17th
Joinus here inLeRoy for our
OATKA celebration
Free admission to the JELL-OMuseum, annual
DuckDerby, music, crafts, games, andmore - on
the creekbank and at theD&RDepot Restaurant
SUNDAY, JULY 17thdinner special
SHRIMPLOVERS' dinner
Includes breaded, scampi style, and coconut shrimp,
with soup or salad, andBananaCream pie for dessert 20.99
Itemshealreadypacked inhis
•Queen sizeRestonicfirm pocket coil back
supportmattress, foundation,& frame
•AreaRugs fromAffordableFloor
SingleAdultMembership to theYMCA
•SepticTankPumping fromA.D.Call&Sons
•FoodCertificates fromarea restaurants
•CarCare &EntertainmentCertificates
Sat., July23rd -
7:00 am
REALLYBIG
Keep checking the auction page onWBTAi.com for items
going up for bid as Santa is creating his list...
What other
surprises
will he pack
intohis
Sleigh???