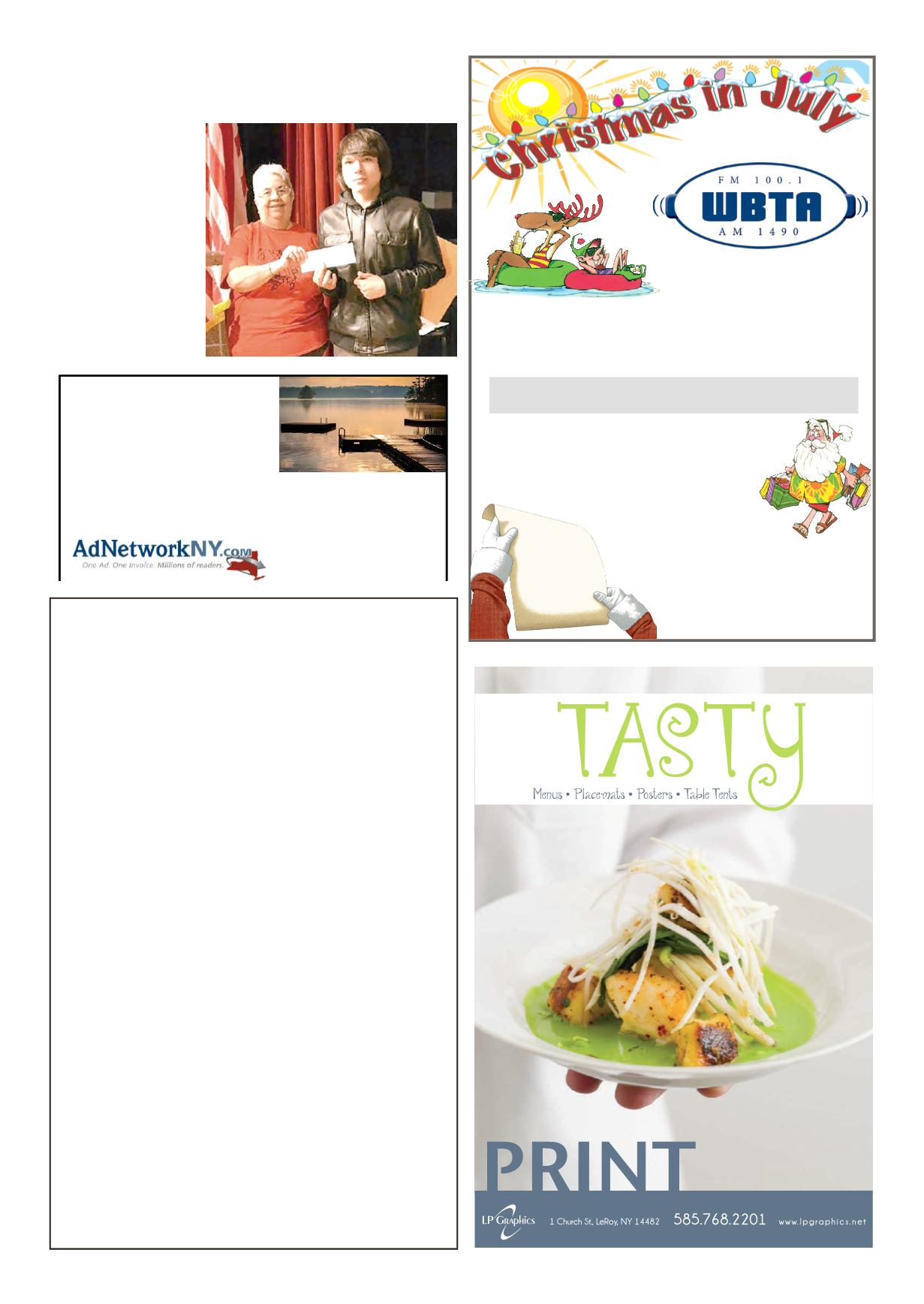 LEROYPENNYSAVER&NEWS - JULY 3, 2016
St.Mark'sPhotoContest
In celebration of its 200th anniversary in 2017, St. Mark's
EpiscopalChurch at 1EastMainSt., LeRoy is sponsoring apho-
to contest open to all ages. Considered the most photographed
building in Genesee County, St. Mark's has a beautiful natural
setting above the Oatka Creek with architecture in the English
The sanctuary of St. Mark's Church will be open to photog-
raphers for interior photos onSaturday, July16, 2016 from9:00-
10:30 am and 3:00-4:00 pm during LeRoy's Oatka Festival and
again on Saturday, December 17, 2016 from 1:00-3:00 pmwhen
the churchwill be decorated forChristmas.
Photographersmay enter up to twophotos of the interior or ex-
terior of the church. Photosmaybeblackandwhiteor color,may
bedigitally enhanced andmust be received in an11x14" frame,
ready tohang. Thephotographer's namemust only appear on the
back of the frame. Photo entrieswill be received at 58 onMain,
LeRoy from January2 through January 7, 2017.
Awineandcheese receptionwillopen theshowofphotographs
at58onMainonFriday, January31,2017at7:00pm. Photographs
will beondisplayat 58onMainuntil Saturday, February4thand
thenwillmove to theWoodwardMemorial Library fromFebru-
ary6th throughMarch31st.At both locations, peoplewill have a
chance to vote on their favorite photograph. The show of photo-
graphswill beondisplay inSt.Mark'sduring themonthofApril.
Prizes will be awarded in two categories. The judges' Prize
will be selected by a panel of three judges, and awinnerwill re-
ceive a $50 gift certificate toRowe Photo and a 16 x 20" custom
print by 58 onMain. The Peoples' ChoiceAwardwill be chosen
by ballots available at 58 onMain and theWoodwardMemorial
Library, and thewinning photowill be used on commemorative
ornaments to be sold by St.Mark's during the anniversary year.
The winner will receive a $50 gift certificate to D& R Depot
alongwith three ornaments.
Complete contest ruleswill be posted onSt.Mark'swebsite at
The LCSD Class of
2016was escorted into
awards night by the
Class of 1966. Alumni
Lynne McKeown
was present as a
member of the class
of '66. Lynne, also the
WOTMJuniorRegent,
presented the Le Roy
Women of the Moose
Annual Scholarship to
Nicholas Scott.
Jr. LynneWithScholarship
Winner 2016
Selling land, camps,
waterfront?
Sell it here!
ad in this paper and others like it all aroundNYState.
R
EACHASMANYAS
3.2
MILLIONHOMES
.
Call this paper or visit us online
877-275-2726
Itemshealreadypacked inhis
•Queen sizeRestonicfirm pocket coil back
supportmattress, foundation,& frame
•AreaRugs fromAffordableFloor
SingleAdultMembership to theYMCA
•SepticTankPumping fromA.D.Call&Sons
•FoodCertificates fromarea restaurants
•CarCare &EntertainmentCertificates
Sat., July 23rd -
7:00am
REALLYBIG
Keep checking the auction page onWBTAi.com for items
going up for bid as Santa is creating his list...
What other
surprises
will he pack
intohis
Sleigh???